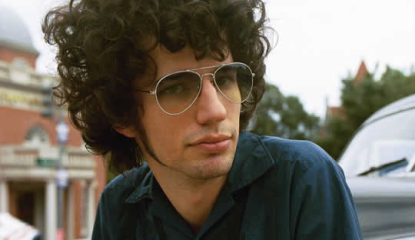 It was just yesterday that I was musing about musicians traveling from country to country, coping with obstacles both musically and socially. While Hoax Funeral was certainly enjoyable, there was little doubt that their calming style of indie-folk would find some sort of audience regardless of where they went. When I find an internationally linked artist like Federico Aubele emerge from the scene with a style largely native to his originative country, I am left quite impressed. With all these generic rock bands and glamorized pop idols currently striving for the epitome of "Western perfection", there are a lack in artists who truly remember where they came from and which styles of music they were raised on. Aubele, a native of Argentina, is one of the talented few who is both confident and proficient enough to blend classically originative musical styles with melodies of a more contemporary nature. Providing an eclectic style of music that borrows largely from traditional Latin classical guitar compositions with a slight touch of mild electronica and orchestral pop, his music is rich and wildly fulfilling. However, with Aubele coming from the always exciting ESL Records, such enjoyable aspects are hardly a surprise.
Aubele recalls his profound love for his home country shrewdly. "It's like going out with a crazy, but incredibly beautiful, charming and seductive woman," he says of his longing for Argentina during a world tour, "She might drive you insane at times, but when you take a step back and look at her, you're reminded how much you love her and why." Such a romanticized use of personification serves as a surprisingly accurate example of Aubele's lyrical diction. Though all of Aubele's songs on his most recent album are performed in Spanish, the dramatic intensity of each song leads me to believe that they are scattered with lustful temptations and pleading urges and, as melodramatic as it may sound, he pulls it off nearly flawlessly. If any Spanish speakers want to give it a go, I would be curious; it seems that half the world can speak it anyways. While Aubele's pride for his country is both inspiring and highly effective, his worldly outlook also proves beneficial on his second full-length album, Panamericana.
"I wanted to make an album influenced by the idea of The Americas," Aubele points out, "I find the cultural clashes, mixes and blends that have occurred over time exciting, fresh, and very young when you compare it with Europe or Asia." The origin of the album's title is also given a fresh explanation. "When I thought about it, all of my musical influences originate from American countries, be it dub/reggae from Jamaica, Mexican bolero, Argentine tango, or old school US hip-hop," Aubele says, "So the idea and the actuality of a road that links these disparate places and cultures together became a very strong influence on the album. Since the Panamericana was officially commissioned in Buenos Aires, it became the perfect metaphor."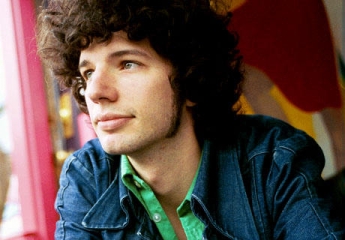 The follow-up to his extremely impressive debut, Gran Hotel Buenos Aires; Panamericana is rich in what made his introductory offering so appealing. "Panamericana is more of a songwriter's album," Aubele says in comparison to his debut. Though he would undoubtedly consider himself a guitarist if forced to choose an instrumental occupation, one of the most impressive things about Aubele's craft is his ability to weave dozens of other instruments into one enjoyable outcome. As expected, his guitar work on Panamericana is phenomenal. With styles stretching between shades of Latin, flamenco, and even reggae, Aubele's stylistic dexterity remains to be one of the many impressive aspects regarding the young Argentinian musician. However, even with his wealth of capabilities, he recognizes that making a successful album in such a diversified genre entirely solo would be an extremely arduous task. With this in mind, he enlisted the help of a few friends from all over the world. Produced by Eric Hilton of Thievery Corporation (another great artist on ESL), Panamericana features guest spots from several exceptional South American artists like singer/songwriter Amparo Sanchez, Columbian singer Vernie Varela, and the exquisitely talented vocalist Natalia Clavier. While some of those talented names may be unknown to most American listeners, they should certainly recognize the instrumental aid from the Arizona-based group, Calexico. Along wih Argentinian ska legends Los Fabulosos Cadillacs, Calexico supplied a substantial amount of horns and guitars throughout the album
Songs like "Lluvia" and "La Esquina" are of a rare breed, being exceptional songs relying on classical guitar arrangements and impeccable vocal melodies, suitable for any environment from coffee shops to a beach. Even so, hey would likely sound best under a palm tree in Argentina, an iPod in one hand and a margarita in the other. With vocalist Natalia Clavier steering both tracks toward vocal perfection, Aubele exquisitely relays a Latin guitar composition more than worthy of Carnegie Hall. Many songs throughout Panamericana are so memorable that they could have stood on their own as instrumentals; the vocal efforts from Clavier, Varela, and even Aubele on several tracks, notably "En El Desierto" and the duet with Clavier on "En Cada Lugar", simply make it even better. My two favorite songs from Aubele at the moment, "Este Momento" and "Corazón", reap from hooks that stem from passionate orchestral accompaniments. With wha-wha guitars (compliments of Calexico), trumpets, saxophones, and trombones leading the way, "Este Memento" and "Corazón" are both exceptional songs in which irresistibility proves to be a key factor. It also goes to prove that Aubele can seemingly conquer all ranges of tempo and instrumental length, as the barren nature of "La Esquina" is just as beneficially rewarding as the boisterous instrumental qualities of "Corazón". As you are unlikely to find a release of similar stylistic qualities and collaborative efforts, I strongly recommend with Panamericana. It is certainly one of the more memorable efforts of the year.
——————————————————————————————-
Federico Aubele – Este Momento

[audio:https://obscuresound.com/mp3/faubele-est.mp3]
——————————————————————————————-
——————————————————————————————-
——————————————————————————————-