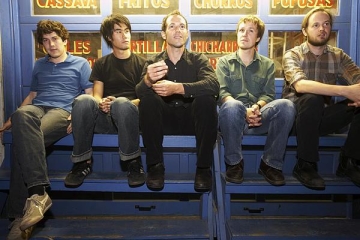 In terms of national recognition, it should be noted that drummers usually get the short of the stick. Based on personal observations, most people seem to prefer a guitar solo to a drum solo any day of the week, disregarding the value of a steady percussive role to a point where it starts to become a staple of ignorance. Perhaps it is the average music listener's infatuation with the melody over the rhythmic involvement, the glamorous ideals of being a "suave guitarist", or could it be simply because drummers sit down while guitarists stand up when playing? Legendary guitarists can make the most complex solos look easy, but drummers seem to gauge the level of difficulty rather accurately. There is a large difference between stretching a few fingers and relentlessly using two arms as the main source for playing energy. Guitarists also have little room for tempo-based error; drummers and bassists have absolutely none. When I see old clips of drummers like John Bonham playing the solo during "Moby Dick", it serves as a redeeming example of how precise drummers must be. Even contemporary drummers like My Morning Jacket's Patrick Hallahan continue to prove this as well; just check out his stellar performance during "One Big Holiday" on Conan to see one of my favorite televised performances in recent memory.
While solos can be commonly improvised, it takes a comparable degree of musical intellect to pull off a similarly executed guitar or bass solo. But enough about solos — what about the songwriting capabilities of even the most talented percussionists? To some avail, there are actually very few drummers who have went on to become successful solo musicians. While many drummers lend a hand toward their band's written songs, the minimal amount who have become prominent solo artists are mainly limited to Phil Collins and Ringo Starr. Hey now, Ringo's self-titled effort in 1973 was not half-bad. Looking to add to the short but respectable list, drummer Nathan Lawr has already established himself as an extremely gifted songwriter with three solo albums under his belt. Though is additionally considered to be a multi-instrumentalist, drums were his primary musical focus when he played with Royal City, an indie-rock four-piece from Ontario who disbanded in 2004. On his solo albums, in addition to his main work on vocals and percussion, Lawr plays guitar, banjo, wurlitzer, and harmonica. Along with J. Andrew Magoffin, Lawr is also the producer of his third solo album, A Sea of Tiny Lights. Hardly sought after as a studio and touring drummer, Lawr has played with the likes of Jim Guthrie The FemBots, and The Constantines, gaining a share of experience that he has perfected in both his solo and group projects.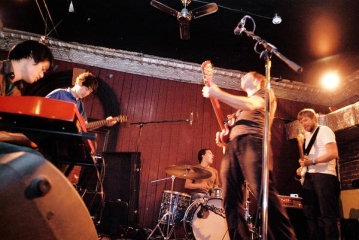 For Sea of Tiny Lights, Lawr is joined by a bunch of friends who double as musical collaborators. This eclectic septet, known as The Minotaurs, consists of guitarist Kristian Galberg, keyboardist Shaw-Han Liem, bassist Simon Osborne, vocalist Kate Maki, multi-instrumentalist Paul Aucoin, and drummer Evan Clarke. Some of you may recognize Liem from I am Robot and Proud; his solo project incorporates keyboard-based elements into enjoyable ambient electronica. As a result of the instrumental additions from The Minotaurs, Lawr's latest is his most expansive album yet. Boasting an enormous sound overflowing with flutes, trumpets, horns, and harmonicas (on top of more conventional instruments like guitar), A Sea of Tiny Lights is undoubtedly the most impressive work of Lawr's career. Though his previous album, Secret Carpentry, featured a similar cast of collaborators, it was as nearly diverse as A Sea of Tiny Lights. While he could have easily played the necessary instruments like guitars and drums all by himself, Lawr's open-minded outlook allowed him the opportunity to enlist the aid of friends who each excelled impressively in one focal instrument. As all involved display on the exceptional "The Glass Footsteps", the group's ability to create melodic masterpieces are never dependent on the instrument. Whether it is the keyboards and baritone saxophone on "The Glass Footsteps" or guitars and trumpets on "If You Don't Believe Me", each track on Sea of Tiny Lights is independently unique through its instrumented melody and range of hooks.
On "The Glass Footsteps", Liem and Lawr exchange an eclectic display of keys over Rebecca Hennessy's trumpets and Mark Laver's baritone sax, a brilliantly executed instrument that could easily pass as a ship's blow horn. The entire song left me thankful that Lawr allowed several collaborators to be involved with A Sea of Tiny Lights; the result is outstanding. While the ye-olde-shipwreck theme throughout "The Glass Footsteps" may drew up a few initial comparisons to The Decemberists, Lawr does not allow heavy lyrical boundaries to intersect into his stellar melodies. The lyrics throughout A Sea of Tiny Lights are often metaphorical, with "The Glass Footsteps" depicting a shipwrecked crew finding serenity in the thought of death. The actual meaning traces to Jim Loney, the Christian activist who was captured by insrugents in Iraq for 118 days."We're lost, we're lost, whiteness surrounds us," Lawr cries out, "We're candles and something's been blowing us out." When he later lets out "Let us out, let us out, let us out", Lawr expresses a tireless fight against indeterminable forces of nature, showing absolutely no signs of giving up. Other songs throughout A Sea of Tiny Lights express the same degree of lyrical sophistication, particularly striking in the summation of author Eduardo Galleano's Book of Embraces in "Swimming Like a Needle in the Haystack of the Sea" and the gruesomely realistic ode to Columbine in "There's a Devil". "There's a devil, devil, devil coming down the hall," he sings over the intimidating force of horns, guitars, drums, and bass. "I'll descend upon the nameless and I'll cover them like fog."
As Lawr continues to tackle countless numbers of genres flawlessly on A Sea of Tiny Lights, he continues gracefully to be one of Canada's most underrated songwriters. From "Ethiopian funk" and jazz to Motown soul and traditional pop, A Sea of Tiny Lights is filled to them rim with enjoyable moments of all various stylistic intentions. Perhaps his newly implemented orchestral maneuvers and full-scale production will push Nathan Lawr and his backing band to the top, a place where they certainly belong.
——————————————————————————————-
Nathan Lawr and the Minotaurs – The Glass Footsteps
[audio:https://obscuresound.com/mp3/nlawr-gla.mp3]
——————————————————————————————-
Nathan Lawr and the Minotaurs – If You Don't Believe Me

[audio:https://obscuresound.com/mp3/nlawr-ify.mp3]
——————————————————————————————-
Nathan Lawr and the Minotaurs – There's a Devil

[audio:https://obscuresound.com/mp3/nlawr-the.mp3]
——————————————————————————————-