Though the authors of such publications are old and washed-up enough to be veterans of a retirement home, I continue to read how the youth of this generation are in a continuous downward spiral. As one of the millions that are being haplessly insulted by such a statement I cannot help but think that perhaps it is in the handful of talented artists that will save the generation from this proclaimed period of insolent dullness. Not everyone wants the 9-to-5 office desk job, after all. While I believe that we are in no such peril, here are some artists who do more than enough to contradict such baseless statements. These songwriters and performers are either 18 years old or younger and, as expected, quite ahead of their peers. Consider this to be part one of a feature, as there are plenty more artists of a similar vein to expose.
———————————————————————————————-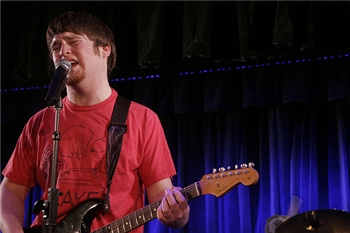 I start with a band whose name simply begs for a listen. Based out of Brooklyn, Play is centered around frontman David Pollack and his rousing ability to craft pop-punk hooks that are, repetitively put, ahead of his years. Only 18 years old, Pollack possesses the whole package in his ability to multifariously perform and write quality songs. It says a lot that his ardently dynamic vocals and eclectic guitar skills pale in comparison to his exquisite songwriting. With both his structural consistencies and lyrical content being more focused than most musicians twice his age, Pollack and the NYC-based four-piece are certainly a name to look out for. Formed in 2004 when they were simply in their early teens, hard work eventually payed off and they established a name for themselves under the demanding lights of New York City. Playing shows throughout Brooklyn and Manhattan, their following grew larger and the ages of the band members became practically obsolete. When they won the "Manhattan Battle of the Bands" competition in 2007, they were given the righteous oppurtinity to record a demo at Rough Magic Studios in Brooklyn. After months of recording, their result stands proud as a self-titled, four-song EP.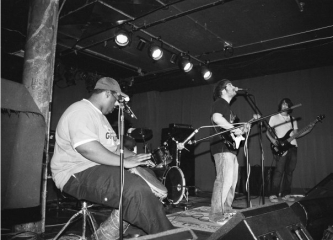 Growing up largely in the '90s, it would be conventional to expect Pollack and co.'s influences to be largely grounded in the alternative and Brit-pop outbursts of the mid-'90s. While such views appear somewhat limited, Play successfully manages to associate elements of rimmed geek-rock with a snarling appetite for power-punk. What Play displays on their EP is four songs who all encompass aspects of stylistic diversity and immediate likability. "Rainbow Schemes" sees Pollack go Rivers Cuomo on us in an apparent ode to a lesbian who favors rejection over male interaction. "Pink Triangle, pt. 2"? It comes close, both in its exceptional quality and lyrical wit. From the melodically echoing backing vocals contained in the irresistible verse to the ingeniously captivating chorus, "Rainbow Schemes" is an absolute pleasure. "It's a learning experience," Pollack admits reluctantly of his blameless romantic failures, "So I guess you're not into guys, that's cool with me I'll just try to convert you; I wanna desert you, but I just can't." Simplistic? Sure, but it's got enough heart to go far and, with its strong backing melody, it is part of the song's juvenile charm. 16-year-old drummer Tim Fusco also shows his talented chops; his intensity and placement of fills is nothing short of admirable.
In an effort to showcase his diverse songwriting skills, "Get a Hold of You" is a classic ballad on all fronts. This is the type of song that makes a teenage girl quiver at the knees. "The way you walk is like the wind swaying the trees," Pollack hushes over the gentle plucking of an acoustic guitar, "The way you smile makes my heart way at ease." The majority of the song sees itself in similar form until the 2:56 mark, where Pollack vocally ignites a flurry of guitars and previously absent percussion in an exposition for an instrumental explosion. The first three minutes serve as one big build-up and it is incredibly rewarding toward the conclusion. In fact, all four songs are impressive. I have not heard many 18-year-olds who are able to produce such an engagingly complex sound that simultaneously draws amiable hooks and beautiful melodies from a ceaseless arsenal of talented songwriting tendencies. Play it. Now.
——————————————————————————————
——————————————————————————————
——————————————————————————————
——————————————————————————————
———————————————————————————————-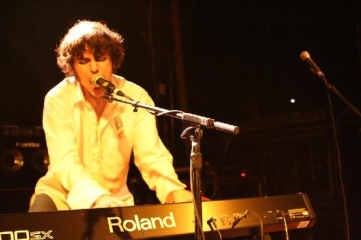 I jump from a young band who deserves more attention to an artist who is certainly getting his share of it. However, for 18-year-old singer/songwriter Nicholas Megalis, it is just as well deserved. A talented pianist, vocalist, and lyricist, Megalis has been wooing audiences with a spur of the classic piano-based singer/songwriter genre with songs that remain ambiguously interpretive and wildly imaginative, both in his lyrical and melodic content. With a collection of demos online for free entitled Whatever I Am, You'll Understand, the songs are primarily two-minute teasers that prepare listeners for his first "proper" studio album, set to be released early next year. "I recorded it in my bedroom and living room… and one song in my mom's truck" he said of the demo compilation. He did it as a "thank you" to the fans who have supported him throughout his early beginnings. Fortunately, those days of amateur beginnings are long gone. Megalis is currently in the studio with Michael Seifert, a multi-platinum award winning producer who has worked with the likes of Tori Amos, Guided by Voices, J. Mascis, and Fountains of Wayne. With a professional aiding in the production, I cannot wait to hear what Megalis has in store. Since appearing in a snippet of Spin Magazine, NPR, and nearly every publication based near his home in Cleveland, Megalis has taken the acclaim in stride.
Though Megalis' best song, "The Holder", is exclusively available on his MySpace, the haunting "Drunk With Glory" is a close second. With a chilling piano-laden melody bustling through an initial vocal sample and the slight coarse mumble of Megalis' dramatic vocals. While "Drunk With Glory" is a short and somewhat subdued song in which Megalis' emotions appear to be intentionally held back, "The Holder" is more demonstrative of his emotional capacity. He appears to be naturally theatrical, showing impressive range and adept lyrical wit with a melodically reflective voice giving a comparative nod to Freddie Mercury and Scissor Sisters' Jake Shears. "I want to be your holder, the paper in your folder," he sings over a fastidious piano line, "I want to be your baby, the one to save when you're falling and crawling." Call me a sucker for vocalists who actually sound genuine, because Megalis is it. The three songs below, while enjoyable in their own right, are merely a demonstration of Megalis' extraordinary potential. Travel over to his MySpace to check out his real chops in the exquisite "The Holder", a track bursting with energy and natural skill. If "The Holder" is any preview of what Megalis' newest album will be, he could be one of the most talked-about artists of 2008, 18 years old or not.
——————————————————————————————
Nicholas Megalis – Drunk With Glory
[audio:https://obscuresound.com/mp3b/nmegalis-dru.mp3]
——————————————————————————————
——————————————————————————————
——————————————————————————————