Posted
October 12, 2007 by Mike Mineo
in Features
Elle or Alyssa? Each Milano Does It Well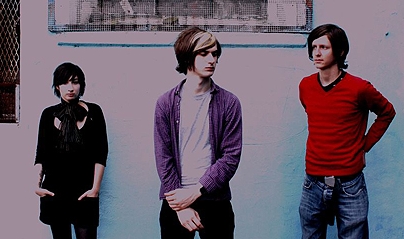 I often wonder whether the genre of "art-rock" will be looked back upon as the epitome of stylistic innovation in this current decade. While the past several decades have embraced us with varieties of synth-pop, grunge, and adult alternative, it is difficult to argue that there is a specific style in the '00s that has truly taken over the entire music scene. From my point of view, it has been more of an eclectic mixture of past styles if anything. This is not to say I am bashing our current scene or prefer the past; most styles presented to me lately, whether it be a revitalized form of 80s dance or distant cousin of the grunge explosion of the late '80s and early '90s, have actually been extremely satisfying. While there are certainly a few quality artists who have succeeded in modernism by creating a sound true to their own and largely incomparable to their predecessors, they tend not to be in the majority. Regardless, there is one factor in music that has been around for years and years. From the birth of '70s punk all the way to the rise of snobby indie elitism, there is one emotion that bands have seemingly little difficulty expressing. You probably call it "angst".
If you can push aside the fact that people who just listen to "what the radio plays" will likely aware of them in a few months, Elle Milano should certainly be enjoyable to most. Though the name indicates some sort of solo act, Elle Milano is comprised of 3 members based out of Brighton, England. Originally a four-piece, guitarist Alex Petersen left the band earlier this year. Now comfortably sitting with vocalist/guitarist Adam M. Crisp, bassist Chloe Joanna, and drummer J C Headley, they are perhaps the most hyped-up band out of Brighton this year and, considering Brighton's fruitful scene, it is certainly a status to write home about. If you are ahead of the game and have already visited their web site or listened to a few of their tracks, you are likely to find my previous sentiment wildly apparent. Yeah, Elle Milano are not content with their social standing. In fact, they seem to be a bit angry. Ah, don't you love youthful angst? While the majority of time it can be the result of talentless dimwits writing graffiti on the outer walls of suburban mini malls, the 3 members of Elle Milano have chosen to take a brighter path. As they rant about the iniquitous nature of British culture, a financially obsessive American culture, rampantly obnoxious socialites, and the decline of art in general, I cannot help but think how much better the world would be if all the insubordinates of society turned their emotional misfortunes into audible art… even if it sounds a bit too optimistic.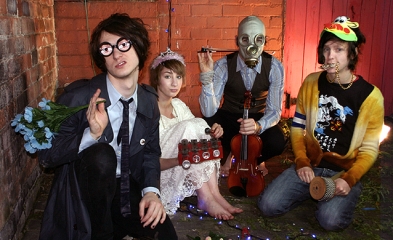 Elle Milano are one of those bands that, despite not having one full-length album to their name, have amassed a fan following comparable to several top-tier bands in their native genre. Signed to the Brighton Electric label shortly after their formation in 2004, Elle Milano currently has two releases in their catalog: an EP, Swearing's for Art Students, and a single, "My Brother, The Astronaut", released in 2006 and 2007, respectively. With dozens and dozens of unreleased demos floating around a variety of Elle Milano fan sites, it should come as no surprise that the trio is already hard at work on their full-length debut. Tentatively titled Acres of Dead Space Cadets, it is expected to be released in January. The most recent demonstration of their sound can be found in the single for the explosive "My Brother, The Astronaut", which is set to be released on October 28th. While the chorus was an initial turn-off for me after showing shades of some despicable emo form (Fall Out Boy stay away), the song eventually evolves into a platter of gritty art-rock uplifted by snarling vocals, aggressive guitar riffs, and ceaselessly fastidious rhythmic progressions. If anything, it should leave listeners with the impression of the band's unique style. As demonstrated in "My Brother, The Astronaut", Elle Milano have the ability to seamlessly transition from a melancholic, subdued chorus into a chorus of epic sorts which is often capitalized by sheer volume and intensity.
Ironically, out of the two tracks on the single, the best one is the song that is not the single: "Good People Go to Heaven". Simply put, the song is more stylistically confident, structurally diverse, and downright catchier. Whereas "My Brother, The Astronaut" made Brit art-rock comparisons somewhat difficult, one can certainly find shades of Bloc Party, The Maccabees, or a variety of other popular British acts in the rambunctiously infectious "Good People Go to Heaven". The quivering vocals are also a nice touch, flawlessly transitioning into a livelier chorus with an ample grin. One of their earlier songs, the humorously titled "Swearing's for Art Students", also displays a similar use of comparable excitement. Off of the debut EP of the same name, it is the best of the four songs on the release and received some frequent airplay from XFM and Steve Lamacq when it was first distributed 2006. While the guitar-based instrumentation remains catchy but entirely familiar for fans of Bloc Party or numerous replications, it is the lyrical content that makes it inarguably memorable. "This is a statement," Crisp mumbles when the drums first kick in. When the guitar kicks in, he expands into full melodic form. "I'm sorry for being so middle-class, spoiled little me, I've got my head up my own ass," he sings, declaring a sense of utmost societal disappointment. As the song later touches on subjects of politics, homosexuality, alcoholism, and violence in humanity, it is impressive in all the content that Elle Milano is able to include in a song under 3 minutes. As they would likely tell you, angst can occasionally be quite rewarding.
——————————————————————————————
Elle Milano – Good People Go to Heaven
[audio:https://obscuresound.com/mp3/emilano-goo.mp3]
——————————————————————————————
Elle Milano – Swearing's for Art Students

[audio:https://obscuresound.com/mp3/emilano-swe.mp3]
——————————————————————————————
Elle Milano – My Brother, The Astronaut

[audio:https://obscuresound.com/mp3/emilano-myb.mp3]
——————————————————————————————
Mike Mineo
I'm the founder/editor of Obscure Sound, which was formed in 2006. Previously, I wrote for PopMatters and Stylus Magazine. Send your music to
[email protected]
.