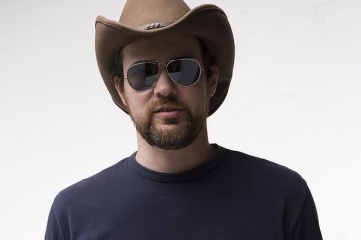 Say you are at a party, chatting up a nice young gal or guy, jumping from topic to topic in an effort to get to know one another. If you are reading this site, there is a good chance that music holds a large place in your heart. With that in mind, upon meeting a new person, the topic of music probably takes a few minutes at most before entering the picture. Humorously enough, when you ask someone what type of music they listen to, the response is normally generic. Most of the time, I hear something like "Ah, I listen to everything but country." Unless you are situated down south, I have found from past experience that this is the most common reply to a very common question. Dull or not, is it tough to blame them? After all, mainstream country music is nearly as unbearable as glittery MTV pop music. That certainly does not mean that there are no quality artists in the genre to be found though. They just require a bit more looking than others.
With this in mind, it is entirely ironic that one of the best and most underrated country groups are not from the south. In fact, they are not even from the United States. Honestly, I did not know there was a thriving scene beyond the borders as well. As it turns out, Kent McAlister & The Iron Choir hail from East Vancouver, British Columbia. Canada? Yeah, I am just surprised as you are. While the country has largely been known for its gracious output of gloomy post-rock engineers and popular indie-rock acts like Arcade Fire and The Stills over the past few years, Canadian artists continue to prove that there is not one genre that is too foreign or intimidating for them to conquer. While Kent McAlister & The Iron Choir are the first of its kind I have heard from Canada, I remain optimistic that their stylistic bravery will push forward a new scene in their native country where music defined unrighteously as "Americana" or "country" will find a new following of fans and talented artists who think alike. However, before I go on any further, I should hold my tongue. With all this talk of country, it is clear that Kent McAlister & The Iron Choir are hardly the stereotypical classification of a country band. Despite it being their largest influence, vibes of folk and adult alternative are heavily prevalent throughout the majority of their songs.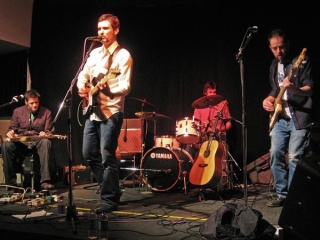 For those who fall easily in love with the incorporation of poetic brilliance and captivating melody, it is also worth noting that Kent McAlister & The Iron Choir carry a heavy admiration for the works of Leonard Cohen. While you could easily look to their cover of Cohen's great "Hey, That's No Way to Say Goodbye" as an example, the respect demonstrated for the legendary songwriter throughout Kevin McAlister & The Iron Choir's sophomore album, The Way It Rolls, is evident on more songs than one. Despite a variety of fantastic originals, the cover manages to be my favorite track on the album. The four-piece manages to incorporate contemporary aspects of production in "Hey, That's No Way to Say Goodbye" without it sounding overproduced or desperate. While Cohen's artistic nature has always led attempted covers to be a somewhat sensitive issue, it is gratifying that Kent McAlister & The Iron Choir are talented enough to showcase the original beauty of the song in an even more expansive form; it is the direct opposite of a disgraceful cover. With backing female vocals supplementing a variety of acoustical guitar progressions and hushed percussion, the relaying of Cohen's classical tale involving lovers brought together by fate, struggling with the realization that even destiny is not flawless, is relayed just as beautifully. "I'm not looking for another as I wander in my time," McAlister sings with a deep, tender hush, "Walk me to the corner, our steps will always rhyme."
Regarding the other eight tracks (all originals) on The Way It Rolls, they are nearly as exceptional as "Hey, That's No Way to Say Goodbye". If you are a sucker for plucked acoustical arrangements, bursts of trumpets, and a country-folk feel, you should find instant satisfaction in "Old Bandolier". Led by Tim Tweedale's trumpet and McAlister's deeply resonating vocals, the song maintains an innocent charm that takes solace in the simple, yet overlooked, aspects of life. "So when I get home tonight, you'll have a steak done just right, and a long scratch behind those ears," he begins, "My darling, my dear, bring my old banjo here." The album's self-titled track, "The Way It Rolls", is a fun tune with distinct shades of rockabilly becoming a driving force With Craig McCaul's bass corresponding faultlessly with Brendan Krieg's drums, McAlister implements several impressive slide guitar techniques in a track that contains aspects of rich enjoyment, intuitiveness, and originality. With the latter part of the song evolving into a few Western-style guitar licks worthy of Pulp Fiction, the song also maintains enough diversity to be much more than a fun break in the album. The Way It Rolls, as a whole, is certainly an impressive effort.
One of the many reasons for the The Way It Rolls' high level of enjoyment can be significantly attributed to the group's highly cultured influences. They prefer to linger in the past, longing for the folk and country sounds of the '60s and '70s. In fact, the band lists their main influence on their MySpace as "most Country Western Music prior to the 80s"; arguably a well-deserved slap in the face to the country genre of the past 20 years or so. A mixture of classic folk and/or country hardly ever goes wrong and the likes of Leonard Cohen, Hank Williams, and Johnny Cash have proven this sentiment decade after decade. Well-respected among Western Canadians for being one of the best bands to showcase a natively unconventional style, Kent McAlister & The Iron Choir have also been building up a fan base throughout North America. Previously sharing the stage with Magnolia Electric Co., The Tennessee Three (Johnny Cash's former band), and Corb Lund, there is no doubt in my mind that the influences of such acts, among with many others past and past, have impacted the impressive stature of Kent McALISTER & The Iron Choir, a band destined to succeed. As startling as it may sound, the careers of these four talented gentleman are just beginning to bloom.
——————————————————————————————
Kent McAlister & The Iron Choir – Hey, That's No Way to Say Goodbye

[audio:https://obscuresound.com/mp3b/kmcalister-hey.mp3]
——————————————————————————————
Kent McAlister & The Iron Choir – The Way It Rolls

[audio:https://obscuresound.com/mp3b/kmcalister-way.mp3]
——————————————————————————————
Kent McAlister & The Iron Choir – Old Bandolier

[audio:https://obscuresound.com/mp3b/kmcalister-old.mp3]
——————————————————————————————