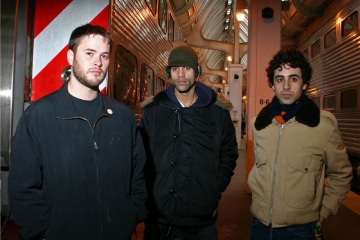 Urgency is a petty thing. People often assume that there is a vital need for it, even if it can often result in quality of a lesser standard due to the increased level of production. However, for Frankie Ostello's vocal style, it is in the audible art of urgency where he shines. As the lead singer and guitarist for the Chicago-based trio, Central Standard, he has established a trademark that has differentiated the skilled group from the masses of other indie-rock bands being born from The Windy City's musically historical womb. In retrospective, it is not suprising that Central Standard hail from Chicago. They embody the admirable roots that has made Chicago one of the greatest cities on Earth from the perspective of a rock critic. Throw in a healthy dose of punk, a considerable amount of New Wave, and a drop of blues-rock to create the sound of Central Standard. Mixed with Ostello's uniquely one-of-a-kind vocal delivery, they create a lasting impression whose enjoyability will increase with each impending listen. Apart from Ostello's vocals, much of it can be attributed to the deeply layered sound that the proficient rhythm section, bassist Andrew Maggio and drummer TJ Devoe, adds to the impressive approach.
Though all three members wear their Illinois-based music roots on their sleeves, Ostello recently returned from a hiatus in New Orleans. Soaking in a hotbed of jazz and blues, he released an impressive solo EP under the name of Frankie Bones and collaborated with native five-piece Les Poissons Rouges. Though he was born in Canada, his considers Chicago his residence of musically-related residence. He returned to embracing arms in Chicago, seeing all sorts of acclaimed press with the formation of Central Standard. One of the perks of being a band based out of Chicago is the opportunity to be covered by respectable music critic Jim DeRogatis. Still, he shows no local bias and covers the best of the best. So, when DeRogatis featured Central Standard in January, I can only imagine how excited the trio was. He called it "instantly infectious" and I must plead with you to take his word along with my own in saying that they are one of the most exciting Chicago-based acts recording D.I.Y. music at the moment. Combine that with an additional slew of shining reviews and numerous live sets that propelled the band's reputation as a tight act and you will find that they are one of the most respected unsigned acts in Chicago. However, do not expect that "unsigned" aspect in their band to be there for long. Their output is too enjoyable to be overlooked much longer.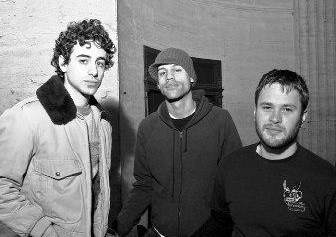 Though it was released in 2006, I was pleased to find a satisfying discovery with Uniforms. The five-song EP is the band's second release, though it is fairly easy to consider it a debut since their first release, Haircuts, was merely a two-song sampler. After several listens of Uniforms, it is clearly apparent that Central Standard have a strong knack for writing quality songs in a consistent stylistic mindset. This feeling of enjoyable redemption takes some time to warm up to though, as I was initially reluctant to become accustomed to Ostello's skewered vocal delivery. He yelps, screeches, and hollers seemingly on a whim, creating an experience that at first seems to be overwhelming but eventually highly infectious. Still, Ostello's ability to recognize melodic patterns makes the sound seem polished and refined. All five songs on Uniforms are grandiose in structure, primarily avoiding predictable structures by capitalizing on their reputable ability to create a sound that seems both meticulously crafted and emotionally revealing. The opener on Uniforms, "Ruiner", is a good example of the band's ability to interact in an organized manner, with Ostello's bursting guitar corresponding efficiently to the fastidious progression of the rhythm section. When his quivering yell exposes a simple-minded phrase, "Let's ruin her! Let's ruin her!", over the boisterous thumps of a bass and an electric guitar, Central Standard's potential is undoubtedly on full display.
I have to say, the importance of Ostello's unique vocal delivery reminds me of a band that all music fans in Chicago know: The Smashing Pumpkins. It is not the style that reminds me of Billy Corgan, but the value of the approach. If I were to generalize, for first-time time listeners of the Smashing Pumpkins, if Corgan's vocals appealed to them then they were an instant fan. If his vocals were too nasally for their own liking, they would dismiss the band without a second opportunity. Ostello's vocals are less restrained but ultimately more emotionally tied, varying in pitch and tone on frequent occasions. For widespread showmanship, check out my favorite track on Uniforms, "Heart of Chicago". It is an explosive track that describes that make-or-break artistic atmosphere in Chicago, with there being a thin line between success and failure in the life of a Chicago-based songwriter. "All those things I ever wanted to be never happened for me," Ostello recollects during the song's first few moments, later lamenting that "money and fame" are recognized later as a foolish insignificance.
As the guitars in "Heart of Chicago" become an obstreperous force in eventual support of the volatile chorus, Ostello's quivering voice is utilized brilliantly as he exclaims, "She's got the keys to the city, I've got no plans for tomorrow." The romantically inspiring comparison of symbolizing the music industry as a bittersweet sentimental relationship is also singulaly agreeable, lacking in dullness or repetitiveness. The guitar solos and licks spread throughout over "Bells of Chorus" are delectable as well, with a more subduedly melodic chorus are being a cause for rousing diversity. You do not have to live in Chicago to cherish Central Standard, as both of their self-released EPs are available on their MySpace. It will not be long though; their signing to a label should be imminent.
——————————————————————————————
Central Standard – Heart of Chicago
[audio:https://obscuresound.com/mp3b/cstandard-hea.mp3]
——————————————————————————————
——————————————————————————————
Central Standard – Bells of August

[audio:https://obscuresound.com/mp3b/cstandard-bel.mp3]
——————————————————————————————