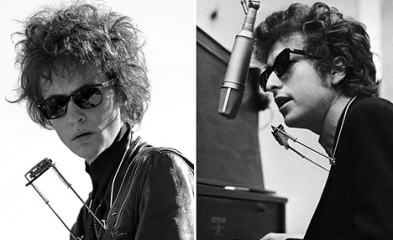 I am not going to take up much of your time with this, but I am sure many of you are aware of "I'm Not There", the movie that serves as an "experimental" biopic of Bob Dylan and his storied career. Due to the overwhelming amount of press the film and soundtrack are receiving, it is difficult for a music fan to miss the hype, Dylan fan or not. This continues to solidify the common belief that, like The Beatles, Bob Dylan is one of those rare artists whose legacy will live on long after his death (in regard to both his career and natural state). Cover albums will be made annually, bootlegs will continue to flow freely, and remasters/remixes will be formed in spirit of an imminent revitalization period. Hell, we might even see a Dylan musical some day… not that it sounds the least bit enticing. Either way, when a major motion picture is created about an artist during that artist's lifetime, something can certainly be said for the impact they have had. For those hoping to rant irrationally in the comments, I will not bother to argue about the importance of Bob Dylan. I understand that he is not everyone's cup of tea, but attempting to argue that he is not one of the most important songwriters of all-time is downright humiliating. I do not mean to sound like an elitist in that sense, but if you consider the sound of his music to be putrid I suggest that listen closer to his work and the artists that followed him. The influence is inarguable.
I have no judgment on the film, as I have not seen it yet. I will likely see it once it receives a wider release sometime early next year. I at least want to check out Cate Blanchett's impression of Dylan. I have been told that her demeanor is eerily accurate, even if her vocalized impersonations are flawed. Still, I cannot think of many women who would actually want to have the ability to accurately mimic Dylan's deep and musky voice. Hats off to Blanchett for the artistic courage. She could have easily embarrassed herself but instead appears poised to grab a few awards for a job well done. If you could not tell, she is the left insert on the photo above. In the mean time until the release, the movie's soundtrack has been keeping me quite busy. With names like Sonic Youth, Yo La Tengo, Jeff Tweedy, Sufjan Stevens, and Tom Verlaine involved with at least a song or two on the massive soundtrack (33 tracks, two discs), I had to at least check it out. There is too much talent involved to let it go by unnoticed. However, as to be expected from a cover album with 33 tracks, there are moments of both brilliance and ineptness. My personal description of a quality cover is one that accurately juggles the initial intentions of the original artist with a sense of innovation from the new artist attempting the cover. When they can achieve this without damaging the eminence of the original, I personally see it as a resounding success.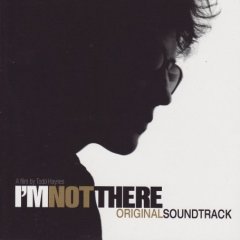 The issue with a Dylan cover album largely is attributed to the fact that he is one-of-a-kind. While this also allows ample opportunity for singularly unique representations, there will always be that certain group of people who feel intent on bashing it simply because it does not reflect the quality of the original. Let's get this straight: A Dylan cover will never surpass the original. He is one of those artists where interpretations need to be taken in an open-minded manner. Depending which way you look at it, it is a win-win or lose-lose situation. On an instrumental front, the stars of the soundtrack are The Million Dollar Bashers, a supergroup comprised of guitarists Tom Verlaine (Television), Nels Cline (Wilco), and Smokey Hormel; bassist Tony Garnier; keyboardist John Medeski; and Lee Ranaldo and Steve Shelley of Sonic Youth. Along with the equally impressive contributions from Calexico, they are responsible for the majority of covers. The Million Dollar Bashers play a pivotal role in my favorite track on the soundtrack, Stephen Malkmus' interpretation of "Ballad of a Thin Man". One large reason for Malkmus' degree of success in the song is that he does not sound overly desperate in his Dylan . He maintains his own vocal croon for the most part, adding strains of distinct emotion over the expertly crafted demeanor of bursting shrill keys and rhythmic explosions from The Million Dollar Bashers. The same can be said for Willie Nelson's "Senor (Tales of Yankee Power)". He sounds like, yes, Willie Nelson. Nelson's veteran croon, in combination with the beautiful horn additions from Calexico, creates a cover that is absolutely stunning.
In the midst of all these successes, one of the few tracks I was disappointed with was Cat Power's "Stuck Inside of Mobile with the Memphis Blues Again". With it being frustratingly similar to the original, Marshall sounds generally disinterested in her vocal delivery. While I understand that this is a part of her appeal and it is generally intentional, I believe her talents allow her for greater results. The additional brass is nice touch but still cannot serve enough justice for one of my favorite Dylan tracks. Maybe my expectations are too high but, either way, there are plenty of other gems on the soundtrack. Charlotte Gainsbourg's "Just Like a Woman" is delicately touching and wildly original, as she also uses Calexico's brassy charm in combination with her whispery vocals. Antony and the Johnsons' Antony Hegarty uses his accustomed minimalist appeal in his version of "Knockin' on Heaven's Door". Fans of Hegarty will love it, those who are not followers will not; it is as simple as that. I am just relieved that he didn't attempt a Dylan impersonation. That would have been a nightmare. In a nutshell, other personal highlights for me include Jeff Tweedy's string-induced "Simple Twist of Fate", Iron & Wine's "Dark Eyes", and Mark Lanegan's haunting "Man in the Long Black Coat". As his excellent covers album, I'll Take Care of You, proved, Lanegan is no stranger in the art of crafting a masterful cover. With its brooding atmosphere soaked to the brim with Lanegan's signature murky voice, "Man in the Long Black Coat" is definitely one of the best covers on the soundtrack. Additionally, it seems that nearly every song on the soundtrack in which Calexico is involved is a success. They certainly did their part on this one.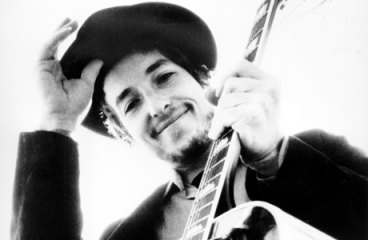 I am also left obliged to mention that the soundtrack includes one of Dylan's best songs, the original "I'm Not There". The film took its name from the song for good reason, as it is one of Dylan's most appreciated songs despite the fact that it has never been widely released. Sonic Youth also provides a nice cover of it, touching on the beautifully quivering chorus in a satisfactory manner. It would be overbearing if I went over each and every track on the soundtrack so I will leave the rest up to you. All you need to know from me is that, even if you have no interest in the movie whatsoever, the soundtrack is definitely worth picking up. One of the most admirable things about the soundtrack is that it is as cumulatively reflective of Dylan's prolific career as one could hope. The covers are not limited to Dylan's early or latter years. The songs are spread out sporadically, reflecting Dylan's durability throughout the years in combination with his initial influence and eventual legacy. I am just pleased that such a great and enjoyable honor has been granted to an unforgettable musical legend. This soundtrack had hefty ambitions surrounding it but it certainly succeeded on most fronts.
——————————————————————————————
Stephen Malkmus & The Million Dollar Bashers – Ballad of a Thin Man

[audio:https://obscuresound.com/mp3b/smalkmus-bal.mp3]
——————————————————————————————
Willie Nelson & Calexico РSe̱or (Tales of Yankee Power)
[audio:https://obscuresound.com/mp3b/wnelson-sen.mp3]
——————————————————————————————
Mark Lanegan – Man in the Long Black Coat
[audio:https://obscuresound.com/mp3b/mlanegan-man.mp3]
——————————————————————————————