Posted
November 16, 2007 by Mike Mineo
in Features
Minipop Think Big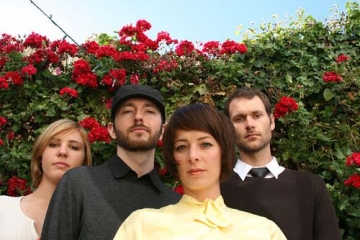 Rewind back to the mid 1990s. Though the previously bustling style of grunge was beginning to fade out, explosive alternative-rock was in full form. With stateside bands like Smashing Pumpkins and Pearl Jam finding success alongside the likes of Brit-poppers Blur and Oasis, it was inarguably a good time to be a music fan. Keep in mind, much of this was after tragedy had struck for Nirvana fans a few years earlier; oddly enough, the music scene was stronger than ever despite Cobain's death. I like to think that his abrupt death instilled more motivation in those with the proper potential to do great things. However, in the midst of all the quality music that was released during the decade, an aspect of the production and promotion process often went overlooked. The '90s opened up a new phase for the revival of music videos, establishing the cause as one that was not limited to the swift steps of Michael Jackson, cheesy pop music, or early hip-hop innovators. Smashing Pumpkins, Radiohead, and are just a few of the respectable names . Whether it be the elusively masterful nature of "Tonight, Tonight" or the startlingly innovative "Just", the videos for the respected songs added a new sense of depth to their illusory creativity. Good music, good movies, risqué fashion statements – looking back, it was a pretty good time.
When I heard that Minipop's newest music video, "Like I Do", was drawing widespread comparisons to the flawless cinematographic production of Smashing Pumpkins' "Tonight, Tonight", I just had to check it out. Upon watching it on the trusty ol' YouTube, I saw that the likeness was justified – both in musical and cinematographic aspects. Directed by Andrew Huang, it is arguably the most entertaining music video of the year. Like "Tonight, Tonight", the landscapes throughout the video are abstract and creatively illustrated, implementing watercolor as the four real-life figures of the band inhabits the fantasy world freely. However, instead of being a mock silent-film in space, the adventures take place throughout a variety of environments. From evading a giant cat-like creature in a house to flying off the edge of a sprawling city and into the treacherous seas, even calling this an interpretative acid trip would not give it enough justice. Oh, I may have forgot to mention the end; a winged creature takes the band up into the night sky. Illuminated stars? Futuristically hopeful space vehicles? Yeah, it smells like something familiar to me. All it is missing is a nasally bald man in trousers. Even with such a great video, it brings me satisfaction to know that it did not overshadow the quality of Minipop's songwriting. To my pleasant surprise, it was not the video that turned me on to the four-piece in the end. It was their music.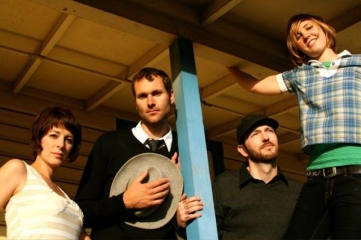 It is readily apparent that the four-piece from San Fran takes great pride in their sound, as it is consistent and dutiful all throughout their first full-length album, New Hope. While the instrumentation is a light form of synth-oriented arena-rock from the decades past, the charmingly lighthearted vocals of Tricia Kanne provides for a parallel collaboration that is both heartwarming and illustriously engaging. The most impressive thing about Kanne's voice is that she initially comes off as delicate in several songs, notably "Like I Do" and "Precious". This is not to say she is not a force though, as she reaches great vocal intensity all throughout the peaking moments found within the band's material. She is a driving force that capitalizes on the instrumental strengths of guitarist Matthew Swanson, bassist Nick Forte, and drummer Lauren Grubb, often making her presence known during zealously layered choruses. The band personally claims that it sounds like "marshmallows on morphine and care-bears on Xanax", a description that is surprisingly accurate. Consider Kanne's vocals to be the edible aspect, while the accessibly soaring instrumentation can suitably be the mind-altering circumstances. Keep in touch with their unconventional demeanor, their name actually appears to be quite ironic. Minipop's sound is as expansive as most would be able to find out of the contemporary alternative scene.
New Hope was released last week and you can purchase the download through Amazon's MP3 service for a measly $9. Considering the remarkable quality, it is well worth it. It covers the majority of Minipop's material from their formation in 2004 to the present, with the beautiful "Precious" previously being on the Precious EP, released last year. New Hope was produced by ex-Jellyfish collaborator Chris Manning (I covered his brother, Roger Joseph Manning, Jr., over a year ago) and it contains ten songs that are primarily in the vein of "Like I Do", "Someone to Love", and "Precious". The latter tends to be the band's attempt at a ballad, coming through successfully with Kanne's angelic voice gliding effortlessly over the slight strain of keys, synths, and guitars. While "Precious" and the concisely catchy "Someone to Love" are enjoyable, my favorite remains the exceptional "Like I Do". The keys, guitars, and Kanne's vocals are incorporated nearly flawlessly, exposing a rare form of hook-laden alternative pop. Looking ahead, Minipop seems to have a bright future ahead of them. As long as they keep up with their quality songwriting (and music videos!), it is a guaranteed success.
——————————————————————————————
[audio:https://obscuresound.com/mp3b/minipop-lik.mp3]
——————————————————————————————
[audio:https://obscuresound.com/mp3b/minipop-tol.mp3]
——————————————————————————————
[audio:https://obscuresound.com/mp3b/minipop-pre.mp3]
——————————————————————————————
Mike Mineo
I'm the founder/editor of Obscure Sound, which was formed in 2006. Previously, I wrote for PopMatters and Stylus Magazine. Send your music to
[email protected]
.