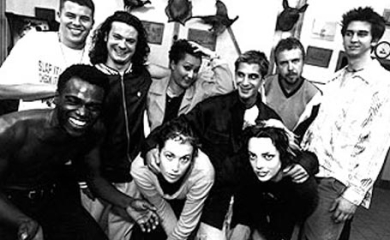 It would be appropriate to say that Bran Van 3000 have been one of the most subtly successful groups of the past few years. Their songs have been displayed in a countless number of movies, television shows, and assorted adverts – yet they still have not achieved a status of widespread recognition based on their namesake alone. Whether it was their catchy "Go Shopping" over the faint static of a radio in the hit Mexican film "Y tu Mamá También", the subtle ode to their breakthrough "Drinking in L.A." in the cult "Hitchhiker's Guide to the Galaxy", or the Curtis Mayfield collaboration in Bran Van 3000's song "Astounded" (which proved to be the last performance of Mayfield's prolific career), there is actually a good chance you have heard Bran Van 3000 before. You probably just did not notice it. If you were to listen to an assorted number of songs from their first two albums, Glee and Discosis, several tracks would bring up an exclamation of, "Hey! I heard this song before!" Indeed, it is perhaps the only beauty of rampant commercialization for artists, whether they view it as a shameful deficiency or helpful marketing strategy. Regardless, Bran Van 3000 is undoubtedly doing something right with their smartly executed fusion of electronica and world music.
The number of members involved with Bran Van 3000 has alternated throughout their 12-year existence, but the central creative force has always been DJ Jamie "Bran Man" Di Salvio, a one-time filmmaker, part-time DJ, and full-time songwriter. Di Salvio had initially entered the world of business with the intent to become a well-known filmmaker specializing in documentaries. However, after finding out that the task was not particularly durable in its financial aspects, he looked toward a part-time career as a DJ and remix artist. Since childhood, he had always loved the production and creative aspects of music, being a fan of nearly every genre known to man; it turned out to be an ambitiousness that differentiates Ban Van 3000 from other electronica acts that are sunken in mediocrity. After gathering near 2 dozen talented but primarily unheard-of instrumentalists, producers, and singers throughout his native Montreal area, he began to put Bran Van 3000 into action. Glee was released in 1998 and critics reacted similarly to the album's namesake, with their debuting single, "Drinking in L.A.", becoming a radio favorite. Less than a year later, the single was re-released after appearing in a Rolling Rock commercial, soon reaching a whopping #3 on the UK Top 40 charts. Their follow-up, Discosis, was released in 2001, featuring even more collaborators like Eek-a-Mouse, Beastie Boys' Mike D, and the late and legendary Curtis Mayfield. The album and its respected single, "Astounded", was received just as well.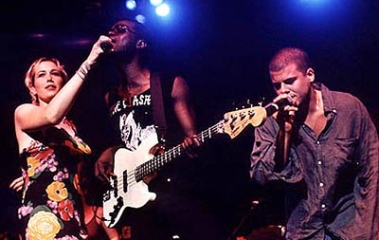 After six years of ambiguous comments and sparse public appearances, Bran Van 3000 has finally released a third album with the stylistically diverse Rosé. From their first two albums, it is just what I have come to expect from the massively talented musical collective that is Bran Van 3000. Di Salvio's stylistic range is astounding, reaching a territory of intuitiveness where most contemporary artists merely fear to tread. He shows no hesitation, incorporating elements like reggae and soul as if they were his sole naturalized intention. For those who are impressed by artists who blend a variety of other worldly musical styles seamlessly, Rosé is a must-buy. It will be released on November 27th… just in time for the holidays. Within the midst of guitar-oriented rock and repetitive pop music, its range is a breath of fresh air. Instead of being linear with no direction or focus, Rosé appears to be a tribute directed toward genres that African-American musicians have influenced with intuitive skill and precision over the past 50 years. From stylistic classics like reggae and soul to more contemporary veins of hip-hop, Rosé covers it all.
For those who read the site regularly, you probably already know that I am enamored with the Spinners' original version of "I'll Be Around", just because Thom Bell wrote it. I wrote a post on the visionary a month ago; he is a visionary who I consider to be one of the best songwriters of the past century. You can listen to the original "I'll Be Around" in that post. Anyways, the reason I bring it up is that the first song on Rosé is an excellent remix of the soul classic, a risky pursuit that eventually succeeds due to its use of additional strings and dabbles of synths. When it fades into a Jamaican blend of hip-hop and dub in its final minutes, the effect is surprisingly gratifying due to its melodic similarity. After the hip-hop snippet, the song folds back into an instrumental, synth-tinged version of "I'll Be Around". Remixes of classic soul songs rarely turn out well. This is one exception. Soul not your thing? Check out "Sea of Life", a suave reggae track that excels with a crisp saxophone, acoustic guitar, and glitch effects. Though the melody remains the same throughout, a variety of vocalists and melodic deliveries are utilized, making it constantly fresh and engaging. A hip-hop fan? "House Lights" is definitely for you, being one of the catchiest hip-hop tracks I have heard this year. The humorous reference to Depeche Mode and the absolutely irresistible chorus does not hurt either. In retrospective, here is a short guide based on your musical interests: Soul music – "Call Me (I'll Be Around Medley)"; Reggae – "Sea of Life"; Hip-hop – "House Lights". Diverse enough for you? I thought so.
——————————————————————————————
——————————————————————————————
Bran Van 3000 – Call Me (I'll Be Around Medley)
[audio:https://obscuresound.com/mp3b/bv3000-cal.mp3]
——————————————————————————————
——————————————————————————————