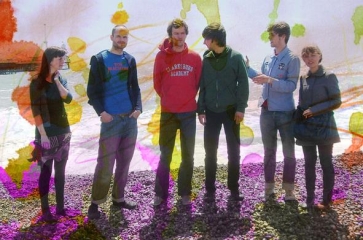 Wyoming, the United States' least populous state, has nearly twice the population of Iceland. Leave it to the art of music to give the best example of quality over quantity. No offense to the Cowboy State, but I honestly cannot think of one prominent songwriter who has had their roots tied to Wyoming. Though several artists (Jackson Pollock) and actors (that dude on Lost) hail from the state, music is certainly not its reputable expertise. As for Iceland, the fact that the small country has a slew of artists with universal recognition is respectable in its own right. One could make a strong argument that Iceland has the strongest music scene in the world for a country with under 1,000,000 people. With Icelandic legends like Björk, Sigur Rós, and Emilíana Torrini leading the way, it is hard to argue against such esteemed sentiments. With the Icelandic music scene being known outside its borders as a make-or-break affair with a thin line between local and international success, new artists tend to feel a substantial amount of pressure. Many wonder whether they will join the elite internationally recognizable ranks of Björk and Sigur Rós or spend their whole lives in Iceland as nothing more than a local favorite. While luck and promotion certainly play vital roles, the most important aspect of renowned success remains the quality of the music.
For those accustomed to the most commonly available Icelandic acts, Seabear should come as quite a surprise. It is not ten-minute post-rock ballads with sweeping strings and prolific falsettos, nor is it a swan dress-wearing bundle of talent singing her lungs out over an eclectic blend of musical styles. Instead, the seven-piece from Reykjavik are demonstrative of a style that western audiences should find enjoyably familiar. They sing a delicate mixture of indie-pop and folk, supplemented by a variety of sweeping strings, chirping backing vocals, and light keys, delivered in a sense of structural consistency that allows for memorability and willing repetition. Seabear's stylistic preference can be easily classified as lo-fi indie-pop, though the expansive capabilities that the array of strings and melodic delivery generates makes their content in a league of its own. Recently signed to the Berlin-based Morr Music label, Seabear should find good company in bands like The Notwist and native contemporaries Múm. Morr has been known to dig into artists of all genres, whether it be experimental glitch-ambient or folky indie-pop; this makes them one of the more consistently diverse labels I have come across recently. Upon its formation in 2004, Seabear was actually intended to be the solo project of frontman Sindri Már Sigfússon. He later enlisted the aid of two more members in violinist Gudbjörg Hlin Gudmundsdóttir and guitar/lap steel player Örn Ingi. Shortly afterward, four additional members also joined, finalizing Seabear as a seven-piece.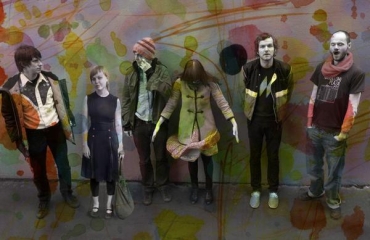 Since success appears to be imminent for Seabear, I must warn you about the comparative process that critics will attempt to place upon the seven-piece. From Belle & Sebastian and Travis to Elliott Smith and Boy Least Likely To, many may find it convenient to group the latest Icelandic phenoms into the category of acoustically fixated songwriters of melancholic intentions and desperate pleas. Despite the enormous talents of Elliott Smith and Belle & Sebastian, Seabear's approach is more inherently modernistic. Whether it be their use of strings, alternative acoustical variations, or occasional use of samples, comparisons to Seabear will always be somewhat rough due to their respectable ability to draw innovation when it matters most. Though their lyrical content is romantically charming and often heart-tugging, the focus remains on the subtly infectious melodic delivery and the exceptional production value that makes it appear so pleasurable. "I Swing I Swim" is uplifted by a ukulele-like acoustic guitar whose melody is echoed by a twinkle of keys at the end of each line. Like most songs on their exceptional debut, The Ghost That Carried Us Away, the reposeful vocal and instrumental approach is delightfully serene. "Arms" is also highly demonstrative of the band's inclusive chops, showcasing an exceptional string arrangement over the simplistic strum of an acoustic guitar. The song is short and sweet, a catchy little treat that finds its strengths in both its acoustic rapidity and guileful incorporation of strings.
One of the most apparent aspects of The Ghost That Carried Us Away are the strikingly haunting vocals of Sindri Már Sigfússon; they are attenuated and intentionally hushed to avoid any forced inconsistencies or lyrical misinterpretations. Enjoyably enough, it blends perfectly with Seabear's instrumental arsenal. Though their approach boasts a variety of guitars, strings, and percussion, t His approach makes perfect sense too, as Sigfússon wrote all 12 tracks on the album. He certainly used the help of his backing band though, as the effervescent quality of the excellent "Hospital Bed" reaps beneficially from the airy backing vocals, supplied gracefully by the female members of the band. The song touches on romantic regret, a common subject that Seabear handles with finesse and beauty. The string use within "Hospital Bed" is one of the best moments on the album too, even more enjoyable than the previously exceptional "Arms". On a cumulative level, with its reflective incorporation of piano and harmonica, "Cat Piano" is my favorite song on the album. The melody glides seamlessly over Sigfússon's relaxed vocals as he reflects on moments of bittersweet nostalgia. "Some nights, I swear, there was magic in the air," he whispers gracefully, before a harmonica delivers the bridge toward the proceeding verse. The keys twinkle and the harmonicas are incorporated beautifully but, most importantly, the song does not stray from its original intention. It remains serene all throughout, being an enjoyable gem all the way through. Sometimes changes in tempo or melodic delivery are unnecessary. It is comforting to know that Sigfússon understands such situations. It is not surprising though, as his talent should eventually bring Seabear recognition significantly beyond the borders of his native Iceland.
——————————————————————————————
——————————————————————————————
——————————————————————————————
——————————————————————————————