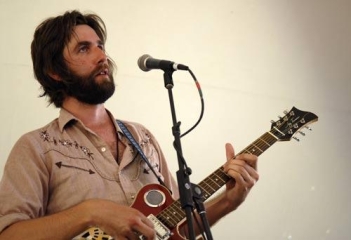 I have always held a fair amount of respect for artists who choose not to hide behind numerous barriers of noise. While I have no issue with the handful of post-rock artists who intricately layer each and every instrumental track with precision, there remains an onslaught of artists of all genres who seek to hide their flaws behind rampant distortion and sloppy chords. It can serve as an easy divider between the truly inspired and the reckless imitators, a thin and fragile line where there are few artists at a wavering point. Sporting a beard that would make most men jealous and a talent that would make most women swoon, Tyler Ramsey is a songwriter who clearly values intricacy, quality songwriting, and atmospheric credibility. A guitarist whose stylistic range varies anywhere from gentle finger-picking treats to bluesy riffs of utmost enjoyability, Ramsey has the ability to capture a broad spectrum of emotions in his highly impressive solo material. Though he will likely be remembered for his solo career, Ramsey also serves as a backing and studio guitarist for a variety of acts located around his hometown of Asheville, North Carolina. More recently, he has been recognized as the opening act and part-time guitarist for Band of Horses. Though the highly touted indie-rock trio is based out of Seattle and not Ramsey's own North Carolina, they are giving Ramsey a well-earned opportunity to try his hand at stardom. With the way that his new album sounds, I would not doubt that he reaches it.
The most impressive thing about Ramsey is that, if you gave him nothing but a pick and acoustic guitar, he could immediately treat listeners to a beautifully heart-wrenching song that is elaborate enough to cause any desires for additional instrumentation to become relinquished. However, that is not to say that his new solo album, A Long Dream About Swimming Across the Sea, is strictly an acoustical record. With elements of piano, strings, and percussion peeking out amongst the midst of Ramsey's serene acoustical melodies, Ramsey is an artist whose diversity equates to his own form of quality. This is what makes A Long Dream Swimming Across the Sea so impressive. Along with his tendency to provide emotionally gripping lyrical content and a memorable melodic input, Ramsey's usage of structural innovation remains an inarguable strong point. One of my favorite tracks on the album, "Once in Your Life", is a perfect example of such creativity. Though all are delivered in a cohesive manner in the bridge that separates them, "Once in Your Life" can be said to contain three songs in one. The first is a somber ode to lost love in which a touching acoustic guitar is repeated over the haze of a subdued organ. "Once in your life you're meant to find… true love," Ramsey sings delicately over the minimal hush. Slightly prior to the midway point in the song, a steady 4/4 percussive beat is relayed over the mimicking of quartered piano chords. "I can't wait another day," he sings emphatically, now welcoming the slight murmur of strings. The last minute or so of "Once in Your Life" serves as a fun sing-along in which Ramsey rejoices phrases like "All I gotta do is get drunk!" and "All I gotta do is get high!" Quite a contrast to the first several minutes of the song where Ramsey somberly calls out for his "true love". Call it the ups and downs of life — Ramsey certainly makes it work.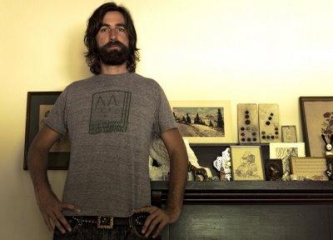 If one were forced to for some odd reason, Ramsey could be most easily classified as a folk artist. He grew up in the mountains of Western North Carolina, immersing himself in the various folk styles that were populous throughout the area. Still, Ramsey's own work remains too varied to strictly classify in one category. Folk most often prevails, but shades of alternative and country can be found throughout several songs like the tinge of country in the simplistically enjoyable "Worried" and the beautiful flurry of brass and strings in "When I Wake". I am also obliged to mention that A Long Dream About Swimming Across the Sea is set for a January 15th release date. This makes it the second or third album I have heard from this upcoming year, immediately placing it at #2 (so far), right behind Martina Topley-Bird. I must say, the year is already starting off extremely strong with two albums that are strong enough to finish in my personal Top 50 for '08. I am jumping ahead of myself though — let's savor the last two months of '07 first.
I could easily say that there are no dull moments to be found on A Long Dream About Swimming Across the Sea. Though many base the quality of music around its infectiousness or radio-friendly receptiveness, many foolishly abandon the importance of creating an atmosphere within the musical content itself. "These Days" is my personal preference in that regard, being a track that has the ability to instantly grant a feeling of relaxation upon the listener with its gliding guitar progression and consistently interwoven percussion. Through the slight hum of an organ and the acoustical progression, the electric guitar serves as the igniter of the song's main hook. The verse is casually relayed in Ramsey's usual laid-back tone, though the hook sees an enhancement within the electric guitar that is uplifted by yet another lyric detailing emotional vulnerability: "Now if I seem to be afraid to live the life that I have made in song, well, it's just that I've been losing so long." With a remarkable effort like A Long Dream About Swimming Across the Sea, "losing" is the last thing that comes to mind. This is a winner in all aspects and, in doing so, is one of the first great albums of 2008.
——————————————————————————————
Tyler Ramsey – Once in Your Life
[audio:https://obscuresound.com/mp3b/tramsey-onc.mp3]
——————————————————————————————
——————————————————————————————
——————————————————————————————