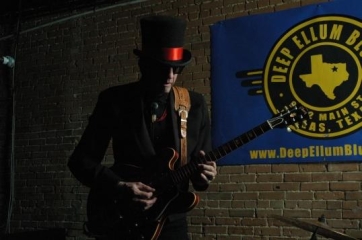 Whether you are a musician or not, it is easy to understand how difficult it can be for up-and-coming artists to get the meager attention of a label. With our technological age providing ample opportunities for any willing individual to promote their music on their terms, there are so many different types of artists attempting to push their music to the top. Usually, to attain a fan base outside of their mothers, they have to decide which aspects of their music truly differentiates them from the hordes of fame-hungry individuals attempting similar methods of recognition. For the Texas-based collective intodown, such classifications are not that easy. If a record label executive were to ask them which "type" of music they play, I would not be surprised if the various members of intodown blurted out a variety of different coined genres. Stoner-rock! Surf-rock! Prog-rock! Psychedelica! As overwhelming as it may initially be, it is in this degree of stylistic indecisiveness that makes the music of intodown such an enjoyable listen. Their sprawling sound is undefinable and their influences, though obviously present, are largely untraceable. Dullness is never a word used to describe intodown; their diversity and high level of ambition makes their sound ceaselessly exciting.
I have found that, in much of contemporary music, there seems to be a sense of stylistic restraint among younger artists. There are too many artists looking to keep a song under 4 minutes to make it "radio-friendly" or "widely accessible"; it is a quality that sadly stops bands from ever reaching their full potential. The beauty of intodown is that they hold nothing back. With their aforementioned diversity coming into play on each and every song on their new album, Brave New World, the band shows no hesitation to keep a song at an average length of 10 minutes. The style alone carries each and every song, making the duration enjoyably unintentional. Intodown have made their stylistic classification somewhat simplistic in that regard with a statement on their web site: "We are simply a medium of exchange." Whether you want to call them a jam band, post-rock experimentalists, or artsy prog-rockers is up to you. I have to agree with the band though in that their classification is irrelevant. It is a blend of learned experience from the veteran musicianship of founding frontman Michael Clark. As the lead songwriter and guitarist, Clark is a one-man wrecking crew with a boatload of influences at his side ranging anywhere from surf-rock to classical. He cites Jimi Hendrix and Miles Davis as individual influences, with Clark's impressive guitar proficiencies demonstrating it well. On Brave New World, he is rounded out by three drummers, four bassists, and a trumpet player. So much for instrumental simplicity.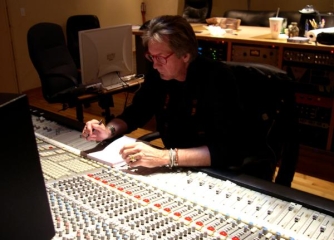 In terms of accessible bands, I admit that intodown is certainly not one of them. That does not stop them from being a very enjoyable listen though; it just takes a bit of time to grow accustomed to the songs in their catalog. Keeping in tact their post-rock mentality, intodown's output is largely guitar-based and instrumental with occasional additions of vocals that are used to capitalize on the rhythm sections. Whereas vocals are conventionally added to expand upon or create a melody, inthedown's focus on rhythm is an innovative change of heart that often works for the better. In the explosive "Elevator", leading man Michael Clark delivers a set of mumbling vocals that correspond to the gruesomely dark array of guitars nearly perfectly. The entire song is epic in an atmospherically dark sense, bringing together Clark's impressive guitar skills with David Willingham's excellently implemented trumpets as the song never once comes to a halt. It merely serves as an introduction though, as the instrumental force that the song conveys exposes a raw sense of power that many amateur post-rock bands have not even come close to competing with.
Appropriately enough, the name and subtly placed lyrics in "Elevator" derive from Clark's fondness of the cult psychedelic-rock group, the 13th Floor Elevators. Willingham's use of trumpets makes "Elevator" sound magnificently dark, as if this so-called elevator is traveling in a downward spiral to the depths of hell. As gruesome as that may sound, I find it to be extraordinary impressive. Usually, these days, bands that are classified as "dark" are "emo" or metal groups snarling and roaring, respectively, over the repetitive pattern of three chords. Instead, intodown follows the steps of post-punk greats like Joy Division and Echo & the Bunnymen in crafting a sound that is genuinely "dark" in a supremely talented form. Whether it be the large doses of reverb or the sheer guitar-based power that Clark delivers in seamless form, it is an ironic opener for an album whose title reaps from Aldous Huxley's futuristic intentions, primarily because intodown is a fusion of Clark's past influences. Keep in mind though, with songwriters like Clark continuing to embrace numerous musical decades in such widespread form, such influences will never be considered outdated.
Clark describes intodown's band name as a "state of mind [and] a feeling". With the band's sound in mind, their name is entirely suitable. ""Down" is sort of that mind state that is below the radar," he says, "Somewhere melancholy, pensive; it is where the mystery lives." Intodown's musical output is reflective of such atmospheric emotions, with tracks like "Revolution" and "Fire" living up to their volatile namesakes by presenting a fury of rampantly executed guitar solos aided by a fastidious rhythm section. This intensified form of chaos is perfectly executed, and it helps that A Brave New World constantly shifts in tone and emotional viscosity. The 12-minute "Nostradamous" is so fantastic in instrumental power and emotional delivery that we can fully forgive the misspelling of the prophesier's name. While occasional moments on A Brave New World seem too forced in attempting to expose solely Clark's guitar skills, the album is definitely recommended for fans of epically instrumental post-rock. My only wish for intodown is that they expand on additional instruments on their next release. The use of a trumpet in "Elevator" makes it the album's best song for good reason. The majority of A Brave New World sounds neatly improvised and those who enjoy such alternatively placed post-rock methods should certainly give intodown's latest a chance. While Clark's use of guitar is skillful enough to nearly carry the album on its own, intodown's potential allows for even more resounding atmospheric effects if they open up their instrumental horizons a bit. Either way, whether they capitalize on such opportunities or not, intodown are certainly an act to look out for.
——————————————————————————————
——————————————————————————————
——————————————————————————————
——————————————————————————————