Posted
December 11, 2007 by Mike Mineo
in
Mike Ladd Turns on the Nostalgialator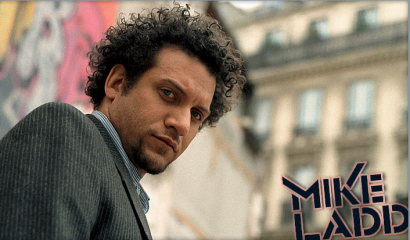 In terms of self-coined genres, the result is often either overbearingly descriptive or shockingly accurate with no wavering point, especially when "Afro-" is the preceding article to a genre that is considered somewhat conventional in nature. Now, after the acclaimed funk-jazz collective Budos Band brought us a form of "Afro-Soul" earlier this year, Boston-based MCer Mike Ladd is making a name for himself with his apparent form of "Afro-Punk". One of the original artists on James Iha's (ex-Smashing Pumpkin) Scratchie/Mercury Records, Ladd has since written and produced 10 albums, all of which are presented in a stylistically diverse nature. What remains most impressive is Ladd's stylistic diversity; his fusion of hip-hop, electronic pop, and punk is often supplemented by a lyrical delivery that supports elements of spoken word and poetic device. Before his days of eclectic musicianship, he dabbled as a poet and won the the Nuyorican Poets Café Slam in addition to being published in several tomes. Still, I guess such diversity is to be expected from someone who has attended Harvard, had their music commissioned by the Brooklyn Academy of Music (after In What Language?, a collaboration with pianist Vijay Iyer), and is an acclaimed poet. After hearing such a résumé, one can only begin to imagine what his actual music sounds like.
The main reason that I bring Ladd up is that his excellent album from 2004, Nostalgialator, is being reissued for American fans on Definitive Jux on January 15th. Though he is a native of Boston, Ladd is currently based in Paris and has found his most success around Europe, being why Nostalgialator and a few of his albums have only seen European releases as of now. "Housewives at Play", being a display of suave electro-pop in the vein of Hot Chip, is a bit unconventional for Ladd's usual, fastidious delivery. Regardless, its immediate catchiness and colorful flavor cannot be denied. Rounded out by a slick guitar solo and a flurry of tightly tinged synths, Ladd sounds seemingly at home within the style. He is certainly not limited to it on Nostalgialator though; "Black Orientalist" and "Afrostatic" regain familiar ground with Ladd's interests in pop culture and Black history (one of his college majors), implementing hip-hop, funk, and soul in the process.
"Afrostatic" is a well-executed throwback track that sounds enjoyably cheesy in the vein of Parliament-Funkadelic, using retro horns and expeditious vocals in the process. It personally reminds me of The Go! Team without the cheerleader chanting and dancing; the brass accompaniments surrounded by the distinctively outdated style of production provides for a sound that richly encompasses Ladd's desired intentions. "Black Orientalist", though more concentrated on rhythm, sees a similar approach bolstered by a more concentrated focus on hip-hop. As Ladd spits rhymes involving Osama Bin Laden, Shaq, Sean Connery, and a variety of Asian countries in the infectious chorus, it makes his quest for apparent world domination sound seemingly less unrealistic than it really is.
——————————————————————————————
Mike Ladd – Housewives at Play

[audio:http://mineorecords.com/mp3/mladd-hou.mp3]
——————————————————————————————
[audio:http://mineorecords.com/mp3/mladd-bla.mp3]
——————————————————————————————
[audio:http://mineorecords.com/mp3/mladd-afr.mp3]
——————————————————————————————
Also: Trouble Shot
Mike Mineo
I'm the founder/editor of Obscure Sound, which was formed in 2006. Previously, I wrote for PopMatters and Stylus Magazine. Send your music to
[email protected]
.