Posted
December 1, 2007 by Mike Mineo
in Features
Obscure Sound: Best of November 2007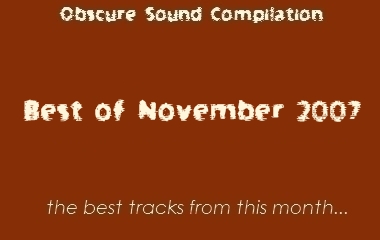 Yeah, it's almost over. We have merely a month left in the year 2007 and, looking back, I am continuously finding it to be one of the best musically-related years in recent memory. I will go into further detail when I reveal my year-end lists later this month. Like last year, you can expect a lengthily detailed "Top 50". I am looking forward to wrapping things up and moving onto the year 2008, a year that looks just as good and possibly even better for music fans worldwide. In the mean time, check out the best of the best from November. Whether the styles presented in the past 30 days were jangle-rock, synth-pop, shoegaze revivals, or soul remixes, the month was undoubtedly a diverse one.
01. The Hidden Messages – Such a Disgrace (post)
02. Private – My Secret Lover (post)
03. Seabear – Hospital Bed (post)
04. The Tough Alliance – First Class Riot (post)
05. Immovable Objects – Raindrops in Morning Traffic (post)
06. Girls Aloud – Girl Overboard (post)
07. Minipop – Like I Do (post)
08. Feu Therese – Le bruit du pollen la nuit (post)
09. Gary Reynolds and the Brides of Obscurity – Sleep (post)
10. Black Mountain – Tyrants (post)
11. Central Standard – Heart of Chicago (post)
12. Ports of Call – Washout (post)
13. Hammer No More The Fingers – Black Harmony (post)
14. Muy Cansado – Soul Song (post)
15. Bran Van 3000 – Call Me (I'll Be Around Medley) (post)

DOWNLOAD ENTIRE COMPILATION>>>
(62.9 MB, .RAR file)
Mike Mineo
I'm the founder/editor of Obscure Sound, which was formed in 2006. Previously, I wrote for PopMatters and Stylus Magazine. Send your music to
[email protected]
.