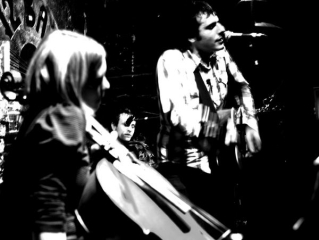 Though both aspects of optimistic ascension and pessimistic declination remain prevalent in the lyrical content for most conventional songwriters, there is often evidence of mundane repetition when an artist chooses to focus on exclusively either topic, revealing his emotions to be nothing more than a linear plea for apathy. Unless it proves to be some remarkable conceptual achievement, emotional variation in songwriting is a strength that is often overlooked. For Franc Cinelli and his project, Goodtimes Goodtimes, the beauty comes in his ability to depict a varying degree of emotional baggage, both in forms of extreme exuberance and downcast anguish. "Telling stories and reaching out with a song and a strum is pretty special. I write about whatever takes my fancy," he says, attributing some examples as, "girls, that night when I couldn't bite my lip and it got me into trouble, my mates, Johnny Cash, dance halls and love." The fact that he already dwells on subjects other than the conventional "girls and love" gives indication of his divergent form of songwriting. Of Italian heritage but raised in London, Cinelli's multicultural musings have supplemented his living in locations as diverse as Rome's Trastevere and New York's Lower East Side, being further showings of Cinelli's belief that being bounded ignorantly by one single culture, belief, or mood is damaging to any artist, especially songwriters.
When I first listened to Goodtimes Goodtimes, I could not help but be reminded of amiable pop music from the '70s, largely rooted in fluttering acoustic melodies and fleeting vocals. Cinelli personally relates his largest periodical influence to "the New York coffee house scene of the '70s", with influences of folk being the most glaring in his rich blend of styles. It is easy to compare him to songwriters in the vein of Tom Petty, Dylan's poppier attempts, and Van Morrison's latter works, though Cinelli's ability to take in several methods of play from the '70s results in a sound that appears largely original with entailing features that are nostalgic of such classic artists. On a personal level, Cinelli seems like the type of guy who will always be easy to get along with and follow, regardless of how much his fame rises. Despite his prevalent talents, there appears to be no showings of elitism or arrogance on his part; he openly is a supporter of MP3 blogs and goes as far to list the guitar chords for each one of his songs on his MySpace, a simple but steady enough indication that Cinelli is in it simply for the music. It is a quality that he expresses both in his songwriting and demeanor, with both being a rare feature for contemporary artists.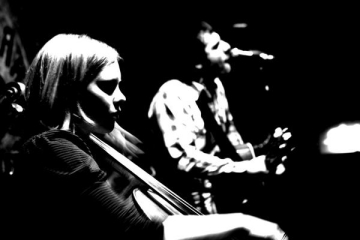 Franc Cinelli's songs are the type that will have you singing along, even before you finish listening for the first time. He crafts alluringly infectious melodies with ease, with his ability to craft sensational hooks not being far behind. Though most of us enjoy instrumentally complex songs from time to to time, Cinelli perfects the craft of writing pop songs that are immediately accessible in nature because of their melodic simplicity. Through crisp production and amiable vocals that recall the likes of Petty and Jeff Tweedy, most of his material expresses sentiments of pure pop songwriting bliss. On his debut album, Glue, Cinelli proves to be a songwriter with potential for great durability. It consists of primarily radio-friendly material, which is why my previous statement regarding Cinelli's likelihood stab at fame should not be taken lightly. "Sunshine Sunshine" is a lightheartedly catchy acoustical pop tune in which Cinelli's Tom Petty influence is at an all-time peak. With a steady acoustic progression stirred by fluid percussion and an additional harmonica-led melody, the arrangement is startlingly simple but filled with enough hooks to thoroughly satisfy the listener. Like Petty's more admirable material, it is the type of song that seemingly everyone can enjoy, regardless of age or demographic.
I consider my favorite track on Glue to be "Desire", a beautifully interwoven spectacle that features a delicate acoustic guitar, an additional guitar with a twangier tone, additive percussion, and an underlying synth that passes off well as Cinelli's own personal set of strings. Like "Sunshine Sunshine", "Kids", and the majority of other tracks on Glue, the progression is intelligibly straightforward. Still, even if the structure remains somewhat predictable in nature, I can't help but cherish its wholesome intentions; it clearly wishes to grant a smile upon the listener's face while allowing room to tap a foot or two, and it certainly succeeds in doing so. "Take it easy as you go child, we'll meet again one day," Cinelli sings in his endearing voice, declaring chivalrously, "I'd take you for all of that you are," under the frolicsome strums of his acoustic guitar. If you are a fan of extremely likable pop songs without any commercialized intent, check out Glue. Cirelli's debut effort is certainly an impressive one.
——————————————————————————————
——————————————————————————————
Goodtimes Goodtimes – Sunshine Sunshine
[audio:http://mineorecords.com/mp3/goodtimes-sun.mp3]
——————————————————————————————
——————————————————————————————