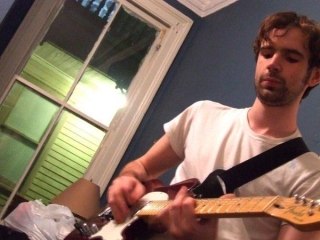 Imagine how barren the indie music scene would be if the process of attending college was nonexistent. It is impossible to count how many influential bands met in some dorm room, a class, or at an on-campus club while attending (or partying at) a college. This often instantaneous cause for musical chemistry can be largely attributed to the placement system that these colleges select in their students, often gathering a group of like-minded individuals who value similar ambitions in comparable fields of study. Most importantly for us, it allows skilled musicians to come together and work together in ways that, without college, would formerly be impossible. And – surprise, surprise – they usually work well together. It is not a high school where cover bands and three-chorded heroes reign the so-called music scene. In conventional terms, high school is not the proper environment for a skilled musician. Sure, you could have the top marching band in the country, but what does that really mean in creative terms? Close to nothing. Music tastes in this niche are generally linear too; people are merely brought together by geographic location, not specific ambitions or comparable philosophies. In college, however, you choose what you make of your experience and the people that revolve around it.
There are a reason that so many bands form at college campuses, and much of it can laid on the fact that college serves as the first time for many in their personal discovery of creative independence. Whether you choose to call such meetings the cause of fate or free will is up to you, but all that should really matter is the fact that some of these college-bred acquaintances are producing some damn good music. For Dan McCurry, frontman of the South Carolina-based four-piece Run Dan Run, this form of quality has been fervently ignited by the acquiring of musical companions in a new atmosphere. After he met the other three members in Nick Jenkins, Ash Hopkins, and Erin McKinley at various college functions, the oddly titled Run Dan Run was formed. Flash back about 10 years ago to McCurry's 7th grade class; he claims to have played the fool, playing flawed songs at a party in order to impress the "hot, popular girls there". For a 7th grader one has to admire the confidence though… and he was playing for a very tough crowd (preteen Blink 182 fans) after all. Since McCurry has resided at college though, there is absolutely no reason to expect a similarly negative reception. After all, it is difficult for the majority of college students to deny a band that shows shades of The Flaming Lips, The Postal Service, and Broken Social Scene in a sound that is filled with both atmospheric ingenuity and hook-filled melodic adeptness. According to McCurry, ever since he got out of his "annoying-i-think-i-know-everything-about-love-and-people stage", his promising songwriting has seen much louder applause.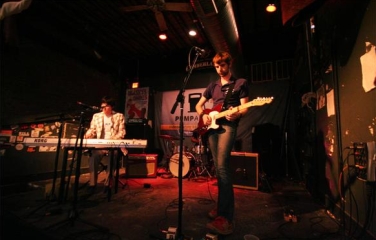 Apart from McKinley adding only her sweetly whimsical vocals, the other three members of Run Dan Run are all skilled multi-instrumentalists. Hopkins sings backing vocals and plays guitars and bass, and Jenkins is largely responsible for the percussive end of things. McCurry sings and plays guitar, bass, keyboard, violin, and whatever else he can get his hands on. All 12 songs on their excellent debut, Basic Mechanics, were written by McCurry, being a fantastic display of his ability to both write and perform in a style that can not be classified in a strict manner, but rather as a blend of likable artists whose reputation remains at a respectable high. Though the themes involving robots and automated love on Basic Mechanics over a variety of hooks bursting with colorful synths and futuristic pads would remind even the most casual listener of The Flaming Lips, the implementation of guitars and other naturally bounded instrumentation in the form of grand pianos and uncloaked guitars creates an experience that is also reminiscent of Death Cab For Cutie, Hot Chip, and The Postal Service, all artists who manage to maintain a tinge of electronica while working within realms of dance, indie-rock, and accessible pop. Run Dan Run fits in with such a group well and, though they do occasionally misstep on Basic Mechanics, several undeniable songs in the vein of "Your Name Escapes Me" and "Science" provide possible evidence that Run Dan Run may be finding a welcoming home on commercial radio soon.
Basic Mechanics offers plenty in terms of diversity, successfully including tracks that are heavily dependent on guitar, synth, and rhythm. For every electro-induced gem like "Your Name Escapes Me", there is a guitar-oriented rocker in the vein of the uproarious opener, "Withheld Information". The track provides excellent correspondence between the percussion, guitars, and synths, serving as the perfect opener in the fact that it demonstrates all the instrumental strengths of Run Dan Run in the first two minutes. "Enough For Crimes" is one of the few tracks that abandons synths entirely in its enjoyabler favoritism for guitars, properly showcasing McKinley's vocals in their best light. On the album, McKinley appears to sound best over a series of conventional guitar riffs and underlying rhythm, while McCurry sounds perfectly suitable in his youthful, airy tone in the more dance-oriented tracks like "Your Name Escapes Me" and "Multi-Colored Lights", the latter also being an exquisite mixture of guitars and synths in proving to be a more soothing form of "Withheld Information". He can toy with the acoustic flair too though, as shown in the suavely seductive "Stop Sign". Throwing a few quickly spurred piano melodies over the strumming of an acoustic guitar, "Stop Sign" is a catchy treat that governs assiduity with respect. My favorite, though, remains to be the exceptional "Your Name Escapes Me". McCurry and McKinley sing a duet for the majority of the song, with a series of repeating flavorful synths being in concise correspondence with a series of plucked guitars and bass-led percussion. "Your Name Escapes Me" proves to be adorably catchy, just like the majority of tracks on the very pleasing Basic Mechanics.
——————————————————————————————
Run Dan Run – Your Name Escapes Me

[audio:http://mineorecords.com/mp3/rundan-you.mp3]
——————————————————————————————
——————————————————————————————
Run Dan Run – Enough For Crimes

[audio:http://mineorecords.com/mp3/rundan-eno.mp3]
——————————————————————————————