Posted
January 2, 2008 by Mike Mineo
in Features
The Old Growth of a Dead Meadow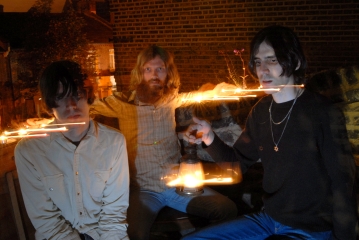 I never thought that hobbits and the Lovecraftian milieu would find a home in indie-rock. Led Zeppelin did a fine job of revealing their admirations of such classic literature ("The Battle of Evermore", most evidently), but the intent of contemporary indie-rock usually seems too futuristic to even attempt such literary measures. Leave it to the three boys in Dead Meadow to weave such cult works of fiction into their music, as their stylistic tone and involved themes are seemingly intent on being as innovative as the authors they admire in Tolkien and Lovecraft. Using such classic authors as inspiration, guitarist/vocalist Jason Simon, bassist Steve Kille, and drummer Mark Laughlin began crafting a fusion of '60s psychedelia and '70s rock when they formed in the fall of 1998. It was initially a joint operation of sorts, as the trio came together almost immediately after their previous bands, The Impossible Five and Colour, dissolved earlier in the year. With both previous acts serving as staples of the independent punk scene in Washington, D.C., Dead Meadow had a slight following before they even played their first show.
After a year of writing and touring, the trio released their self-titled debut EP in 2000, featuring 8 promising guitar-heavy songs that drew influences to Neil Young, Led Zeppelin, and Jimi Hendrix, with the mere mentioning of the latter serving as a commendable example of Simon's exceptional guitar work. The first half of the album was filled with hazy, psychedelically intertwined rock songs that emphasized reverb and wah-wah in the midst of heavy instrumentation. The other half was filled with more subdued songs like "At the Edge of the Wood", featuring hushed acoustical leanings and frailly consuming vocal deliveries. The stylistic transition proved to be merely the first example of Dead Meadow's bustling potential.
Following up their commendable debut, Howls from the Hills was delivered in 2001 with similar intentions. Featuring both an array of heavy psychedelic rock and ardent acoustical arrangements, the comparative style to their debut proved to be a consistent showing that brought upon a sense of solidification toward the band's sound. After an Anton Newcombe-produced live album, Got Live if You Want It!, was released in 2002,the band signed to Matador in 2003. Their first album for the label also happens to currently be their best; Shivering King and Others was released to critical acclaim in 2003. Though the style of heavily reverbed guitar riffs with an occasional shimmering acoustical ballad was not a structural departure from their previous works, the proficient implementation of blues and folk in Shivering King and Others found the band at their most confident in exposing the strongest songwriting of their career. Check out the breathtaking "I Love You Too", the outstanding 7-minute opener, for an example of the quality the D.C.-based trio is able to churn out when all things are rolling. If you are looking for an album to start with Dead Meadow, Shivering King and Others is certainly appropriate. Their follow-up in 2005, Feathers, is also a very enjoyable album. It is certainly the most polished out of all Dead Meadow's releases, showing more restraint in production while simultaneously managing to maintain the aroma of reverb-heavy stoner-rock that has built the trio into mature songwriters worthy of considerable praise.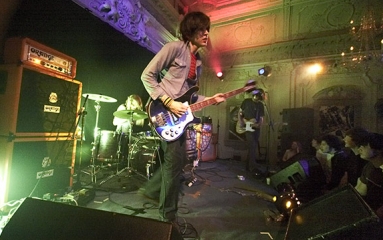 For their fifth studio album (and third with Matador), Dead Meadow plan to release Old Growth on February 4th. For veteran fans of the trio, the album's structure should come with little surprise. Like many of their past releases, there seems to be a nearly even mixture of woozily heavy psychedelic-rock and placidly atmospheric acoustical tracks. As they have proven in the past, it works to their advantage in providing an album that rarely becomes dull or tiring. In fact, apart from the exceptional Shivering King and Others, Old Growth has steadily become my favorite release from Dead Meadow. With chugging guitar-oriented tracks like "Between Me and the Ground" and "What Needs Must Be" transitioning impressively with psychedelically acoustical charmers like the exotic "Seven Seers", it is difficult to resist such compassionate attempts at successful stylistic fusion. The aspect that I admire most about Dead Meadow is their ability to keep their focus on one track at a time. They feel no pressure to overwhelm the listener with an overabundance of styles in one song. Instead, they show their eclecticism proudly on a song-by-song basis, ushering each new track on Old Growth with a variety of varying approaches, whether it be chugging blues, folk-rock, or guitar-oriented psychedelia
Though comparisons to Led Zeppelin's excellent acoustical attempts ("Over the Hills and Far Away", The Battle of Evermore", etc.) have been abundant throughout Dead Meadow's career, the exotic tone in the psychedelically engaging "Seven Seers" reminds me personally of The Beatles' "Love You To", with the steady pulse of an exotically engineered acoustic guitar remaining prominent underneath the mumbled hush of Simon's vocals. All it lacks is the tabla and sitar for completely eerie comparison. Regardless, it sounds as if Simon is either in a state of audible meditation or chanting some Middle-Eastern prayer that is both beautiful and ardently mysterious in effect. The song's success comes in result of the ambitious scope of Dead Meadow's intentions. They are truly an act who considers limitation to be an obsolete thought process. The heavily reverbed snarl of "What Needs Must Be" and "I'm Gone" ultimately proves to be more accessible and just as rewarding as "Love You To" or the chilling acoustic closer in "Either Way", with Simon's raspy twang and subdued hush being in successful transition, dependent on each song's tone and atmospheric credibility. Whether you are a fan of the exotic flair in "Seven Seers" or of the more direct, guitar-laden approach of "What Needs Must Be", there is something for all psychedelically influenced tastes on Old Growth.
**TRACKS REMOVED UPON REQUEST OF THE BAND**
——————————————————————————————
Dead Meadow – What Needs Must Be
——————————————————————————————
Dead Meadow – Seven Seers
——————————————————————————————
Dead Meadow – I'm Gone
——————————————————————————————
Do you love music?  If you are inerested in saving money, use our online coupon codes for all of your music purchases.  If you buy your music at best buy, we have best buy coupons and so much more.  Before you pay full price, check out our online music coupons!
Mike Mineo
I'm the founder/editor of Obscure Sound, which was formed in 2006. Previously, I wrote for PopMatters and Stylus Magazine. Send your music to
[email protected]
.