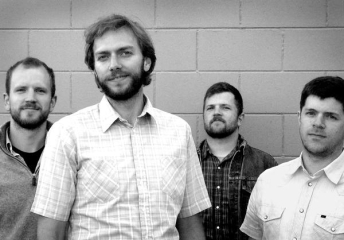 Though I seem to enjoy nearly every artist of quality who implements the genre into a delivery already abundant with other forms of stylistic ambitiousness, straightforward country music has yet to grab a hold of me. While I do realize that is simply foolish to overlook the importance of artists like Hank Williams and Buck Owens, country has never been specifically my cup of tea, even if I do enjoy it on sporadic occasions. As I grow older though, I would not be surprised if the style comes as a slowly evolving taste. I find the early inventive stages of it – from Honky Tonk to countrypolitan – to be largely repetitive, but I remain highly fond of the musical elements that comprise the styles. I immensely enjoy artists like Neil Young and Gram Parsons for the same reason; they blend these proficient elements of country with other genres that include folk, blues, and (most notably) rock 'n' roll. Consider it odd, but it is merely a matter of taste. Songwriter Peter Stanley is derived from a similar school of thought to influential predecessors like Young and Parsons. His incorporation of intuitive country elements with familiarly laced aspects of contemporary indie-rock creates a listening experience that has come to be wholesomely enjoyable.
As the frontman for California-based four-piece Winter's Fall, Stanley's blend of country, folk-rock, and alternative is a seemingly influenced component of the sound that dominated the folk-centric airwaves in the '70s. With acts like The Eagles and Poco subtly implementing country into their form of accessible alternative rock, a style initially to be considered an offshoot was produced that still remains strong to this day (as long as it is not overplayed). Though his country influences are more significantly involved than such acts, Stanley and Winter's Fall would have fit seemingly well into the era of hook-filled country-rock that really proved to be a sticking point for contemporary indie-rock artists to go back and revisit. The embracing four-piece is comprised of Stanley, brothers Keith and Peter Gidlund, and bassist Hans Ashlock. The Gidlund brothers had collaborated in the past with Stanley, and when he wrote new solo material that he truly found to be worthwhile, he gathered them up again to head out into the studio. With instruments like guitars, drums, tambourines, lap steel, keyboards, and congas all being part of Winter's Fall's sound, it provides good indication of the multi-instrumental talents of Stanley and both Gidlund brothers. Ashlock rounds things out well too, carrying a distinctively solid bass line on 4 out of the 5 tracks on Winter's Fall's debuting EP, Muddy & White.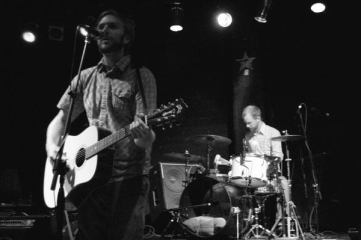 The enjoyable Muddy & White EP is merely an appetizer for things to come for Winter's Fall in 2008. The four-piece is currently finishing up work on their debut full-length album, set to be released hopefully in a few months. The entire EP was produced and written by Stanley, with Ashlock mixing and mastering the final copy. From the first track on Muddy & White, a self-titled number, it is heavily apparent that Stanley's potential exceeds that of many contemporaries attempting to incorporate a similarly fluid blend of alternative-country and indie-rock. With the robust twang of an electric guitar leading the way over an acoustic guitar and spur of steady percussion, Stanley's vocals on "Muddy & White" contain a deep, musky slur comparable to The National's Matt Berninger. His lyrical prowess is also comparable too, being highly complementary in that Berninger is one of the best lyricists in indie-rock today. "With my broken body fading, I passed out for the evening, and like an alarm ringing I dreamt of angels singing – they were muddy and white," he sings with a form of subtle ardency. The song proves to recollect on a love so strong that it appears intent on reviving a soul that seems, at best, dead and emotionless. "At the door I saw you waiting – at the door swung open waiting, and I arose from death and sleeping to embrace your hollow feeling – and it was muddy and white." His lyrical intentions are delivered in an unconventionally poetic form, yet the song's emotional power rises from both the sincerity in his voice and strongly implemented instrumentation.
"These Ivory Days" initially begins as a simple acoustic song, but that is all until a brilliantly executed organ and series of electric guitars introduce a fantastic chorus to the listener's ears. "So when you gonna stop so I can get off?" Stanley asks entreatingly, using the imagery of hopping trains as a form of methodically avoiding imminent let-downs. "Theses Ivory Days" repeats its lyrical content twice during its 4-minute run, though a strong chorus and overall performance prevents it from sounding repetitive. When Stanley sings, "But in a quiet, lonely, drunk, confusing way, I think I'll stay and keep the wolves away," in tonally uplifting form during the song's second run-through, the robust vocal comparison to Neil Young is eerily similar. Vocal comparisons to Neil Young and Matt Berninger? Yeah, you get the point; Stanley's vocals fit perfectly for his intended style of music. All the songs on the EP were recorded on a 4-track, making the personally adjustable form of emotional attachment to flourish due to the fortunate lack of overproduction.  Though I prefer Keith Gidlund's proficient drumming to the machine used on "Blame", the droning repetition of acoustic strums over ambiguous lyrics entailing the correlation between nature and romanticized actions makes it a perfect fit between the infectious "These Ivory Days" and the lo-fi sing-along in "The Hollowing" on the EP. Loneliness, regrets, and let-downs appear to be prevalent themes on the Muddy & White, yet Stanley's outputted sincerity allows for a release that is impressive in several forms of melodic creativity and lyrical fascination. If anything, it has me extremely excited for Winter's Fall's debut album, due for release later this year.
——————————————————————————————
——————————————————————————————
Winter's Fall – These Ivory Days
[audio:http://mineorecords.com/mp3/wfall-the.mp3]
——————————————————————————————
——————————————————————————————