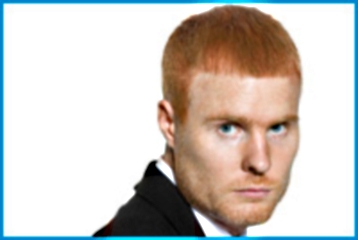 Though his talented songwriting is worth considerable praise alone, fans of Antony Hegarty often find it easiest to distinguish the English singer/songwriter by his voice, an enjoyably unique feature that ranges several octaves and encompasses a striking delivery that is practically impossible to rival. It is the type of voice that sounds good over any style of music accompanying it, mainly because of the raw skill and emotional capacity Antony pours into it. His two solo albums under his most reputable project, Antony and the Johnsons, are worth checking out too, with his most recent one, I Am a Bird Now, being one of my favorite albums from 2005. I would like to explore his upcoming album, The Crying Light, in detail, but I'll leave that to another post. This one is for Antony's most recent side project, Hercules & Love Affair. The brainchild of DJ Andrew Butler, the project's beginnings date back to 2003. Butler wrote "Blind", a synth-oriented track, and showed it to Antony with the intent of getting him to do the vocals. The two finished the track and left it largely unnoticed for a year or so. It was not until a year later when the urgings of Antony encouraged Butler to revive the track and perhaps an entirely new project altogether, resulting in the eventual birth of Hercules & Love Affair.
Four years later, "Blind" is now a disco-tinged track bursting with various instrumentation and additional vocal appearances by Kim Ann Foxman and R&B singer Nomi. With revamped production, it is set to appear as Hercules & Love Affair's debut single for their self-titled debut album, set to be released on March 10th. Butler's emphasis on dance and disco presents wildly exciting circumstances for Hercules & Love Affair, especially considering that he has the help of Antony. He adds his vocals to half of Hercules & Love Affair's self-titled debut, with all 5 tracks being quite memorable. Those accustomed to Antony's delicate piano-laden ballads may find it initially difficult to grasp the new style, but Antony does a remarkable job throughout the release and simply solidifies the belief that his vocal delivery sounds good over just about anything. "It's going to be a challenge presenting dance music to people who are used to saying that they don't like dance music," Butler said. "Trying to get them to open up their minds and even consider it a legitimate form is a challenge in itself. I just hope they can hear the sincerity in this project, even if it lands outside of the spectrum of Antony's other work." Though his work as a performer differs in style, the fact that Antony grew up idolizing the likes of Alison Moyet, Marc Almond, and other staples of '80s dance and synth-pop leaves sufficient reason to believe that he can capture the power of this genre as well.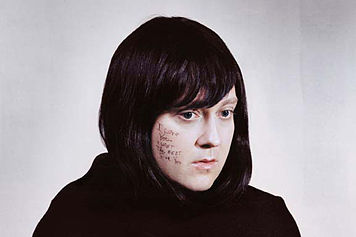 If you were a contemporary artist who specialized in electronica and dance, getting signed to DFA Records would certainly be worth something boasting about. In addition to being home to the likes of LCD Soundsystem, Hot Chip, and The Rapture, the team's production work has treated artists like Gorillaz, Nine Inch Nails, and The Chemical Brothers since the label's origination in 2001. When DFA signed Hercules & Love Affair a few months ago, it must have provided a dense realization in the dance community that the Butler-led collective could be one of the most unique acts of 2008. Butler has been building up his name ever since his first DJing gig at the age of 15. He considers himself to be a disco revivalist; his musical output certainly shows it too. "There was a moment when disco music and '80s music was really considered tasteless and tacky," Butler said. "But I think people are coming around. Disco music is something more than what wedding bands play — it's a real, legitimate musical form." Led by soaring vocals, swanky bass lines, and a wide array of horns, keys, and guitars, Hercules & Love Affair will likely be remembered as arguably the most stylistically ardent release of the year. Butler looks to capitalize on the momentum by touring with a seven-piece lineup, Antony included. As for the odd name, the origins coincide well with Butler's outspokenly stylish approach. "Growing up I was excited by Greek mythology and as I got older I found out that Hercules happened to have a number of homosexual love affairs," he says. "The name refers to one of his lovers that he lost during some adventure. He's left wandering an island, desperately looking for him. And I just like that image: The strongest man on earth, vulnerable and looking for his lost love."
Though there remains a handful of tracks on Hercules & Love Affair that are of an undeniably infectious nature, my favorite is "Raise Me Up". It illustrates Butler's sensational songwriting, Tim Goldsworthy's sparkling production, and Antony's emotionally invigorating vocal form in simultaneously impressive form, with the constant urging of a seductive bass line being the underlying factor of memorability. Antony soulfully croons over the simplistically powerful rhythm section during the song's first several moments, all until a lethal hook is introduced by the impulsive offerings of brass and keys. The chorus sees an expansion of instrumentation over a handful of vocal tracks, all being highlighted by Antony's soaring vocals. Both the chorus and verses are equally irresistible, being reminiscent of quality disco and dance in more ways than one. "Blind" is the most recognizable Hercules & Love Affair track for good reason, with its variety being the most alluring element. For all 6 minutes it remains unpredictable, exciting, and bursting with an array of engaging hooks. The only repetition is intentionally done so in order to relive highlights; Butler does not waste time repeating moments worth forgetting. For instant infectiousness though, I recommend "Hercules' Theme". Though the vocal usage is minimal compared to the past two tracks, it is nearly purely an example of Butler's exceptional form of instrumentation and songwriting. He turns a sound that many kids nowadays liken to something embarrassing into something that is now suave and sophisticatedly engineered. There remains a certain phrase that Butler has always been enamored with and he is improving the chances of it occurring considerably. Yeah, now disco may never die, and there is certainly nothing wrong with that.
***TRACKS REMOVED UPON REQUEST OF ARTIST***
——————————————————————————————
Hercules & Love Affair – Raise Me Up

[audio:http://mineorecords.com/mp3/hercules-rai.mp3]
——————————————————————————————
Hercules & Love Affair – Blind

[audio:http://mineorecords.com/mp3/hercules-bli.mp3]
——————————————————————————————
Hercules & Love Affair – Hercules' Theme

[audio:http://mineorecords.com/mp3/hercules-her.mp3]
——————————————————————————————