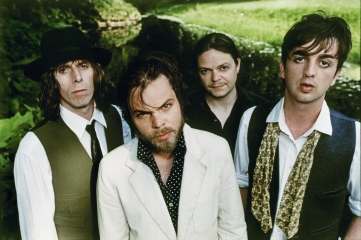 Out of all the British bands who became staples of Brit-pop and rock in the mid '90s, Supergrass remains one of the most consistently capable acts who are still together. While they will be forever revered in the UK for churning out classic albums like I Should Coco and In It for the Money, their inability to chart highly or draw a massive following in the US has left me somewhat befuddled. How a band like Jet could go platinum in the US while leaving a preceding influence like Supergrass in the dust could be shown as an example of rampant commercialism, critical bias, or shifting geographical tastes. Whichever way you choose to look at it though, there is no denying Supergrass' vital contributions toward contemporary indie-rock. For those adept enough to recognize the band's consistencies, the four-piece has enough of a following in the UK and throughout the world to keep producing fantastic music. It would be safe to say that, out of Supergrass' 5 previously released albums, not one has even come close to being a dud. When news came out last year that they were in the studio prepping their sixth full-length release, Diamond Hoo Ha, fans had little doubt that it would be another stroke of success.
Being their first album in three years, Diamond Hoo Ha also marks a comeback for the group's early stylistic vantages. Their previous album, Road to Rouen, was a fantastic effort that displayed the group's ability to dwell on a style more subdued in comparison to their previously energized efforts. It touched on a style that was borderline psychedelic, with lead vocalist Gaz Coombes delivering stimulating melodies over accompanying instrumentation that was darker and more orchestral in effect. His brother, Rob Coombes, also played arguably his most pivotal role as the group's pianist since the debut. In comparison to previous efforts where keys were often a melodic reflection of guitars and bass, they now were representative of a separate melodic entity. Diamond Hoo Ha, however, brings back a sound that veteran Supergrass fans have grown long accustomed to since the release of I Should Coco in 1995. Guitars once again reign in full force, with Coombes' keyboard usage being of a bouncier, more pop-laden nature. Though the songs remain too roughly distorted to be accurately compared to the amiable Brit-pop displayed on I Should Coco, Diamond Hoo Ha is more representative of the style explored on the equally successful In It for the Money. Touchstones of traditional British rock remain prevalent influences, with odes to The Rolling Stones, The Yardbirds, and other influential acts who incorporated blues and rock being of genuine nostalgic satisfaction.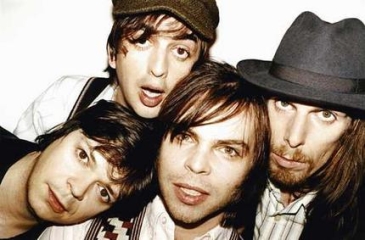 The album's two leading singles, "Diamond Hoo Ha Man" and "Bad Blood", are both remarkably suitable representations of Supergrass' stylistic tendencies on this particular release. Road to Rouen saw a veteran band capitalizing on their experience and, in chronologically unconventional form, the recent Diamond Hoo Ha sees Supergrass rediscovering – or simply re-exposing – their beloved form of energy. "Diamond Hoo Ha Man" is basked in the fury of distorted guitars, with Coombes' signature yelp being of beneficial regard. "Bite me!" he exclaims, introducing the chorus with an additionally distorted guitar progression. "Oh, can't you see I want you," Coombes sings, "Got to get you in my suitcase!" It does a presentable job as an excitable opener, even if it the amount of energy exceeds the quality of songwriting. The bouncy verses of "Bad Blood" are reminiscent of the band's earlier material on I Should Coco. The chorus emerges similarly to "Diamond Hoo Ha Man", with the distortion and degree of vocal intensity increasing in equalized form. It remains generally superior to the opener though, mainly due to the structural variety and initial degree of infectiousness conveyed. Though it suffers occasionally at the hands of repetition, "Whiskey & Green Tea" manages to come across as generally memorable with a variety of unpredictably placed guitar solos, several snippets of brass, and an infectiously melodic chorus. In admirable form though, it is the only track on Diamond Hoo Ha whose prolonged length is detrimental to the final result.
In stark contrast to the album's first two singles, "When I Needed You" emerges as the most satisfying track on Diamond Hoo Ha due to its instrumental variety and sheer melodic capacity. It is no surprise that Supergrass sounds best when guitars, bass, and keyboards are rolling on all cylinders and when not one specific instrument hogging the spotlight. It is what made I Should Coco one of the best debuts of the '90s, and "When I Needed You" is an exceptional track that would have found success regardless of the period released. As it initially rides on the keyboards of Rob Coombes, a bluesy guitar lick emerges immediately prior to the rhythm section's steady supplementation of the underlying melody. "All the shit that we face every day somehow works itself anyway," Coombes grieves, preparing himself for the outstanding chorus that follows. "In the back of a stolen car, doing 80 with the headlights off, that's when I needed you," he now sings, with a series of guitars and keys gradually heightening their pitch in adjustment to Coombes' flexible vocals. Each new chorus describes on an arduous situation, completely brought on by the melodramatic lament of the individual involved. As far as selecting singles go, I was surprised that "When I Needed You" was not their first choice. "Rebel in You" is poised to be the third single though and it certainly earns the title. The constant rapidity of Coombes' upbeat key progression guides this one, echoing classic power-pop sentiments with yet another likable chorus.
Though Diamond Hoo Ha does not contain the consistency that Supergrass' first two albums encompassed, every song is of an excitably agreeable nature and the group continues to reign as one of the most consistent acts of the past decade. And while it is arguably the group's edgiest effort to date, several more subdued gems in the vein of "Return of Inspiration" and "Ghost of a Friend" provide a substantial degree of variability that should leave any Supergrass fan satisfied. Some have heralded them as a "singles band", but I consider the phrase much too linear for a band of Supergrass' caliber. As they prove with each successive release, they are an act that will be remembered long after their eventual demise. 7/10
***TRACKS REMOVED UPON REQUEST OF ARTIST***
——————————————————————————————
Supergrass – When I Needed You
[audio:http://mineorecords.com/mp3/sgrass-whe.mp3]
——————————————————————————————
——————————————————————————————
——————————————————————————————