Posted
February 6, 2008 by Mike Mineo
in Features
Tasty Bing Ji Ling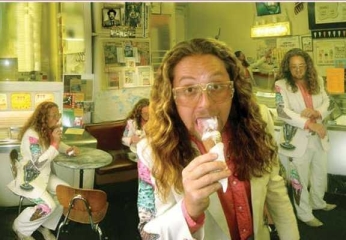 Looking back on when they were kids, many adults have a rather amiable image of the ice cream man. You know, the smiling dude who drove around in a white truck and played traditionally annoying tunes like "Pop Goes the Weasel" while making a profit from distributing cavities, all done in a literally tasteful manner. It may sound grim when looking back but the only thing of relevance at the time was that the ice cream was pretty damn good (especially on a summer day). So, imagine if your memories instead recalled a bearded man who substituted "Pop Goes the Weasel" with Earth, Wind & Fire's greatest hits, drove around with a handful of scantily clad young women in tow, and treated kids with a smile and a falsetto… all whilst in the outfit of a traditional Good Humor salesman. Yeah, that's right – it would be like a dream come true (or an acid trip gone terribly wrong). This is the amusing image that Quinn Luke has coaxed up and, as the ladies reportedly claim, he is the most desirable ice cream man on the east coast. Working his other job as a songwriter based out of NYC, Luke is better known under his alias of Bing Ji Ling, a clever fixture that translates to "ice cream" in Mandarin. Professing a love for '70s funk, '80s R&B, and any other style that encourages ceaseless thrusting, Luke is just the type of guy you would expect to show up in an episode of Yacht Rock. After all, he's got the image of a '70s soft-rocker down to commendable preciseness.
Though his style alone will always provide room for ample entertainment, Luke's following has mainly been built off of his ability to produce a sound that is both enjoyably nostalgic and instantaneously accessible. Taking note of the melodic prowess of eclectically groundbreaking acts like Prince and Stevie Wonder while touching on the elements of funk that pushed the genre into the mainstream during the early '70s, the infectious result originates from Luke's genuine affection for funk and soul; both Earth, Wind & Fire and Sly & the Family Stone are heavily prevalent influences for good reason. Like his stylistic preference and alias may indicate, he is also quite a worldly musician. In addition to living in Shanghai for a year (he is fluent in Mandarin), Luke has played in prominent venues all over the world; the Bowery Ballroom (NYC), Viper Room (LA), and Liquid Room (Tokyo) are just a few examples. At several shows, Luke apparently had "ice cream ladies" hand out sweet treats while Luke and his backing band were dressed in Good Humor uniforms. As odd as it sounds, I would have killed to be there for something like that. This is especially in consideration toward Luke's musical output, as he delivers a form of catchy soul-pop that remains difficult to rival in contemporary music.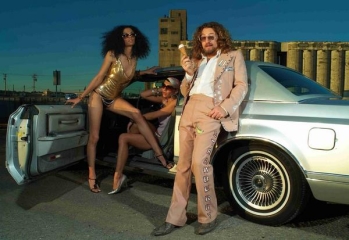 In early 2007, Luke made the move from San Francisco to New York. The change of scenery also brought upon a slight change of style, with his inherent influences of soul and R&B now fusing more prominently with elements of pop. Luke's new EP, June Degrees in December, sees him tackle a more flexible version of his past influences, now incorporating a sound that likens itself more to breezy, summer-esque pop. The opening track, "Kathalina", is a prime example of such a transition. It utilizes a form of exuberant Latin pop that excels with steadfast acoustic progressions and an exuberant rhythm section, with Luke's seductively engaging vocals being expectedly remarkable. Though many would have previously considered it absurd to compare Bing Li Jing to acts like Maroon 5 and Michael McDonald when looking at his earlier, more traditional material, "Kathalina" is certainly one of Luke's most accessible attempts yet. Like past releases Doodle Loot Doot Doodle A Doo and Fire and Ice Cream, the production is sharp and "Kathalina" in particular appears primed for the radio airwaves. Its radio-friendly appeal comes in the simplistic melodic progression and Luke's smooth vocals, both the result of his willingness to become more stylistically flexible. If you want an equally satisfying and more recognizable example of Luke's soaring falsetto, check out his cover of AC/DC's "You Shook Me All Night Long" on his MySpace (if you have not heard it on Ubiquity Record's Rewind 3 compilation already). In all honesty, his swanky version of the classic track may be one of the most original classic rock covers I have ever heard. Who knew that organ solos, falsettos, classy R&B, and AC/DC would go so well together?
June Degrees in December is a short effort, including 5 tracks that stretch just over 18 minutes. Still, it serves as more of a stylistic experiment for Luke if anything. As he slowly but steadily involves more stylistic elements into his original compositional display of soul, R&B, and pop, there is little doubt that he will grow into a songwriter whose melodic variation will be impossible to overlook. He already has the seductiveness required of a soul artist too, as tracks like "June Degrees in December" provide supreme relaxation over delicately interlaced keys and and a consuming bass line; it is somewhat reminiscent of Elvis Costello's more subdued material. "Be Here With You" provides an alluring vocal performance that should make most girls weak at the knees, while "This Song Is For You" incorporates tropical keys over a repetitive melody in what is the one of the most consistent vocal spots on the EP. In fact, if I had to choose, Luke reminds me most of Paul Weller during his days with The Style Council. Like Weller, Luke has the opportunity to prove himself as a songwriter who can simultaneously juggle elements of pop, R&B, and soul without sounding too overbearing or desperate. With a quality EP like June Degrees in December making the rounds, I am looking forward to Luke's ongoing progression as an eclectically engaging songwriter.
——————————————————————————————
[audio:http://mineorecords.com/mp3/bjling-kat.mp3]
——————————————————————————————
Bing Ji Ling – Be Here With You

[audio:http://mineorecords.com/mp3/bjling-beh.mp3]
——————————————————————————————
Bing Ji Ling – June Degrees in December

[audio:http://mineorecords.com/mp3/bjling-jun.mp3]
——————————————————————————————
Mike Mineo
I'm the founder/editor of Obscure Sound, which was formed in 2006. Previously, I wrote for PopMatters and Stylus Magazine. Send your music to
[email protected]
.