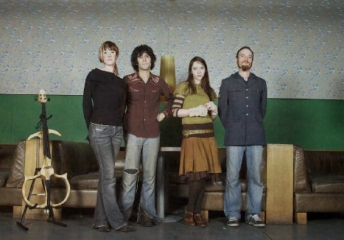 The charm of a vocal duet can be dependent on a variety of things. Melody, pitch, and coordination are a few of the most basic aspects, but one that continues to be constantly dismissed by musicians and critics alike is the chemistry between the two respective vocalists. Sure, it may sound a bit corny, but no one has the desire to hear emotional inconsistencies and harmonic strain just because two people fail to see eye-to-eye on a musical level. Indie-pop has been a recent style where this vocal technique has flourished abundantly, with all of the genre's subtleties and charms most often steered toward the most melodic components at work. Much like the forms of soul, R&B, and doo-wop that ushered in the style as a more full-fledged form in the '50s, artists continue to show no hesitation toward simultaneously sharing vocal cues. The conventional instrumental focus found in the majority of indie-pop makes these vocal presentations a commonplace source for hooks, with even minimalist instrumental structures reaping benefits from doubly effective vocal deliveries. Still, discovering a modern artist that is able to expose the craft in flawless form is rare to do. When I heard Hush the Many (Heed the Few)'s "Revolve", I found it impossible to ignore the genuine chemistry between vocalists Alexandra Brown (the gal) and Nima (the guy). With the classic male-female counterpoint working to perfection, I was immediately hooked.
While their name may appear to be a bit confusing upon first glance, a second look clarifies that Hush the Many (Heed the Few) fits the band's repertoire perfectly. Though they linger most in the generally conventional realm of indie-pop, glimmerings of eccentric folk collide with chamber-pop instrumentals to create a very amiable sound that often serves to be representative of Hush the Many (Heed the Few)'s supreme originality. Brown and Nima prove to be exceptional vocalists on all of Hush the Many's available tracks; they have a very different delivery and pitch, but they manage to create vocal harmonies that intertwine exceptionally with one another. Nima also provides bits of guitar and Brown serves additionally as the bassist, with the rest of the (current) sextet being rounded out by guitarist Jonathan White, cellist Steph Patten, violist Ella, and drummer Velibor. However, if you plan on attending a few shows by Hush the Many (Heed the Few), do not be surprised to see a different backing band take the stage each time. Though Nima and Brown are mainstays, the other slots have alternated between dozens of different performers since the group's formation in 2004. Hush the Many (Heed the Few) now find themselves singed to Alcopop! Records with a debut set to drop sometime later this year. They only have a handful of songs available online at the moment, but if the ability demonstrated on tracks like "Revolve" and "Storyend" are any indication, there are a lot of reasons to look forward to the debut.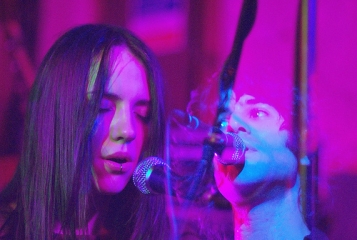 Like a number of aspiring acts and most of humanity alike, the beginning of Hush the Many (Heed the Few) was conceived in a bedroom; to be specific, it was Nima's bedroom. In a creative burst that seemed nearly like a spur-of-the-moment thing, the group recorded their debut, Mind the Sprawl, in that very room. Cargo Records happened to hear it and, upon realizing its amazing potential, decided to distribute it. It later proved to be a good business decision, as all 1000 copies sold out relatively quickly. This immediate form of local success led to two headlining tours, a tour with Ed Harcourt, and appearances on radio programs sponsored by BBC Radio 1 and XFM. In addition to the Harcourt tour that he calls "a real privilege", Nima considers the radio aspect of exposure to be vital toward the group's apparent success thus far. "Our first radio session was with Radio 1, so that kind of got people interested in hearing us," he said. "So through all these different forms of media and also the press we've had have been wonderful and people have really positively embraced us." I hope to add another glowing review to the growing list of positive critical acclaim, as Hush the Many (Heed the Few) certainly have the talent to back it up.
As I previously mentioned, there is only a limited amount of music available online. Even so, the stylistic multifariousness represented on both studio and live recordings . That being said, I cannot wait to get my hands on a studio copy of "The Man". Nima sings intensely over a bursting array of orchestral instrumentation, primarily aided by the constant flurry of strings. It is enjoyably infections and, even if Nima's unique vocals provide for more varied comparisons, the orchestral-pop approach is slightly reminiscent of Owen Pallett's work. If it sounds this fantastic when played live, I imagine the studio version will be quite astonishing. And as for the two tracks featured that were actually recorded in a studio (or a bedroom), they are crisper examples of the group's melodic prowess.
As I mentioned all the way back in the first paragraph, "Revolve" is a very enjoyable track that seems poised to break the group out, even more so than selling 1000 copies. I would not be surprised if it finds substantial success throughout the blogosphere within the next few months, as it mixes both infectious indie-pop melodies with rich and vibrant duet-aided melodies that are commendably supplemented by impressive orchestral accompaniments. "Storyend" is a serene acoustical effort that once again sees Nima and Brown commit to an excellent vocal collaboration, backed by the subtle chirping of birds and the occasional whir of a synth pad. It is certainly the most subdued out of the three tracks, but "Storyend" has its own unique charm to it due to the exceptional atmosphere both Nima and Brown are able to mend from their vocal deliveries and fulfilling backing instrumentation. There is not yet a date for Hush the Many (Head the Few)'s full-length debut, but I will undoubtedly be keeping a watchful eye out for any news. Expressed in the fantastic quality of their current work, the sheer potential that this group exhibits in their songcraft is leaving me very impressed.
——————————————————————————————
Hush the Many (Heed the Few) – Revolve

[audio:http://mineorecords.com/mp3/hmany-rev.mp3]
——————————————————————————————
Hush the Many (Heed the Few) – Storyend

[audio:http://mineorecords.com/mp3/hmany-sto.mp3]
——————————————————————————————
Hush the Many (Heed the Few) – The Man (Live Orchestral Version)

[audio:http://mineorecords.com/mp3/hmany-man.mp3]
——————————————————————————————