Posted
March 17, 2008 by Mike Mineo
in Features
REVIEW: Jim Noir – Jim Noir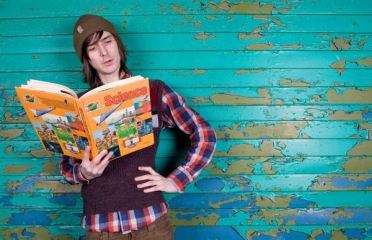 As music technology continues to increase in sophistication and variety, the world of neo-psychedelia continues to be in a constant state of reconfiguration. New styles of music are constantly entering the genre, whether it be in the form of throwback revivals like funk and blues or contemporary staples like dance and indie-rock. Though the birth of psychedelic rock in the '60s can rightfully call itself the origination point for straightforward psychedelia, even artists back then used technological methods that were – at the time – beyond their years. Techniques that are now considered standard in everyday music colleges were considered to be glimpses at futuristic audio production. Effects known today as reverb, phasing, reversed tape recording, double-tracking of voices, and phase shifting were all used to some degree even before the '60s, but it was not until the particular decade hit that artists began to implement the particular production techniques into their music more ambitiously. Jim Noir serves as an enjoyable reminder of these revitalized techniques, implementing methods of production that recall the nostalgic likes of '60s psychedelic pop with more contemporary elements in the vein of dance and electro-pop. Even with only one album under his belt, he has built a reputation for being one of the more talented artists in the constantly evolving genre of psychedelic electronica. Sure, the techniques themselves are not the epitome of innovation, but the way he incorporates them into a modernistic sound is.
A self-titled album is conventionally known as an introductory release for artists, but Noir's Jim Noir is his second full-length. Known as a skilled multi-instrumentalist who plays every single instrument on his albums, it follows the impressive Tower of Love, his 2005 debut that drew considerable acclaim. His style of psychedelic electro-pop has granted Noir comparisons to the likes of Badly Drawn Boy and Caribou, but Noir is notable for utilizing the aforementioned techniques of psychedelia production in a more full-fledged form. It is a method that continues to be expressed on the impressive Jim Noir, even more so than his commendable debut. Unlike several other contemporary artists who limit their psychedelic experimentation to the use of keys, samples, and rhythm, Noir has the uncanny ability to toy with several genres simultaneously due to his excelled multi-instrumental capabilities. Perhaps evidenced best by the exceptional "Happy Day Today", one should expect to find a plethora of guitars and even strings over more traditional psychedelia instrumentation in the vein of keys and muddled bass. The song also provides an enriching example of Noir's capability to craft hooks that are both wildly infectious and structurally proportionate. Without sounding repetitive or stylistically manipulative, his melodic capacity alone provides for a generally enriching listening experience.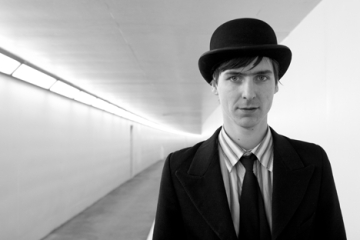 Whereas the verse in "Happy Day Today" is superbly supplemented by a repeating key progression that is reminiscent of amiable '70s psychedelia, the chorus ushers in the entrance of keys and strings over the increased ardency in Noir's breezy voice. However, once the acoustic guitar-aided interlude kicks in after the second chorus, a sense of realization should come upon most listeners that Noir is simply not another psychedelia revivalist. Instead, he is a musician who skillfully crafts a flourishing offshoot of a genre with his melodic and instrumental skill. "Don't You Worry" finds Noir at a somewhat different attempt when compared to straightforward psychedelia gems like "Happy Day Today" and "Ships and Clouds". It tackles a more naturalistic form of pop, this time driven primarily by guitar and bass."If you don't want to be with me, what do you expect me to be?" he sings over the strums of an acoustic guitar and the whirs of a padded synth. The guitar chord progression itself slightly recalls Radiohead's "Creep", yet Noir's entry of phase-shifting synths provides for a very enjoyable mixture of guitar-oriented pop and ethereal synth-pop that is unique to his own work. Like the majority of the album, Noir's vocals are drenched in reverb to a noticeable extent, but the lyrical content remains recognizable due to the commendably balanced production. You can thank Noir for that as well, as the impressive multi-talent is also the album's producer.
When Noir travels toward more dance-oriented territory in "All Right", the result is both infectious and stylistically innovative. The use of the vocoder in "All Right" has obviously been employed before in electronica, but the pairing between it and Noir's eclectic musical approach is well worth the listen. Though those who prefer dance and techno over psychedelic pop will likely find "All Right" to be arguably the best track on the album, I personally find his pop-oriented tracks to be more in his favor. Fortunately for me, those types of tracks comprise the majority of Jim Noir, but the reception that this album receives per individual has quite a bit to do with personal taste. While that may apply to most albums in general, Noir's showmanship of his outstanding grasp for both psychedelic pop and dance may leave fans of dance simply hungry for more. For those who prefer the catchy psychedelic pop of "Happy Day Today", this may be one of your favorites for the year so far. Though he falters on a few tracks toward the latter end of the album like the over-distorted "Welcome CJ" and the repetitive "Good Old Vinyl", the majority of Jim Noir finds the budding artist at his current peak. At this point and time, Noir remains one of the most underrated songs in the field of electronic pop music. However, considering the enjoyment that Jim Noir can grant any fan of pop music, his name should gain a significant amount of reputability soon enough. 8/10
——————————————————————————————
[audio:http://mineorecords.com/mp3/jnoir-hap.mp3]
——————————————————————————————
[audio:http://mineorecords.com/mp3/jnoir-shi.mp3]
——————————————————————————————
[audio:http://mineorecords.com/mp3/jnoir-don.mp3]
——————————————————————————————
Mike Mineo
I'm the founder/editor of Obscure Sound, which was formed in 2006. Previously, I wrote for PopMatters and Stylus Magazine. Send your music to
[email protected]
.