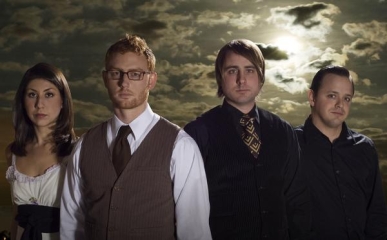 I know that I am not the only one to have known of an individual who was labeled as "the guitar guy" all throughout high school. You know, that dude who wandered around parties with an acoustic guitar by his side, playing covers of songs so abysmally that most of the partygoers would feel too bad to tell him to stop or leave. He would even carry it around school all day, refusing to leave it in a secured room like the rest of the players until the ensemble class at the end of the day. I never could quite gauge the actual intentions of "the guitar guy", whether it be an attempt to socialize or simply get comfortable, but I occasionally wondered how many of these kids actually ended up with a solidified career in the music industry. I would have easily guessed below 1% if I were judging strictly from my early experiences, but I have also encountered a few people at parties in my last year of high school who played their instruments openly and actually had, well, talent. It had nothing to do with the image and was entirely about the music, which I believe also had to be the case for the two founding members of Years Around The Sun.
It all began when Dylan Raasch, a bassist with intentions of starting up a band, attended a party in 2004. At one point, he began to hear the faint sounds of an acoustic guitar strumming a track by the Shins. Out of curiosity, he followed the resonance and found Ronnie Dudek playing casually in another room. Immediately impressed, the two began to talk about their musical interests and artistic intentions, struck by the instantaneous similarities. Both were looking to move on from past projects, hoping to mold a sound that was more reminiscent of locally influential San Diego bands in the process. At party's end, they exchanged a demo CD and phone numbers, turning a meeting that occurred merely by chance into something that could mold their indefinite futures. Drummer Chris Cote quickly joined the duo and the group wrote and recorded Introstay, their debut EP, in late 2004. During the recording phase of the EP, classically trained pianist Mia Stefanko also joined the group. The group then continued to tour throughout California, writing a batch of new material in the process. The material has progressed to become Inva De Siva, Years Around The Sun's first full-length album. Though Coste left the group to pursue other career goals in the midst of the album's writing process, local San Diego drummer Evan Caleb Yearsly joined and quickly supplemented the group's percussive vacancy.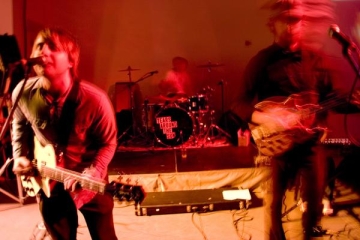 I found it interesting to see that Years Around The Sun has actively toured with Pinback, a band who has clearly had a distinctive influence on the budding four-piece. Though the instrumentation and tempo is generally not placid enough to be wholly reminiscent of Pinback, dual vocalists Raasch and Dudek find a similar landing point in their delivery of fluid indie-rock that is adeptly led by a variety of overlapping guitar and keyboard progressions. Their vocal tone remains constantly aggressive in the same vein as Modest Mouse's Isaac Brock, and the fast-paced guitars usually create additional instrumental comparisons in that regard. "Failing At Art", a track that appears likely to be one of the first singles off the recently released Inva De Siva, takes this concisely effective approach and turns it into an effort that finds Years Around The Sun at their most accessible. The guitars and rhythm section work together frantically, tying in with ardent vocals to create an infectious fusion of indie-rock and punk that groups like Modest Mouse have popularized with massive success. The chorus of "Failing At Art" is introduced immediately and, though it does not provide much differentiation from the similarly executed verse, the transitional tendencies of every instrument involved makes each go-around that much more rewarding. "Set your heart at ease or it will hold you under," the soaring vocals warn, high-pitched but hardly to an annoying extent. With its accessibility leading the cause, "Failing At Art" seems like the group's best bet of receiving substantial radio play outside of San Diego.
"Roundabout" finds the group at their current peak of ambition, containing a similar degree of catchiness found in tracks like "Failing At Art" while simultaneously managing to incorporate more diverse song structures and instrumental alternations. Also, when compared to the guitar-led "Failing At Art", it is more demonstrative of Stefanko's vital collaborations as a keyboardist. She provides the song's melodic backbone with the increasingly subtle repetition of a lushly incorporated keyboard, enhanced appropriately with touches of reverb that sustains the twinkling content. Guitars and keys remain in a steady mixture for the duration of the track, but the most particularly engaging moments occur when the keys are tied into the rhythm section exclusively, providing a sense of intimacy that a handful of moments on Inva De Sail fail to capture. If you enjoy "Roundabout", Stefanko also makes commendable use of her key-led contributions on "King Serpent" and "The Empryrean Trail". Years Around The Sun has made open their intentions of incorporating a more technologically adaptable element in their sound, perhaps eluding to the future of their sound on "Soft Light Serenade". The percussion is unconventional when compared to their other material, resembling a reverbed shuffling of sorts over the usual guitar licks. An organ creates a more suitable atmosphere for the track during its memorable chorus, a moment that is surprisingly subdued when compared to other hooks throughout the album. It serves well though as one of the most engaging tracks on the album, which has turned out to be an impressive debut in its own right.
——————————————————————————————
Years Around The Sun – Failing At Art

[audio:http://mineorecords.com/mp3/ysun-fai.mp3]
——————————————————————————————
Years Around The Sun – Roundabout

[audio:http://mineorecords.com/mp3/ysun-rou.mp3]
——————————————————————————————
Years Around The Sun – Soft Light Serenade

[audio:http://mineorecords.com/mp3/ysun-sof.mp3]
——————————————————————————————