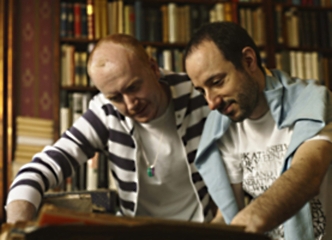 When even the slightest mention of sampling is made, most people immediately make the assumption that the genre at hand is either electronica or dance. They are often correct, but the broad scope that electronica employs leaves ample room for artists who prefer to tread outside the conventional waters of dance. With technology allowing for the fluid sampling of any audible content within grasp, artists who implement samples as a main technique for their songcraft have no excuse for exhibiting forms of unoriginality. The endless number of technological techniques and varied musical styles creates circumstances that are very appealing for modernistic innovators. There also stands a controversial argument that musicians who implement samples as a primary source of output should not even be classified as musicians at all. I personally see it as a wavering belief, as it most certainly depends on the artist at hand. If someone just cuts out a Daft Punk chorus, spreads some reverb over it, and repeats the process 10 times, there is no reason to regard it as either an original or cover track. However, if originality is exhibited by utilizing a sample within a broader scope in which stylistic limitations and artistic restraints are obsolete, the content should naturally be unique enough to be classified as a work in its own right. Generally, if a sample exists in eclectic form within an array of other layers that correspond originally and appropriately, calling the material a mere duplicate of several other works is a sheer display of ignorance.
If I went on to say that Quiet Village's new LP, Silent Movie, consisted in bulk of numerous samples, I imagine that many people would be turned off immediately. It's a shame too, as the album is easily one of the most impressive things I have heard all year. There is not much personal information available about the extremely talented duo, but it would be safe to assume that both members in Quiet Village – Matt Edwards and Joel Martin – have such a masterful grasp on various styles of music that their fixation on sampling is simply the result of two artists who view the method as the most efficient and potentially successful option available. On Silent Movie, one can expect to find a variety of styles, most of which are contained within an enthralling delivery of entailed relaxation. Whether one stumbles upon the seductive jazz in the latter half of "Too High to Move", the finger-plucked elegance of the beautiful "Utopia", the thumping string-propelled dance of "Can't Be Beat", or the tinges of reggae and surf in the infectious (and appropriately titled) "Pacific Rhythm", there is not one song on here that sounds like one another, providing for a fulfilling and artistically invigorating listening experience. The process that Edwards and Martin have went through to craft such a grandiose effort is also extremely commendable, with their ability to identify a sample, exploit it in talented form, and implement it over a variety of other samples being both extremely impressive and highly original in its result.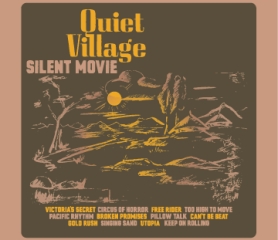 Silent Movie kicks off with "Victoria's Secret", an evolving opener that remains focused on an oddly familiar string progression that is supplemented by the backing chirps of seagulls. Its enjoyment primarily derives from the uniquely serene atmosphere that the track creates, but the effects that Edwards and Martin personally employ are too minor to be a sufficient example of Quiet Village's supreme chops. For that, just take a listen to the next song on the album, "Circus of Horror". In stark contrast to its subdued predecessor, a gritty guitar progression immediately emerges as the melodic guide. A mixture of strings and reflectively eerie backing vocals follow shortly thereafter, aiding the melody and lifting it to new heights. When the progression changes, the sample of an ardent, soul-like croon is executed with successful precision. The addition sounds minimal at first, but repeated listens upon moments like this throughout the album eventually prove to be invigorating, as the subtle executions that Edwards and Martin introduce throughout the album in turn crafts a variety of clever hooks. "Free Rider" finds success under similar circumstances, ushering in a bouncy guitar progression once the sole beat of shuffling percussion and reflective vocals subsides. I suppose you could call it the chorus of the song, but there are so many variations contained in "Free Rider" and a variety of other tracks that it becomes a difficult task to identify conventional structural tendencies within the songs.
Easily the most accessible track on Silent Movie, "Pacific Rhythm" is also one of the only tracks on the album that substitutes audible experimentation for immediate accessibility. The underlying guitar progression is reminiscent of reggae, but the strings and bass line beckon to a more sweeping nature of symphonic pop. The vocals on "Pacific Rhythm" also serve as one of the rare moments on the album where a single vocal performance is attributed. Often, on tracks like "Free Rider" and "Too High to Move", the only glimpse of vocals are either in the form of a backing melody or non-melodic sample. Instead, the female vocals on "Pacific Rhythm" contribute to the straightforward elegance beautifully. The song itself contributes to the fantastic flow of the album in unique form as well, providing a breath of relief in the enjoyable midst of avant-garde leanings on the outstanding jazz-oriented "Too High to Move" and the suave, string-aided throwback in "Broken Promises". The style explored in both "Broken Promises" and "Pacific Rhythm" actually reminds me somewhat of David Axelrod's classic symphonic work, with the latter showing a great use of horns toward the conclusion of the verse for an establishment of yet another one of those remarkably subtle hooks. The impressive "Utopia" borrows more than a few samples from Andreas Vollenweider's "Steam Forest", utilizing a beautiful finger-plucked acoustical melody over sparkling keys and the reverbed clicking of percussion. The result, like the entire duration of Silent Movie, is a ravishing display of innovation that provides for pure and easygoing enjoyment on the listener's part. In addition to being one of the most uniquely satisfying releases I have heard so far this year, Silent Movie is also one of the all-around best.
——————————————————————————————
Quiet Village – Pacific Rhythm

[audio:http://mineorecords.com/mp3/qvillage-pac.mp3]
——————————————————————————————
——————————————————————————————
Quiet Village – Circus of Horror
[audio:http://mineorecords.com/mp3/qvillage-cir.mp3]
——————————————————————————————