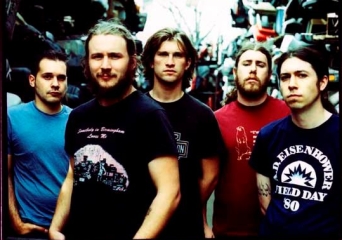 Many people have generalized that a band from Kentucky would have little variation in their style, clinging onto the stereotypical blend of country-rock and folk that has plagued the most common description of the southern music scene in America for the past several decades. And while southern rock music has certainly found a niche of resounding success in the independent music scene with acts like Band of Horses, Drive-By Truckers, and Kings of Leon, there has been prevalent criticism regarding the lack of eclecticism and unconventional techniques within the genre. As arguably the most consistent and influential rock band hailing from the south of the past decade, it would make sense for a band like My Morning Jacket to clear up such baseless beliefs. The five-piece from Louisville has always been regarded as somewhat of a patriarchal figure within the genre, as it seems that My Morning Jacket expands their stylistic boundaries with each newly successive release. With the internet allowing fluid access to thousands of unqualified individuals who call themselves critics of art, we live in an age where most artists are too afraid to change or even toy with a new approach to their sound, as the fear of losing an entire fan base and witnessing a critical backlash is often too much to handle. With that in mind, I was not surprised at all when I heard Evil Urges, My Morning Jacket's fifth studio album, and found it to be the group's most diversifying effort yet. But would I have expected Jim James, the bold and fearless frontman for the group, to be flaunting his falsetto for a handful of tracks? Hell no. But per usual, regardless of what this band attempts lately, it has resulted in an ample success.
As it stood before the production phase of Evil Urges, My Morning Jacket had little reason to try anything new at all. After all, their previous album, Z, was one of the most critically acclaimed albums of 2005 and was prematurely being described by many as the group at their creative peak. I suppose the acclaim was imminent at the time, as it was their most varied effort before the release of Evil Urges. Their first two albums, The Tennessee Fire and At Dawn, brought the group plenty of buzz but they found it initially difficult to escape the linear classifications of alt-country that critics granted them, mainly due to the determinable sound that James and company were just beginning to confidently grasp. Though not as consistent in quality with the first two albums, It Still Moves was the group's first step in their ambitions to become a rock act where stylistic classifications were made on a per-song basis and not based on a singular career. Z simply perfected James' approach as an impressively unpredictable songwriter, mixing anthemic indie-rock tracks like "Anytime" and "Lay Low" with tinges of reggae in "Off the Record" and reminiscences of their classic alternative sound in the opening "Wordless Chorus". Even if the increased eclecticism was subtle for many listeners, the changes were evident for veteran fans. In a matter of 6 years, My Morning Jacket evolved from just another alt-country band into something of bigger, more epic proportions. Instead of sticking with southern stereotypes, comparisons were being made to The Flaming Lips and R.E.M, both artists who – in a sense – revolutionized the way that modern artists in their respective genres would tackle songwriting. And with the release of Evil Urges, such commendable sentiments are stronger than ever.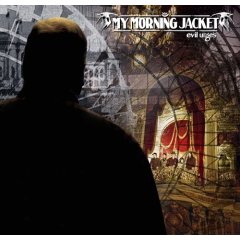 Like several My Morning Jacket albums before it, the opening track on Evil Urges serves as a gradually satisfying experience that increases in memorability with each successive listen. Also serving as the self-titled track, the heightened pitch in James' vocals during "Evil Urges" will catch listeners off guard initially, but the summery guitar progression and brisk rhythm section will soothe any concerns about the track going stylistically overboard. As James' vocals become more familiar and the rebounding melody begins to engross the listener, sudden enhancements like the slight dosage of strings during the chorus' second entry become more noticeable and rewarding. Like preceding greats in the vein of "Anytime" and "One Big Holiday", it concludes gracefully with a stirringly effective guitar solo before the infectious chorus is recapped once more. The following track, "Touch Me I'm Going to Scream", is unlike anything My Morning Jacket have attempted before, utilizing a synth line as the primary instrumental force. The synths clash fluidly over a constant bass line, bringing up unlikely comparisons to Prince and The Flaming Lips in the process. I guess you could call the soothing key-aided "It Beats For You" a distant cousin, but even that particular track had guitar-led arrangements that were expected of the band. If it were not for James' distinctively soaring vocals, many would not be able to tell that "Touch Me I'm Going to Scream" was from My Morning Jacket at all. It remains oddly addictive though, even if the style contained in the track and its 8-minute counterpart ("part two") differs dramatically from the rest of the album.
It was certainly an odd choice to stick "Evil Urges", "Touch Me I'm Going to Scream", and "Highly Suspicious" as the first three tracks on Evil Urges, as they can arguably stand as My Morning Jacket's most unconventional efforts to date. "Highly Suspicious" is inarguably the most bizarre on the album, led by hardly much more than James' apparent falsetto, a booming bass line, and steady percussion. The chorus adds a few halted guitar chords as James and a few deeper-voiced companions chant "highly suspicious!" over the eventual whirring of a synth. Being the second track in a row that reminds me of Prince (and enjoyably so), I would not be surprised if the majority of listeners refuse to take it seriously. And hey, who's to blame them? Looking back, the decision appears wise to slot these 3 tracks together, as the rest of the album contains a similar degree of variation that is more conventional in regard to My Morning Jacket's stylistic standards. The fourth track, "I'm Amazed", immediately puts the listener back in the warm embrace of classic My Morning Jacket, re-introducing James' distinctive croon as was heard in the first four albums. Like "Anytime", it proves further that James' ability to write an anthemic track – regardless of whether its in the vein of indie-rock or alt-country – is something of a rare skill. The first two minutes consist purely of radio-friendly alternative, with the remainder being a captivating guitar solo that coincides precisely with the backing chorus. In terms of tracks that would fit just as well on early My Morning Jacket material, only the strangely nostalgic "Smokin' From Shootin'" and simplistically endearing "Look At You" come close. It ends up being commendable though, as I have not even touched upon the best moments of Evil Urges yet.
Jim James clarified in an interview several months ago that "I'm Amazed" would begin the "second phase" of the album, following the first three tracks that somehow went "together in this weird way." The group has been known to perform with fully accompanied orchestras during their live performances lately, and several excellent tracks during the "second phase" like "Sec Walkin'", "Librarian", and "Thank You Too" utilize this new approach with confidence, swagger, and resounding success. "Sec Walkin'" manages to recall classic country with the overlapping of reverbed keys and guitars as James puts his full southern accent on the table, deepening his voice to a suave croon with contained influences of Johnny Cash, Hank Williams, and Carl Perkins. "Thank You Too" sports the album's most grandiose chorus, supplemented by a swirling arrangement of strings and James' limitless vocal range. And as oddly creepy as the lyrical content is, the build-up of strings in "Libraries" is too masterfully executed to ignore. The insanely catchy "Two Halves" recalls an accessible, pop-oriented Roy Orbison in its recollection of '60s rock 'n' roll, serving as the most immediately satisfying track on the album. It is in close competition with "Aluminum Park" though, a roaring rock 'n' roll ditty in which James into some ardent hybrid of Springsteen and Meat Loaf during the song's exceptional chorus. All of the influences may be hard to classify initially, but one thing is for certain; My Morning Jacket are proud to wear their influences on their sleeves. And when a band of My Morning Jacket's ingenious talent has the maturity to embrace their past influences and implement them fluidly into a contemporary sound, the result sounds something like Evil Urges. It is working its way into becoming my favorite album from My Morning Jacket, making it certainly one of my favorites for the year as well. 9/10
——————————————————————————————
My Morning Jacket – Two Halves

[audio:http://mineorecords.com/mp3/mjacket-two.mp3]
——————————————————————————————
My Morning Jacket – Sec Walkin'

[audio:http://mineorecords.com/mp3/mjacket-sec.mp3]
——————————————————————————————
My Morning Jacket – Evil Urges

[audio:http://mineorecords.com/mp3/mjacket-evi.mp3]
——————————————————————————————