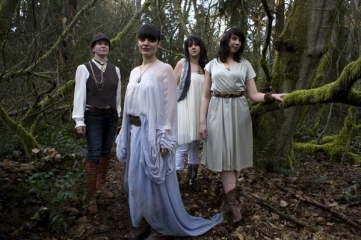 They call themselves a "band of gypsies", a group that shows extreme veneration for the past without any regard for the fickle opinion of those trapped within the exclusive glow of present ideals. Many would refer to it as a maudlin ideology upon first glance, but the four members of E.S.L. have perfected their stylistic approach in making it depictive of throwback pop music (think early 20th century) without thrusting it in a position that makes it overbearing and overly skeptical to those who prefer the flashier, more modernistic side of things. It is generally accepted common knowledge amongst fans that E.S.L. would have easily scored a gig about a century ago scoring movies for silent films, but I suppose that we can all be fortunate for the contemporary relevancies that allows them to expand their sound in a way that appears more accessible and realistic to audiences who have become accustomed to the glitzy pop on their favorite mainstream radio station. And considering that the topics of their songs range from anything such as universally recognizable feelings of love to the last winner of the triple crown in horse racing, the four-piece from British Columbia can be considered something of a rare delicacy in music in that they deliver music derived from a consistent formula in which listeners of any age can find charming, whether they have been listening to music for 10 or 100 years.
The first thing about E.S.L. that caught my eye was the degree of emotional variation that they are able to implement in each one of their songs with the utmost precision. Through an exhilarating rush of strings and keys, the four-piece toys with a variety of tempos and structural approaches in a successful to provide an extra dose of stylistic diversification. Their lineup is even more varied, featuring 4 very proficient musicians who have had a studied background in music for the majority of their lives. Cellist Cris Derksen and Polish-born pianist/vocalist Marta Jaciubek-McKeever have had classical training in their respective instruments since the age of 4, while drummer Joy Mullen has studied performance and jazz drumming. Derksen's background also includes a recent graduation from the University of British Columbia with a Performance Degree in cello, an accomplishable feat even considering she has already been a session musician for the likes of Kanye West and Tanya Tagaq. Some may recognize violinist Diona Davies from a few past projects that include Po' Girl and Carolyn Mark, as her skills with the fiddle have certainly impressed over the past few years. After Jaciubek-McKeever and Derksen founded the first traces of E.S.L. in 2005, Mullen and Davies joined the group quickly thereafter and never looked back from there.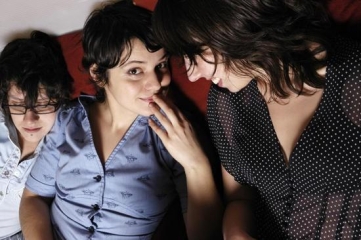 Apart from the limited edition EP, Hawks House, that they released in early 2006, E.S.L. had little material available until recently. The release of their debut album, Eye Contact, on June 3rd marks the first of what should be many critical acclamations for this highly touted quartet from Vancouver. After several listens throughout this past extended weekend, I have to say that it is one of the more striking debuts I have heard all year. Their gypsy-led style alone is one thing, but the thing that has most impressed me throughout the 11 tracks is both the lyrical depth and imposing melodic grasp that the enriching songwriting conveys. The opening track, "Secretariat", boasts a vigorous instrumental progression and backing rhythm section that is reminiscent of the briskly legendary horse that boasts the track's central topic. The larger picture alludes to the streak of competitiveness that can often plague human nature, leading people to form premature decisions regarding their self-confidence in the process. The sweeping mixture of cellos and keys is an aspect that is carried throughout the entire duration of Eye Contact, making for perhaps the most enjoyable facet of E.S.L.'s uniquely agreeable style. "Side by Side" shows this instrumental approach in a more longingly dramatic form and "Walk With Me" shows one of its most infectious uses, but I can't help but be a big fan of efforts like "Secretariat" and "Prove Me Wrong" for their emotionally charged authenticity alone.
Despite being paired alongside several efforts that are also immediately engaging, "Prove Me Wrong" should succeed in being arguably the album's most accessible effort. Using a series of halted piano chords under the ardently infused orchestral stomp of percussively aided strings, Jaciubek-McKeever sounds at ease with her ardently invigorating vocals. "To raise a point I raise my voice, but you hold your tongue so tight it bleeds," she croons seductively over a blues-tinged piano accompaniment, the line serving at an appropriate moment during the concluding climax. The topic of insecurities are once again touched upon, only this time escorted by a more active instrumental force. The dynamic chorus is reason enough alone to listen but the various layers of instrumentation and how they collaborate cohesively with one another throughout the entire track is even more impressive. Other highlights on Eye Contact include the transitioning instrumental "Princess vs. Dragon" and the string-led stir of "I Don't Buy It", but the album is a consistent success for the most part. Considering that Eye Contact will be released in less than a week, I feel a steady obligation to recommend it to anyone who is willing to take the chance on something that sounds old-fashioned but also fresh and nostalgically stimulating.
——————————————————————————————
——————————————————————————————
——————————————————————————————
——————————————————————————————