Posted
May 28, 2008 by Mike Mineo
in
The Lady Vanishes; Sparks Carry On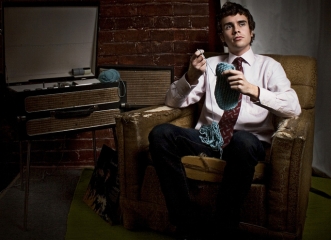 When describing The Lady Vanishes, Andy DeLoach chooses a method that would make most travel magazines proud. Almost making his solo music project out to be a luxurious hotel located in some exotic country, few would guess that he mainly relies on a simplistic blend of folk and pop music to perfect his craft. "The Lady Vanishes offers the most luxurious of musics for your relaxed bachelor lifestyle," his MySpace boasts. "Qualified Songs are waiting to serve your every need and perhaps even get stuck in your head." Such hyperbolic statements are usually meant for fun and little more than that, but the charm of DeLoach's musical output is appealing and accessible enough to make the travel review method a rather attractive attempt at catching the attention of those already familiar with the world of contemporary folk-pop. The tour guide, Andy DeLoach, describes himself modestly in saying he is little more than an obsessive of '60s pop greats in the vein of The Beatles and The Zombies. DeLoach only recently turned 21 but his youthfulness does not lead to any signs of expected immaturity within his songwriting. He has been writing songs and collaborating with other musicians for years, most notably with Troy Stains (multi-instrumentalist in the recently featured gem from The Explorers Club) in a musical relationship that is continuing to blossom. "We're trying to start a songwriting partnership that will provide songs for today's musical scene the same way Burt Bacharach did for his," DeLoach explains, already providing his veneration for influential artists of the past with wholesome intentions.
Such aspirations may seem a bit lofty for a 21-year-old without much credit to his name, but based on what DeLoach has offered on his self-titled EP, it may not be as farfetched as it initially seems. Based out of the "exotic locale" of Atlanta, The Lady Vanishes offers up plenty enjoyment in a simplistically appealing format. If one were keeping up with DeLoach's hotel comparisons, calling the project something of a surprisingly affordable gem of a resort in a country with little to no western recognition would be accurate; there is more to it than meets the eye."Karen, Don't Stop Him" falls somewhere between the amiable lore of Simon & Garfunkel and Belle & Sebastian, guided by DeLoach's boyish vocals and the gentle strumming of an acoustic guitar. "Karen don't stop him, it's only mid-day," he sings as the subtle emergence of an organ occurs, softening the guitars in the process as a solidified rhythm section becomes prevalent. The twang of an electric guitar shortly follows, establishing DeLoach's folk technique in which a naively pleasant melody is built upon by several other similarly laced instruments in an effort to boast a worthwhile hook. The track touches upon the common perspective of fate's involvement in life's routine, being an easygoing example of DeLoach slight metaphorical tendencies.
"Eliza at the Museum" is the most ambitious out of the three featured tracks, mainly due to cohesive adjustment between the "mmm"-ing backing vocals and the build-up effect of the involved instruments as they subtly increase in tempo before collapsing. DeLoach's tends to stray inside the realm of conventional folk-pop and his ambitious nature appears to be at a halt as of now, "Wrapped in Cloth (All So We Can Love)" is more reminiscent of standard folk. Though the twinkle of bells adds for a nice touch in the conclusion, I am relatively certain that it was primarily written as a b-side or demo. Nevertheless, the unsigned DeLoan has already captured a good amount of buzz in Atlanta and his future appears quite bright, best evidenced by the affable characteristics of "Karen, Don't Stop Him" and "Eliza at the Museum".
——————————————————————————————
The Lady Vanishes – Karen, Don't Stop Him

[audio:http://mineorecords.com/mp3/ladyv-kar.mp3]
——————————————————————————————
The Lady Vanishes – Eliza at the Museum

[audio:http://mineorecords.com/mp3/ladyv-eli.mp3]
——————————————————————————————
The Lady Vanishes – Wrapped in Cloth (All So We Can Love)

[audio:http://mineorecords.com/mp3/ladyv-wra.mp3]
——————————————————————————————
———————————————————————————————–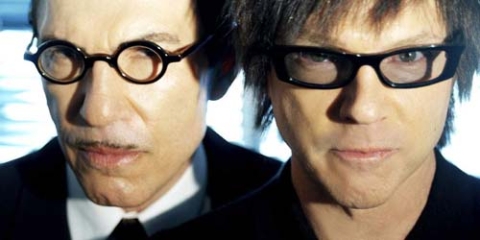 I was considering devoting an entire post to Sparks before I realized that I had done so already about two years ago, shortly after this site had just gotten underway. In the post, I gathered a few MP3s from my 8 favorite Sparks albums, all of which were released during a period ranging from the early '70s to present day. As I said a few years ago and will say again today, Sparks is easily one of the most stylistically eclectic acts of the past 40 years and most people are generally only able to count on one hand the number of bands who have achieved success for as long and as consistently as the Mael brothers. Releasing at least a few albums each decade for the past 4 decades, the longevity is impressive but what has built Sparks' cult following mainly traces back to their form of songwriting which seems to never get old or overused. I personally prefer their first three albums to anything they did afterward but the sheer fact that I can listen to any Sparks album from any decade and find myself enjoying it impressive to me in its own right.
For album #21 in their sprawling discography, I would feel as if I were doing myself and others an injustice by not at least mentioning Exotic Creatures of the Deep. Apart from being arguably the best thing they have released since 1994's Gratuitous Sax & Senseless Violins, it simply solidifies the sentiment that the Mael brothers have no expiration date for cranking out quality tracks. What has been very prevalent throughout their most recent releases has been an increased comedic tone, suggested merely by the title of memorable tracks like "Dick Around", "Ugly Guys With Beautiful Girls", and "What Are All These Bands So Angry About?". This is a continuing trend on Exotic Creatures of the Deep, only this time being supplemented by an even more eclectic (it IS actually possible!). There is a noticeable increase in the use of guitar, a feature that should delight fans of their rock-oriented material from the early '70s. Still though, most of the tracks are led by Ron Mael's keys and a series of orchestral arrangements. Anyone with a comprehension of The Smiths or Morrissey should chuckle at "Lighten Up, Morrissey", a very enjoyable effort that contains a fusion of guitars and keys that remains very reminiscent of their '70s works. The track does not mock on Morrissey, but rather the tortured men who weep themselves to sleep every night because of a little thing called rejection. Somewhat oddly, the band considers it a tribute to Moz, as the duo and former Smiths frontman have requited admiration for one another (Morrissey's lyrics usually stray on the unrequited side of things).
In addition to "Lighten Up, Morrissey", other highlights include the synth-fused infectiousness of "I Can't Believe That You Would Fall For All The Crap In This Song" and the piano-led "Good Morning", the latter being the album's debuting single. Both rely prevalently on melodic repetition amongst transitioning lyrical deliveries, with the topics containing plenty of witty one-liners and consequential hooks in typical Sparks fashion. Whether guitars lead the way in the contagious "Lighten Up, Morrissey", synths carry the dance-pop flair in "I Can't Believe That You Would Fall For All The Crap In This Song", pianos aid a brisk progression on "Good Morning" and the hilarious mock on superficiality in "Photoshop", or strings flow vigorously alongside all of the aforementioned instruments in "Strange Animal" and the infectious "This is the Renaissance", Exotic Creatures of the Deep contains enough diversity to make even the most dedicated and harshest of Sparks fans contemplate deeply whether or not Sparks' 21st studio album will land in their all-time top 10. It is certainly too early to decide such matters, but Exotic Creatures of the Deep undoubtedly serves as yet another extremely commendable feat from the talented Mael brothers.
——————————————————————————————
Sparks – Lighten Up, Morrissey

[audio:http://mineorecords.com/mp3/sparks-lig.mp3]
——————————————————————————————
Sparks – This is the Renaissance

[audio:http://mineorecords.com/mp3/sparks-thi.mp3]
——————————————————————————————
[audio:http://mineorecords.com/mp3/sparks-goo.mp3]
——————————————————————————————
Mike Mineo
I'm the founder/editor of Obscure Sound, which was formed in 2006. Previously, I wrote for PopMatters and Stylus Magazine. Send your music to
[email protected]
.