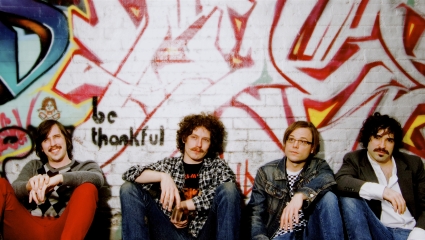 For a band that has just recently broken out of the local eye, drawing comparisons to an artist who they idolize is often flattering. While no artist wishes to be forever grouped with a particular influence, a feeling of widespread recognition in that listeners are able to audibly grasp the forms of music that molded them as songwriters and performers is certainly a step forward in becoming the "next big thing". After all, this is a career stage that has occurred for nearly every single budding artist in the modern age; critics make it easier for fans by comparing an unheard-of band to an artist who is recognized and revered by many, consequently drawing in a variety of new fans who embrace the respective comparison in obsessive form. That being said, when a member of the actual group you are being compared to shows up to your first big-time gig based on the press comparisons alone, you know immediately that you must be doing something right. And when that guy in attendance was one of the founding members of a group as undoubtedly important as the Talking Heads, well, I am not sure how the beginning of a music career could get much better. That is, of course, unless your influence goes a step further and actually helps produce your debut album…
The Black and White Years have lived this experience with Jerry Harrison, the keyboardist and guitarist for one of the best new-wave groups of all-time, Talking Heads. I have known many veteran songwriters to dismiss contemporary idolizers as nothing more than individuals with no innovation of their own, entirely void of original content. This can occasionally prove to be an ignorant stance, though it can also be startlingly accurate in many cases. When Harrison heard about the comparisons being made to his former band, a streak of curiosity caused him to check out the four-piece from Austin, Texas during SXSW (conveniently taking place in Austin). Considering that The Black and White Years were the first of five bands to feature at a rather hidden showcase (it was in a parking lot), Harrison was one of seven people in attendance. Though the atmosphere could have been more exciting, Harrison enjoyed the set so much that he became very friendly with the band, eventually inviting them to his studio in San Francisco to record their self-titled debut album five weeks later. Though we all like to tell ourselves that this type of philanthropy happens often, it is rare for someone of Harrison's status to help out a local group with no credibility to speak of. He had little incentive to do so, but it is simply an example of someone whose love for music appears to only get stronger with age.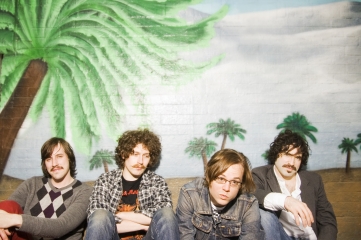 Listening to The Black and White Years myself, it is quite evident why Harrison was so impressed. The four-piece is clearly infatuated with the power-pop and new-wave schematics of the past, but only to a certain agreeable extent. Their additional grasp of electronic pop allows them to simultaneously mix and mash genres, resulting in a force that manages to be eclectic on a track-by-track basis while maintaining the accessibility that brought them such commendable comparisons in the first place. The songs are tightly executed and directly infectious, led by an expert rhythm section consisting of bassist John Aldridge and veteran drummer Steve Ferrone, the latter of Tom Petty and the Heartbreakers fame. The Black and White Years originally used drum loops as their only source of percussion during live shows but, with the help of Harrison and engineer Eric Thorngren, they brought in Ferrone to add a dynamic feel to the final recordings. As for the constant comparisons to Talking Heads, it is more prevalent in delivery than the actual stylistic substance. Vocalist Scott Butler sings with the occasional stutter and high level of embellishment, causing the David Byrne influence to be there regardless of how you look at it. While it is more prevalent on some tracks ("You Are a Dragon") than others ("Everyone"), it never manages to sound too intentional or manipulative.
It is ironic that comparisons were one of the primary reasons The Black and White Years found success, mainly because it is impossible to singularly classify them. Their self-titled debut is filled with a variety of genres, with new-wave, electro-pop, and ska being the three most noticeable forces at work. They occasionally integrate into one another, though the majority of the album sees a track focus on one or two of the styles while remaining consistent with the steady rhythm section. "Power to Change" is one of the few that utilizes all three, being a thorough success in the process. The guitar progression immediately resembles the use of tremolo in the genre of ska, with the glistening of backing synths energizing the primary melodic display over Butler's demonstrative vocal delivery. It serves as the album's second track, a wise decision considering that it allows listeners to ease themselves into the varying styles about to be presented during the album's remaining duration. The downright catchy "Evil Ape" is the best example of the group's ability to produce fantastic new-wave that echoes, yes, Talking Heads. "It is an ugly world," Butler sings, stuttering in Byrne fashion before the track reverts to an enjoyably diversified guitar riff backed by the entry of eerie keys. "Everyone" is a track that has plenty of attitude, adding a bit to brass to the group's impressive formula to even provide glimpses of a spaghetti western with its slick melodic alternations. I have to say I'm with Jerry Harrison on this one: The Black and White Years are definitely a band to look out for.
——————————————————————————————
The Black and White Years – Evil Ape

[audio:http://mineorecords.com/mp3/bawy-evi.mp3]
——————————————————————————————
The Black and White Years – Power to Change

[audio:http://mineorecords.com/mp3/bawy-pow.mp3]
——————————————————————————————
The Black and White Years – Everyone

[audio:http://mineorecords.com/mp3/bawy-eve.mp3]
——————————————————————————————