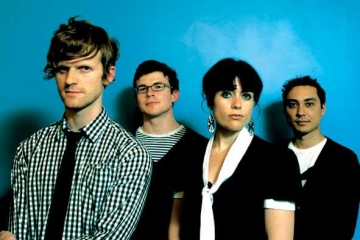 The evolution of a band can be a fascinating development. We all know that lineups are often changed due to personal differences, but it is a very sensitive situation when a group of regularly amiable individuals are forced to clash over the style and substance contained in their material. A fill-in musician becoming a full-time member when an original member leaves is common and is hardly noticeable in appliance to accustomed stylistic displays. However, when a band is comprised of members who are all skilled and confident enough to attempt an "enhancement" of a previous style, disagreements seem nearly imminent and separation begins to seem more plausible. Originally a lo-fi acoustical duo, Firekites may have had initial doubts concerning an expansion upon their sound and performance. Founding members Tim Mcphee and Rod Smith had a desire to keep their acoustical blend of pop, folk, and jazz as the focus, but they also felt that bringing a bit more to the table was vital toward crafting the sound they truly wanted. Veterans of their local music scene, the experience gathered by the Australian duo throughout the years as varying performers allowed them to select a proper group of musicians who felt very similarly. Even though they may not have known it at the time, such musical kinships are a luxury that only few songwriters are granted with.
Gathering Jane Tyrrell, Jason Tampake, and Matt Blackman as their members of choice, Mcphee and Smith set forth the second stage of Firekites in an abandoned coffee house/disco hall combo by the name of The Bowery. A landmark in their native Newcastle due to it being the first of its kind there, The Bowery fit the duo's liking for its history and sense of intimacy as the first place for the new lineup to get underway.  With many initial sessions taking place in the abandoned location, it only made sense for the group to eventually name their debut album The Bowery. Proud of their roots and the album's enriching stages of development, the title served well. The final stages of production also saw Richard Pike (Pivot) contribute some electronic elements, with Ben Howe later joining as the drummer. While I have featured a handful of great Australian artists over the past few years (Eskimo Joe, Ancient Free Gardeners, etc.), there have not been many with a consistent focus on lo-fi folk and pop. Most of the material I hear from the country is rooted in alternative-rock , and even though I know that such experiences are merely determined by a small sample size, hearing Firekites is a breath of fresh air nonetheless.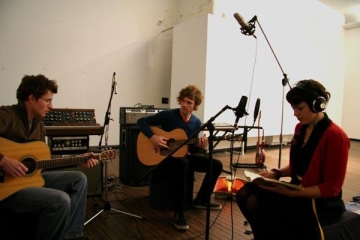 The evidence can be provided by the instrumentation on their album alone, but it is quite clear that the ensemble of Firekites are studied musicians with a passion for the sound they are prescribing. So many groups these days look to increase their level of recognition by providing a comparison to a popularized genre; Firekites undoubtedly have no intention of deceiving their listeners with such false descriptions. They mention jazz as having a considerable influence on their songwriting, an aspect that manages to be an occasionally prevalent treat that enhances their sound in both structural and melodic form. Whether it be the subtly empowering rhythm section in the haunting instrumental "Paris" or the guitar progressions in the graceful "New Year Has Spoken", the uses make themselves evident without jazz being the main force at work. It is in their masterful approach of folk and pop that makes Firekites' debut so impressive; their studied jazz approach simply makes the semi-conventional folk approach enthralling and more uniquely invigorating. With such aforementioned tracks providing a clear description of their talent, Firekites have the prowess to compose an entirely instrumental album with success, though the varied mix of vocal performances are another striking aspect that will make the overall result of The Bowery that much more memorable when it drops on August 19th.
There are few tracks that demonstrate beauty in such instantaneously gripping form as "Autumn Story", an effort that sees Firekites at their best. An acoustic guitar serves as the melodic backbone, supplemented by handclapped percussion and a stunningly fervent use of strings. Throughout its duration, the track builds upon a simplistic acoustical progression until all three melodic forces collaborate to create an astonishingly dramatic effect. The first bridge sees the guitar become more ambitious in its tonal structure, with the increase in dexterity cueing the entrance of strings. Each proceeding verse sees the instrumentation increase in complexity, though never to a point where it becomes too difficult to recall the structural techniques of the preceding elements. Mcphee controls the vocals here, as with most of the male parts on the album. His delivery is somewhat reminiscent of Paul Simon's gentle croon, with the highly melodic backing of constantly transitioning acoustic guitars making that comparison even more justifiable. On tracks like "Same Suburb, Different Park", Jane Tyrrell provides female vocals that are just as comfortably soothing as Mcphee's. This one particularly is in duet form with Mcphee, a nice choice considering both of their somewhat analogous deliveries. The music itself is also a nice indication of their electronic additions, mainly evident in the rhythmic additions in the middle of the track. Jazz and electronica are the two genres that are implemented mainly behind the scenes, though involving them with the Firekites' predominantly steady grasp of folk and pop proves to be extraordinary for the band's sound.
——————————————————————————————
——————————————————————————————
——————————————————————————————
Firekites – Same Suburb, Different Park

[audio:http://mineorecords.com/mp3/fireki-sam.mp3]
——————————————————————————————