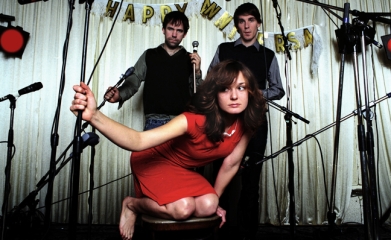 I have little doubt that even a mere connection with Justin Vernon, better known as Bon Iver, would create enough buzz for an aspiring group to latch onto for quite awhile. As one of the newly crowned kings of contemporary folk music, his reputation continues to grow at a rapid pace due to highly ardent fusion of folk and indie-rock. Then again though, it would take at least a considerable amount of potential for a newly prominent solo songwriter like Vernon to dedicate his time and efforts toward another band that is not affiliated with his own. After all, it would take a lot to put stake on a reputation that has just been recently exposed to the masses. When applied to his production efforts with Land of Talk though, it is not hard to see which factors attributed to his choice. For the Montreal-based trio, expectations have surrounded them ever since their 2006 debut, Applause Cheer Boo Hiss. It was a somewhat minimal effort in its featuring of just 7 tracks, but their unique presentation of darkly brooding indie-rock and folk drew critical acclaim and the striking single "Summer Special" saw some substantial radio airplay. On the release, they were able to prove within their songwriting a high degree of flexibility that contained both tinges of romanticized folk and gritty indie-rock, two notable facets of their performance that appear to be Vernon's specialty.
Ever since the release of Applause Cheer Boo Hiss, arguably the most noticeable facet of Land of Talk's performance has been related to frontwoman Elizabeth Powell. Previously making attempts as both a solo songwriter and performer in several punk-oriented groups during the late '90s, her first stroke of success began after enrolling in a jazz program at Concordia University, a public university located in her native Montreal. While there, she met Chris McCarron and Mark "Bucky" Wheaton and proceeded to form Land of Talk. As a veteran of both songwriting (she started in her early teens) and the punk scene in general, an additional background in jazz from the other two members allowed them to fuse a sound that could be deemed both original and stylistically invigorating. Wheaton left the group in 2007, just over a year after the release of Applause Cheer Boo Hiss and three months after "Summer Special" reached #1 in January of 2007. With McCarron still on bass, Eric Thibodeau quickly replaced Wheaton on drums and the group set forth toward the recording process of their full-length debut album.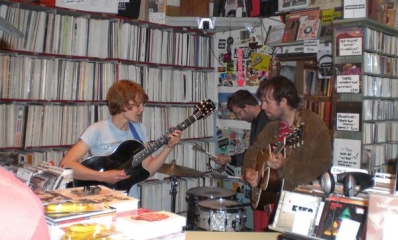 Impressed with their live reputation and strength of Applause Cheer Boo Hiss, the notable Saddle Creek signed Land of Talk this summer after hearing that their debut was ready for its final stages of production. Powell had revealed Vernon's status as producer in January via a blog post on MySpace, also revealing that the album had been completed in September at a church in Montreal with Mark Lawson and Drew Mallamud in addition to Vernon. Andrew Barr, drummer of the previously featured The Slip, also added percussion to 9 of the 10 tracks. Considering many publications declared Applause Cheer Boo Hiss to be one of the most impressive debuts of 2006, it serves as no surprise that Powell has made no dramatic transition in her vocal approach. Maintaining the elegant composure of folk-tinged chanteuses in the vein of Rilo Kiley and also the angsty drawl of a more intensely presented figure like Karen O, Powell constantly serves as an extremely powerful presence with both her vocals and dynamic guitar work. On their debut full-length, Some Are Lakes there are several examples in which both impressive aspects are displayed simultaneously. "Give Me Back My Heart Attack" is a fine depiction, illustrating a series of consuming guitar work that can be either harsh or vigorously spontaneous, depending on the given moment. Accompanied by vocals that snarl, crackle, and then smoothly transition their way into the impressive ballad that is "It's Okay", it is a proficient display of her display as a songwriter, vocalist, and guitarist, even if the metaphorical usage of a car in "It's Okay" sounds a tad desperate in its general context.
Despite the highly dynamic qualities of "Give Me Back My Heart Attack", the radio-friendly flair of "Young Bridge", and the successfully emotive tendencies of "It's Okay", arguably the most accessible and rewarding moment on an album full of them is "Some Are Lakes". This is one of those tracks that generally seem destined to be a single, mainly due to the sheer success that the cumulative structure of the sound conveys. Compared to songs with rougher edges like "Death by Fire" and "Give Me Back My Heart Attack", there is a more prevalent folk influence in both the instrumentation and Powell's vocal delivery. "And I'll love you like I love you, then I'll die," she sings somberly, but still with enough genuine intentions to truly capture the listener's attention (though the infectious melody certainly does enough of that). This style succeeds resoundingly well for them and I can't help but desire for more like it on the album, though I certainly cannot blame them for attempting ballads like "It's Okay" and rock-oriented songs in the vein of "The Man Who Breaks Things (Dark Shuffle)" and "Death by Fire" due to the resounding success of all of them. As far as the aid of Justin Vernon goes, he certainly contributed to crafting this excellent full-length debut, though credit certainly has to go to a trio that is too talented to simply go overlooked. Some Are Lakes drops on October 7th and should receive plenty of buzz for all the right reasons.
——————————————————————————————
——————————————————————————————
——————————————————————————————
——————————————————————————————