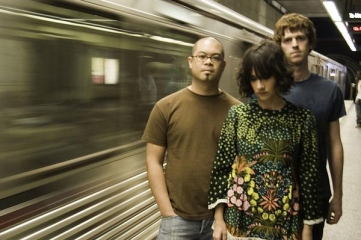 It was pretty startling to me that, after listening to only one track from The Happy Hollows, I was able to draw comparisons to nearly every single notable indie-rock band fronted by a woman in the past several years. Now, before you jump to any premature conclusions by declaring instantaneous comparisons to be a sign of unoriginality and a lack of ambition on the band's part, take a , listen to "Lieutenant". From Kim Gordon (01:06) to Karen O (01:41) and even Deerhoof's Satomi Matsuzaki (03:52), it is easy enough to draw up some prevalent similarities on the track, but one must also keep in mind that the band's high level of ingenuity within their own songwriting creates an atmosphere in which such comparisons are neither shameful nor condescending. After all, vocalist/guitarist Sarah Negahdari is one of those rare breeds that seem to adjust their vocal deliveries in accordance to the melodic content at hand, rather than just spontaneously churning out somewhat invariable degrees of vocalized discordances that are more irritating than melodically consuming. Backed by the tightly synchronized rhythm section of bassist Charlie Mahoney and drummer Chris Meanie, the California-based trio have been making waves ever since the release of their strong debut EP, Bunnies and Bombs, in 2006.
Though all three members now reside in Los Angeles, Mahoney and Meanie had known each other for several years prior to the formation of The Happy Hollows and all three members actually have originative ties in Washington, DC; it was a circumstance that was created primarily out of sheer coincidence. As it turned out, they all ended up moving to California for different reasons, such as graduate school for Mahoney and the pursuit of a music career for Negahdari. They had all been yearning for a career in music though, causing their reunion of sorts in California to be prompted by such aspiring intentions. Since Mahoney and Meanie had still kept in touch regularly after their move to LA, they had already begun to form what would later become The Happy Hollows. After Negahdari replied to an ad on Craigslist that Mahoney and Meanie had posted, they brought her in for an audition. Negahdari had been drawn to the fact that all of the influences listed in the ad were form groups with a heavy female-led dynamic, with names like Blonde Redhead, Sonic Youth, and the Pixies being present. The trio hit it off immediately, chatting together for nearly an hour before Negahdari even played. And when she did, things were nearly immediately set in motion.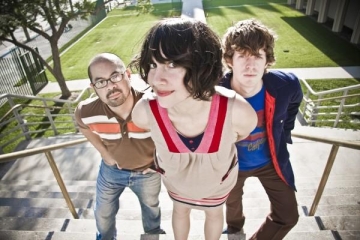 The origin behind The Happy Hollows' name actually traces back to Negahdari's short-lived solo career, an outfit that lasted for about a year as she played gigs around LA under the name of The Happy Hollows. She had actually been auditioning in an attempt to find for a year and it was not until she found a bunch of fellow DC-based musicians like Mahoney and Meanie that she felt at home. After the 2006 relesae of Bunnies and Bombs, the trio began an arduously rewarding touring process that spread out over 2007, resulting in over 40 shows including opening for Deerhoof, The Silversun Pickups, Why?, and Architecture in Helsinki. Despite the fact that the touring brought them a live reputation that was both solid and acclaimed, the group considered the most important aspect of 2007 was the work they did with producer Dave Newton, also producer of the recently featured The Little Ones' Morning Tide. With Newton, they recorded 20 tracks that are apparently going to all be released this year in some form. The first of which are five tracks that appear on their most recent release, the Imaginary EP. Featuring the explosive "Lieutenant" as the opening track, it serves as an excitably enjoyable indicator of what is in store for The Happy Hollow and the rest of their 2008.
"Lieutenant", as mentioned earlier, capitalizes on all the band's strengths exuberantly. The charm is instantaneously prevalent, with a memorably simplistic guitar progression being uplifted by the powerful rhythm section upon each successive verse. When the new tonal progression occurs after a minute in, Negahdari shifts into a yelp-ish croon that is both sensual and ardently rewarding. This is just one example of what the song offers though, as the 5+ minutes all prove undoubtedly rewarding. "Tambourine", though, may be the most consistently enjoyable on a vocal front out of all 5 tracks on the EP. Some vocalists tend to appear desperate when resorting to high-pitched squeals like the types !!!! presents in this song, but she does so in a way that complements the intensely revolving guitar progressions and rhythmic outbursts in a very satisfying manner. Just based on genuine intensity alone, this trio is a rare sight to behold due to her uniquely diverse vocal approach and the tightly impressive instrumentation devised by Negahdari's exotically consuming guitar work, Mahoney's infectious bass lines, and drummer Meanie's intensely interwoven drum fills. Regardless of how these other 15 songs are released, you can be assured that the strength of this EP sparked my interest for the release of the rest of them.
——————————————————————————————
The Happy Hollows – Lieutenant

[audio:http://mineorecords.com/mp3/hhollow-lie.mp3]
——————————————————————————————
The Happy Hollows – Tambourine

[audio:http://mineorecords.com/mp3/hhollow-tam.mp3]
——————————————————————————————
The Happy Hollows – Big Bad Wolf

[audio:http://mineorecords.com/mp3/hhollow-big.mp3]
——————————————————————————————