Posted
September 2, 2008 by Mike Mineo
in Features
Thunder Power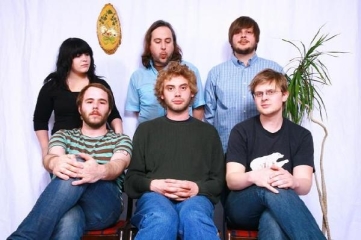 Some acts still fail to sound cohesive after years and years of working together, but others can craft such a dedicated sound that it is heavily prevalent that only years and years of perfecting their craft together could result in such a unified sound. Thunder Power are one of those bands that makes such indications easy, as their ability to emit an emotionally eclectic disposition over a consistent stylistic array is a skill that most independent artists have become less and less committed to over the years. When one undertakes their first listen of this Omaha-based four-piece, the result is neither foreign nor intimidating. In fact, even the band members themselves admit that it sounds like something vaguely "familiar that you can't quite pinpoint – or shake off". The source behind the inability to shake it off is quite simple, as their songs are as addictive as they come in the clashing genres of folk, pop, and rock. The sense of familiarity, though, lies more in the influences that they wear on their sleeves. Clearly students of a variety of genres ranging from wistful country to upbeat pop, their openness to a variety of styles in addition to their decades of working together has made them an act that is generating a substantial amount of buzz for all of the right reasons.
Led by the uniquely invigorating vocals of Kacynna Tompsett, Thunder Power's usage of shimmering folk and pop allows them to sit nicely between the hordes of imaginative indie-rock acts and accessible tones of country and folk. She encompasses the type of vocals that are impossible to differentiate between a male or female singing, and I mean that in the most complementary way possible. They are simultaneously endearing and inimitably enthralling, two aspects that allow the group's fused genres to flow with ease and compassion. The group tends to label it as "old soul" vocals, serving as an ode to the highly ardent soul greats of the past with her flexible range often contrasting well with intricate melodic arrangements and choral shifts of emotion. Such similarly notable facets of their performance allowed them to sign with Slumber Party Records earlier this year, tied with distribution purposes to Saddle Creek, another label that has become synonymous with swooping up now-distinguished indie-folk acts like Two Gallants, Orenda Fink, and the prominent Bright Eyes. Now, Thunder Power's sound is often too contagiously upbeat to be grouped in with the melancholic folk-oriented musings of the likes of Conor Oberst, but it is certainly easy to see why both Slumber Party and Saddle Creek thought so highly of this aspiring band.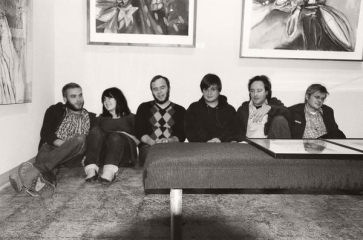 Thunder Power's impressive debut EP, Love Yourself, was recorded primarily during the winter of 2007-2008, using a canvas display of both upbeat optimism and gloomy pessimism on the release's 5 included tracks. Ian Aeillo, an apparent favorite over at Saddle Creek with credits that include Bright Eyes and Cursive, produced the EP. As a whole, the songs do not tend to stray too far from a formula that the group has already deemed successful with wise precision. On the standout "(Why Don't You Go) Take a Hike?", Tompsett's vocals appear slightly reminiscent of the nasally yelp emitted by Clap Your Hands Say Yeah's Alec Ounsworth. I know the comparison may seem initially odd when one takes the opposite genders into hand, but both are capable of sounding comfortably familiar within the realm of quality indie-rock with elements heavily reminiscent of pop-infused folk coming into play. "(Why Don't You Go) Take a Hike?" is highly involved with its impressive instrumentation – a comforting mixture of sparkling keys, acoustic guitars, and soft rhythmic additives – and twangy bridge, but the simplicity found within the structure allows the listener to becomes seamlessly acquainted with the band's stylistic make-up. "Why don't you just leave me alone? I was doing fine, I was on my own," Tompsett sings with a melancholic croon, hinting at the tragic effect of heartbreak. It is simply example of somber lyrics within an enjoyably upbeat melody, an effective mixture found on much of Thunder Power's material.
Tompsett is rounded out by a group of 5 musicians who have played together for the past decade. More importantly, they claim themselves to be the best of friends, an aspect that shines nicely when the listener allows themselves to recognize how sharp the songs truly are. Multi-instrumentalist Matt Hutton, guitarist Alex Boardman, keyboardist Ian Simons, guitarist/bassist Will Simons, and drummer Jason Koba all round out her murkily powerful vocals in exuberant form, always choosing variation in appliance to which instrument is set to shine. Solos are never present here, as the concise nature of their 3-minute ballads and pop snippets is more intent on hooking the listener immediately than toying with epic proportions. "Post Script" is the most subdued track on the EP, relaying a tender electric guitar over a distant accordion as the beautiful melody later becomes complemented by the beautiful addition of an acoustic guitar. The vocals shift to Hutton's rougher vocals during a bridge until Tompsett resurfaces over a melodic variation. For a band with multiple songwriters who are generally all multi-instrumentalists, it is a feat that is not all that surprising. The brisk "Your Pantry" is one of the most enchanting and vigorous of the handful, not reaching the infectious pinnacle of a gem like ""(Why Don't You Go) Take a Hike?" but coming close enough with a chorus that sees a mixture of guitars and synthesized strings collide for a charming effect. Now available via Saddle Creek's online store, Love Yourself is worth the pick-up for a band who looks to join the ranks of the label's folk-oriented eminent talents.
——————————————————————————————
Thunder Power – (Why Don't You Go) Take a Hike?

[audio:http://mineorecords.com/mp3/tpower-why.mp3]
——————————————————————————————
[audio:http://mineorecords.com/mp3/tpower-pos.mp3]
——————————————————————————————
[audio:http://mineorecords.com/mp3/tpower-you.mp3]
——————————————————————————————
Mike Mineo
I'm the founder/editor of Obscure Sound, which was formed in 2006. Previously, I wrote for PopMatters and Stylus Magazine. Send your music to
[email protected]
.