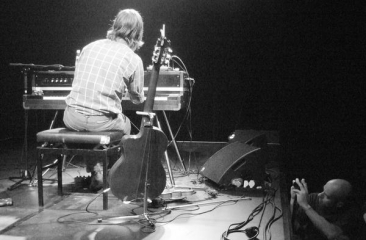 The alleged fusion of contemporary and classical music has been a noticeable, if somewhat subtle, force over the past several years. For me, the first time I recalled an artist blatantly mentioning the mixture as an intentional component in his own work was when previously featured German composer Max Richter proudly used the tag "post-classical" to describe his music. It sounds simple enough in its phrasing: music with elements reminiscent of classical music in an accessible modernistic format. Sub-categorizing the sub-genre even more, we can also look at conventional and experimental artists within the field of post-classical. Conventionalists are often looked upon as artists who tread primarily in other genres – such as rock or pop – but implement classical instrumentation, such as symphonies or classically oriented rhythm sections. In the opinion of mine and many others, it would be an overwrought process to even group such songwriters in the field of post-classical. At its heart, the music remains within the initial genre with only a few select elements of classical music at hand. It is the experimental post-classical artists like John Cage, Philip Glass, Steve Reich, and even the recent Max Richter who make this emerging and evolving field fascinating. In fact, if done successfully like a few of the aforementioned composers, it can be one of the most unpredictably engaging genres out there today, even if its classification can be broader than some would like.
I have no particular method for finding artists to feature. In fact, a lot of them just appear out of nowhere out of some random occurrence. I found Portland-based Peter Broderick while writing my feature of Horse Feathers a month ago and scouring their MySpace for any relevant information. After reading that the young Broderick (only 21 years old) was usually half of the songwriting duo alongside Justin Ringle, I also noticed a link to his MySpace profile on the same page. I had known that he was previously a member of Norfolk & Western, but had no clue that he was already a budding solo artist in his own right. If it was not enough that he was already mentioned on this site twice already with his large role in Horse Feathers and player of saws and slide guitars for the previously featured Loch Lomond, his eponymous solo efforts prove most worthy for the third mention. When I looked at his MySpace about a month ago, I noticed that he had a new album, Home, that was going to be released, one that was apparently going to be a stylistic departure from his previous works. As most of his earlier material consisted of post-classical instrumentals, Home finds his music centered on the voice and guitar. Whether the album treads a fine line between post-classical conventionalism and experimentation is up to the listener, though I personally believe he has found the perfect mid-point for his style.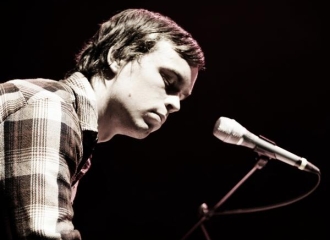 A notably gifted multi-instrumentalist since his teens who was already ahead of his years, it likely was no surprise to supporters and friends of Broderick when he moved overseas to Copenhagen, Denmark in 2007. Of course, a musically related expenditure was the reason. Efterklang, a critically acclaimed Danish experimental-pop collective that Broderick had been a fan of, saw his astute capabilities and grabbed him for their international tour. To play with a group of musicians that he idolized in Efterklang proved creatively invigorating in a sense, as he began pushing forth the production of his solo material. Debuting on Type Records, he released Retreat/Release and Docile in November 2007, treating listeners to atmospherically consuming piano compositions that were brought to life by enriching melodies contained within a lo-fi method of production that worked extremely well in context to his skills as both a songwriter and multi-instrumentalist. Docile was excellent use of such aforementioned post-classical standards, causing his instrumental compositions to be enjoyable for those even without a regard for classical music in general. Even prior to the September release of Home, the ceaselessly busy Broderick released another album, Float, in May of this year. His last release on Type before signing to Hush Records for Home, it was considered his first official full-length. I suppose this was due to its higher level of intricacy in both the instrumentation and melodic content as much as it had to do with album's cohesive ambitiousness, but I still enjoyed Docile enough for it to be considered a full-length in my own mind.
Considering Broderick's sheer prowess as a musician, I doubt that many believed his entire solo career would consist of one fixated style. He has certainly conquered the ability to demonstrate moods through music, whether it be on the barren but engaging piano compositions on Docile or the serene string-aided delicacies of Float, but many have been waiting for that certain stylistic shift in his solo material since the release of Docile. His newest, Home, brings what may sound familiar to listeners of one of his (several) other projects in Horse Feathers. He captures a form of hushed folk music that is simultaneously atmospheric and emotionally gripping, with both features brought on by his caressing vocals and impressive style of play. Like Docile, Home is primarily an instrumentally barren release whose greatest moments arise in Broderick's talent as a songwriter. "I'm not in love, I'd like to say I never was," he stubbornly convinces himself in "Not At Home", a heartbreaking tale of love lost and realized that sees its peak come in a slight twinkle of keys toward the mid-point of a track subsequent to a slight melodic transition. "Below It" sees his guitar playing at its finest, while "Sickness, Bury" shows his aptitude for melody and stylistic innovation in what appears to be an Eastern-influenced effort. Such diverse content on Home makes it yet another winner for Peter Broderick, a fantastic musician who seems to get somehow involved in seemingly every notable folk act these days.
——————————————————————————————
——————————————————————————————
Peter Broderick – Sickness, Bury

[audio:http://mineorecords.com/mp3/pbro-sic.mp3]
——————————————————————————————
——————————————————————————————