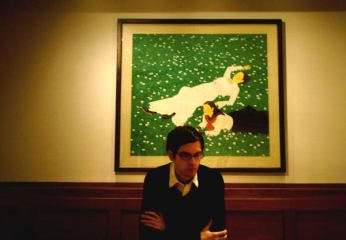 Prolific artists have a tendency to never feel quite satisfied. Regardless of whether or not they have something left to prove, pursuits regarding financial and reputational standing always seem to take a backseat to creative endeavors. It is certainly an admirable ideology, albeit a bit obsessive in some circumstances. An obsession when applied to the art of music, though, is something that many readers of this site can relate to; it is a way of life in which many of us have grown accustomed to, whether we are listeners or artists ourselves. Whether you choose to look at a popular name like Ryan Adams or a recently featured up-and-coming one like Peter Broderick, there is a resoundingly similar quality; these artists who value quality just as much as quantity often split their time between several aliases or projects to differentiate between styles, moods, or methods of performance. The ability to seamlessly transition between musical styles is another talent in itself, but what I often come to respect is an artist who is able to attain a similar audience through different formats. Their success comes in the form of universal admiration, whether it is granted through fans of previous projects or those who have just discovered an artist and now seek to listen to all of their works based on respect alone, dismissing whether or not a certain genre is "not for them".
As any number of recently featured instrumental artists on this site, from Hauschka to Peter Broderick, could tell you, the influence that classical music has on works of contemporary music is deeply resonating. Whether the intended style is the "post-classical" movement of Max Richter, Hauschka, and Broderick or the electronic pop of Olga Kouklaki and Max Tundra, these artists echo their values of classical music through the structural and melodic tendencies contained within their own works. Just to cite some featured examples: Kouklaki, Broderick, and Ben Jacobs (Max Tundra) all grew up learning the schematics of classical music before they had realized their ambitions as songwriters, a steady indication of just how influential the style of music continues to be. Of course, all these songwriters had a talent just waiting to be unearthed, but it says something that this style of music most certainly contributed to transforming a latent talent into one that is heavily recognizable. Much of the same can be said for Keith Kenniff, a musician whose roots trace back to his childhood. His father, also a musician, taught he and his brother how to play guitar, bass, and drums and encouraged Kenniff's pursuit of a variety of music styles, from rock to classical, since a young age.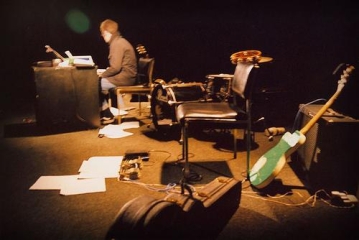 After attending the Berklee College of Music and broadening his interest and capacity in music, he formed his first solo project, Helios. His debut, Unomia, was released in 2004, showcasing a variety of beautiful instrumentals that capitalized on his skills as a multi-instrumentalist and budding songwriter. The album's general classification of "ambient music" often did not do it enough justice, as Kenniff's arrangements were often too intricately composed with a revolving array of instruments to be classified as a purely scenic experience. There also served a steady focus on percussion, an instrument Kenniff has pursued and enjoyed immensely ever since childhood. Due to his serenely invigorating compositions, the album drew considerable acclaim. However, instead of following it up immediately, Kenniff chose to tackle a new style of music that slightly opposed the multi-instrumentalist ambient works of Unomia. For this, he also gave himself a new alias: Goldmund. This project instead chose to focus on Kenniff's more classical leanings, featuring stark piano-led ballads that are subtly complemented by glitchy electronics and distant ambient clips. The project's debut album, Corduroy Road, was released in 2005 to warm applause. Subsequently, 2006 saw another Helios release in Eingya and 2007 welcomed albums by both of Kenniff's projects, Ayres by Helios in July and Two Point Discrimination by Goldmund in November.
The year 2008 marks the second time in two years that Kenniff is releasing two albums in one year, with one apiece for Helios and Goldmund. Goldmund's The Malady of Elegance was released this past July and brought forth what many fans have been expecting from this particular project. The brightest spots on minimalistic gems like "In a Notebook" and "The Winter Of 1539-1540" derived purely from a captivatingly enchanting melody, while other eerily haunting tracks in the vein of "John Harrington" and "The Gardener" explore somewhat unchartered territory with their polyphonic arrangements that consist of acoustical accompaniments and ambient supplementation. Helios' newest release, Caesura, will be released on November 11th under Type Records, the label that Kenniff has called home ever since his debut. As can be easily seen on this album, Helios serves as Kenniff's more electronically enabled attempts. The opener, "Hope Valley Hill", floats weightlessly over a series of gentle guitar progressions, a gently reverberating rhythm section, and faint synth pad in the background. The track begins in a subdued manner but picks up pace when the chordal and rhythmic structures emerge around the 01:34 mark. The soft trickle of keys complements the appropriately titled "A Mountain of Ice" very nicely over a shifting bustle of percussion and eventual guitar progression, while "Mima" is easily the most conventionally guitar-led track on the album.
More highlights on the excellent Caesura include "Backlight", an epic build-up of a track that shifts from a bare synth pad to a rhythmically combustible lead that sees post-rock influences comes into play, and "Glimpse", which serves as arguably the best example of Kenniff's extremely capable multi-instrumental talents. If I had to choose, I would say that I enjoy Caesura, more than The Malady of Elegance, but this is purely rooted in opinion. The fact that Kenniff has crafted two excellent albums of drastically differing styles in one year is a feat in itself, but the way he has formulated each and every moment on both albums with extreme preciseness is what impresses me most. On the two albums combined, there is over 105 minutes worth of material. In all of that, it is breathtakingly impressive how much of that consists of undeniable quality.
——————————————————————————————
——————————————————————————————
——————————————————————————————