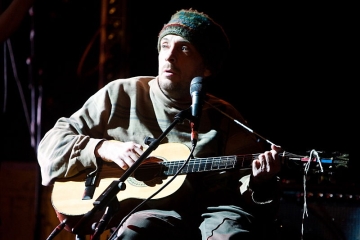 The aspect of collaboration can be a touchy subject for some artists. Some prefer to languish in their own solitude, crafting songs that are entirely their own with little to no help outside the spectrum of production and mastering. Others, however, discover that pushing the boundaries to make their music as fulfilling as possible may involve bringing in a helping hand or two, even if a bit of individuality is sacrificed in the process. Perhaps it speaks to his level of experience, but Vic Chesnutt has been known throughout his prolific career as a songwriter and performer to show no reluctance in enlisting other talented individuals to supplement his own material in complementary form, all while maintaining his large doses of originality and commitment. As someone who has worked periodically with the likes of Michael Stipe, Emmylou Harris, Lambchop, and Bill Frisell, it appears as if he has also had access to some of the best in the biz ever since he surfaced in 1990 with his debut album, Little. That album, along with its follow-up West of Rome, was produced by Stipe, a native of Georgia along with Chesnutt. Following the two's first meeting during one of Chesnutt's solo shows in the late '80s, Stipe had encouraged him to lay his tracks down on tape after being impressed with his initial offering. Now, after over a dozen releases and 18 years later, he is one of the most respected songwriters to come out of Georgia.
I am sure that many of you may regard any "one of the most respected" tags with little merit, as a statement like that often comes off too subjectively to be held with much regard. So, in this case, I will just let the artists do the talking. I understand that the concept of a cover album has been debated over tirelessly in the past, but when the proceeds go to a great cause, what wrong is there in it? When artists like R.E.M., The Smashing Pumpkins, Garbage, and even Madonna contributed toward the cover album, Sweet Relief II: Gravity of the Situation in 1996, all proceeds went to the Sweet Relief Fund, a non-profit charity that aids professional musicians who are in dire need of medical care. As for the songs they were covering, it was none other than the material of Vic Chesnutt. Now, here were a few of the most popular artists in the world at the time – R.E.M., The Smashing Pumpkins, Hootie & the Blowfish, Madonna – covering Chesnutt's songs in the midst of their prime; it was a grand gesture that signified both their respect for the person and musician that Chesnutt is. Paralyzed from the waist down since the age of 18 when a tragic car accident occurred, it brought awareness to both the struggles of medical care and the brilliance of Chesnutt's songwriting.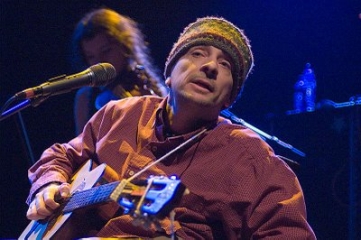 Considering that such respective artists contributed toward the cover album in the mid '90s, a period when they were literally selling out arenas, it simply proved from a musician's perspective that Chesnutt was the real deal. They needed little in the form of financial compensation or recognition; their desire was to simply expose Chesnutt's work to their own broader masses of fans. The cover album was released during an appropriate period as well, as About to Choke, his fifth solo album, was released the same year to arguably his most prevalent form of critical acclaim yet, undoubtedly also aided by the fact that he was now on a major label (Capitol Records). His 1998 follow-up, The Salesman and Bernadette, saw a similar reception, with tinges of soul and jazz being highlighted by an expansive horn section (complementary of Lambchop) that contrasted excellently with his usual fare of poetic country-rock and folk. As is often the case with creative independent artists, a lack of sales caused Capitol to drop him. This was hardly discouraging to him though, as he quickly found a new label and proceeded to release six excellent albums throughout the following eight years. To be honest, with the new release of Dark Developments included, Chesnutt has put out 12 solo albums and not one is even slightly disappointing.
For his newest and twelfth solo release, Dark Developments, Chesnutt has once again teamed up with a talented collective of musicians to further supplement his continuously invigorating material. This time, it happens to also be in the hands of E6 favorites Elf Power, a group that hails from Athens, Georgia, just like Chesnutt. Alongside guitarist Curtiss Pernice, the seven-piece resumes their normal instrumental displays on an album that proves to showcase more captivating songwriting from the storied Vic Chesnutt. Though many songs like "And How" and "Teddy Bear" remain accessible with their conventional structures, all maintain a sense of ambition that is prevalent in the melodic shifts and ambiguously provoking lyrical content that Chesnutt is able to convey. "And Now" is a fun pop-laden effort that sees a remarkable melodic transition around the 01:30 mark with a twinkle of keys and the slight undercurrent of a trombone. "Who, what, why, where, and when?" Chesnutt asks as the track reaches its conclusion, questions that are likely to be asked if his vaguely incorporated lyrics are attempted to be investigated. "Teddy Bear" toys around with a slight reggae progression to establish one of the catchier efforts on the album, complemented superbly by the whirring of Laura Carter's trademark Moog as Chesnutt repeats "he ain't never coming back" before a beautiful guitar bridge occurs. From the haunting 7-minute epic "Phil the Fiddler" to the eerie harmonica-led ballad of "Mystery", Dark Developments is yet another stroke of brilliance within the ceaselessly growing discography of Vic Chesnutt.
——————————————————————————————
——————————————————————————————
——————————————————————————————
——————————————————————————————