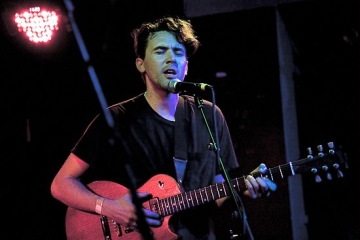 The process of discovering artists can often turn into a domino effect, where reading into the origins of one artist leads to the discovery of another. This fortunate scenario is one of the reasons why I attempt to be so factually evident in writing about these artists, as it not only benefits the reader but also myself since I stumble upon so many affiliated acts in researching an artist's origins. Often out of curiosity, I look into other releases that a featured artist has participated in. This proves especially useful if they are preparing their first release, as there is little else to go by in determining their growth as a songwriter. For anyone who has read this site as recently as Wednesday, the name Cass McCombs may sound familiar. It should, as the recently featured frontman of Papercuts, Jason Quever, put out his first set of legitimate material in the form of a few piano tracks for McCombs' debut EP, Not the Way. Curious to see what Quever sounded like in the early part of this decade, I looked into McCombs and found two tracks on his MySpace. What initially was an effort to see how Quever changed as a songwriter evolved into something more, as McCombs lured me in with a mere two tracks that exhibited an extreme talent in songwriting that could not go overlooked.
After listening to the two tracks on McCombs' MySpace, the sheer power of both "Everything Has to Be Just-So" and "Twins" made me believe that these were likely his signature songs. After all, both songs differed dramatically in tone but succeeded in sounding like an ardently empowering interpretation of indie-rock based on the exceptional songwriting alone. So, you can imagine my surprise after learning that both songs are actually b-sides to past singles. "Everything Has to Be Just-So" is only included on the single for "That's That", appearing on his most recent album, Dropping the Writ, which was released in October of 2007. "Twins" is a b-side from the "Sacred Heart" single, a track from his 2005 release, PREfection. Since I was curious as to how outstanding tracks like these could be released as b-sides, this curiosity prompted me to look into both albums and McCombs' history as a songwriter. Originally a native of Conchord, California, McCombs set out to the east coast when he was 23 and never looked back. It was here where he recorded his debut EP, Not the Way. After the EP was released by the NYC-based Monitor Records in 2002, McCombs began working on his debut full-length, the ambiguously titled A.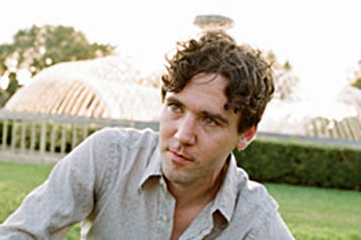 Prior to the reissued version put out by 4AD Records in 2004, A had been released previously by Monitor Records in 2003 under the name of Best of Cass McCombs. It was a bold title to give a debut, but many fans maintain to this day that it serves as the best representation of McCombs' tactful skills as a pop songwriter. Though it remains his most stripped-down release to date, A presented McCombs in an untainted light where amateurish production and subtle flaws contributed to an album where McCombs' concurrent potential and ability shined brightly. The songs often involved little more than acoustic guitars and keyboards, but McCombs' mixture of uniquely empowering vocals and heartfelt lyrics added wonderfully to barren but rewarding arrangements. His next release, PREfection, in 2005 proved to be a surprising affair for fans of A. It showed McCombs touting a more ambitious stylistic demeanor, presenting songs with numerous layers of instrumentation and structural tendencies that occasionally went into avant-garde territory. A track like "Sacred Heart" exhibits this quite well, as it finds McCombs' whimsical delivery flourishing from a variety of electric guitars, bass lines, and a string-like backing synth pad. It actually serves as one of the album's more conventional tracks in its structural intentions and accessible melody, but this single shows perfectly why McCombs' ability as a pop songwriter should not be questioned.
While "Sacred Heart" benefits from an anthemic chorus that borrows the jangly demeanor of late '80s Brit-rock, I find myself more enamored with its b-side in the exhilarating "Twins". This proves more indicative of '60s British psychedelia with a brooding introduction that features an instrumental whirlwind of both post-punk and psychedelic influences. I find the contemporary relevance of this specific style to be very reminiscent of Pulp's This Is Hardcore, adding yet another British comparison to McCombs despite the fact that he is from California. It simply speaks to his knowledge of his targeted genre, and in "Twins" he literally does no wrong. Alternating between a whimpering croon and series of self-induced backing harmonies, McCombs continuously comes back to a chorus in which he somberly repeats, "You lied to me, you lied to me." Underneath a spectacle of melancholic keys and thickly reverberating guitars and bass, "Twins" speaks more to McCombs' ability than any other song I have come across. While I still find it extremely odd that this was not included on A or his subsequent album, Dropping the Writ, I suppose that cohesion must be valued. It is true that the style of "Twins" does not immediately relate to the flow of A, even if it is soaked in reverb and beautifully haunting instrumentation like on "Sacred Heart", "Equinox", or "Subtraction". It may speak to McCombs' personal admiration of "Twins" though that it is one of the two tracks posted on his MySpace. I can't say I can blame him.
The other track on McCombs' MySpace, "Everything Has to Be Just-So", sees him explore territory that is more reminiscent of his latest material on Dropping the Writ, his first release for Domino Records. Although this is another effort that has been released as a b-side, the reason for doing so likely can be attributed to the song's stylistic focus. Dropping the Writ has primarily been classified as an album which contains McCombs' most linear stylistic direction, with most tracks sitting somewhere in between indie-rock and acoustical pop. It was certainly not a bad album, but fans of McCombs' previous material hold such a high regard for his releases, as they should. He seemed to be becoming more ambitious with each release, sharpening his production and honing his skills along the way. Dropping the Writ, if anything, was neither a step forward nor a step back, but rather a release that saw developmental immobility. Since most fans of McCombs understand his true potential, it is hard to blame them for forming such high expectations. I personally would love to see McCombs pursue the style of psychedelia successfully attempted on "Twins" and the touch of new-age experimentalism on "Everything Has to Be Just-So" on his next album, but I am sure different fans have different perspectives. But as far as that "next album" goes, McCombs tells us that it should arrive any month now. That is something that all fans can get behind.
——————————————————————————————
——————————————————————————————
——————————————————————————————
——————————————————————————————