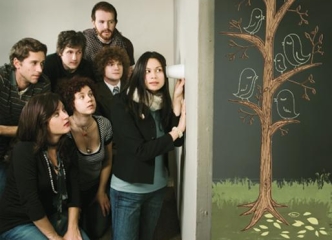 Everyone has an album that personally defines nostalgia at its finest. For me, putting on something like the Smashing Pumpkins' Siamese Dream or Radiohead's OK Computer brings me back to the days where the most important thing on my plate was an eighth grade math quiz. Throughout the years, some albums retain their level of brilliance, others sound outdated, and a handful might even sound better. Regardless, there is nothing shameful in listening to something for its nostalgic reverence, as these albums often encompass the tracks that would be put on some cheesy "Soundtrack of Our Life" feature. We envision a certain place, person, or event when the song begins, reminding us – for better or worse – why exactly we were so drawn towards the song in the first place. When Woodpigeon, a Calgary-based octet, were compiling the bulk of material on Treasury Library Canada, they were doing so as a break of sorts from working on their first album, Songbook. Frustration was mounting as vocalist/guitarist Mark Hamilton found difficulty in perfecting Songbook, an album that was warmly received when it eventually came out in 2006, and he used the songwriting for Treasury Library Canada as a relief of sorts. Several years after the release of Songbook, Hamilton decided to give those "relief tracks" another listen for the sake of outside acclaim and simple nostalgia.
The material that would later appear on Treasury Library Canada did remind Hamilton of his struggles with completing Songbook, but it also gave him insight as to how his songwriting could sound when it is focused, undeterred, and genuine. These were aspects that were noticeable throughout Songbook, but not nearly in the way that is successfully demonstrated on Treasury Library Canada. There is more consistency in the first five tracks than Songbook could generate throughout the entire album, another result of Hamilton's unintentionally focused attempt at crafting a quality album without the hindrance of a deadline or assorted pressures. It seems ironic that the juxtaposition of both pressure and serenity resulted in the success of Treasury Library Canada, as the stress of producing Songbook provided Woodpigeon with the focus and relaxation required to result in the success of Treasury Library Canada. And coming back to that aspect of nostalgia, Hamilton compared the process of rediscovering Treasury Library Canada as a quality release to that of "the idea of pulling down some books from your childhood that you'd never even read then, and realizing how amazing they are". Being one of the songwriters, Hamilton was obviously familiar with the substance of the songs, but he was never able to recognize their beauty without the willingness to reflect upon an aspect of his career that he could have easily, but erroneously, deemed as forgettable.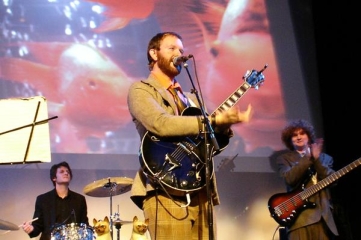 Comprised simply of friends that love playing music together, the eight members of Woodpigeon generally came together through word-of-mouth. Friends of Hamilton began hearing his songs and were so captivated by them that they could not resist offering their help. Well, I guess you could classify it then as "word-of-music", but you can get the idea how quality songwriting often equates to quality collaborators. It is certainly not difficult to get engrossed in Hamilton's music either, as it emits a pleasant aroma of folky indie-pop that sits somewhere between the poetically infectious brilliance of Elliott Smith and the indie-pop wit of The Shins. With that in mind, I suppose an act like Belle & Sebastian fits the mold, since their infusion of both memorable lyrical sentiments and catchy pop melodies concoct an intelligent form of pop music that has become the go-to genre for many with the desire to check out indie-pop for the first time. The most impressive thing about Treasury Library Canada is how accessible it manages to be while also invoking a sense of considerable ambition, mainly outlined in the often unpredictable structures and Hamilton's astute ability to intertwine complex melodies in a precise and organized fashion. The instrumentation remains within the realm of conventionally orchestral indie-pop – with an assortment of strings and woodwind accompanying guitars, bass, and percussion – but the songwriting presented on the album is frequently something to marvel at. Now, since Boompa Records imported in Treasury Library Canada in early February, all listeners will have the privilege.
Considering the quality exhibited on Treasury Library Canada, it is hard to believe that Hamilton did not even initially consider it to be a proper follow-up to Songbook. A song like "Love in the Time of Hopscotch", with its quick progression of sparkling keys and contagious male-female duet, has much of what it takes to become a successful single. This shows the most accessible side of Woodpigeon, but they still never stray too far into forcedly unconventional territory. "I Live A Lot of Places" begins with the gradual accompaniment of several violins, each joining in sporadically to complete the melody. Before the acoustic guitars and steady percussion shifts into a very amiable folk song, a very quick but beautiful rush of strings establish how many hidden treasures lay in this song, among many others throughout the album. The strings re-appear on the passionate and successful "Anna, Girl in the Clocktower" in a more volatile form, gently cleaning up the fuzz from the guitar distortion and heavy bass. The tender "A Moment's Peace for Mary Christa O'Keefe" benefits from Hamilton's effective vocal delivery, one which relies on a slight quiver as it forces its way to the forefront above the warm acoustics. A burst of instrumentation occurs slightly after the two-minute mark, but many listeners will likely prefer its preceding accompaniment for its simplistic qualities. But even if some tracks take a route that will have listeners scratching their heads, Hamilton's gift of songwriting usually leads the listener the right way. We will see if this trend continues when Woodpigeon release their third album, Die Stadt Muzikanten, later this year.
——————————————————————————————
Woodpigeon – Love in the Time of Hopscotch

[audio:http://mineorecords.com/mp3/woodpi-lov.mp3]
——————————————————————————————
Woodpigeon – I Live a Lot of Places

[audio:http://mineorecords.com/mp3/woodpi-ili.mp3]
——————————————————————————————
Woodpigeon – Anna, Girl in the Clocktower

[audio:http://mineorecords.com/mp3/woodpi-ann.mp3]
——————————————————————————————