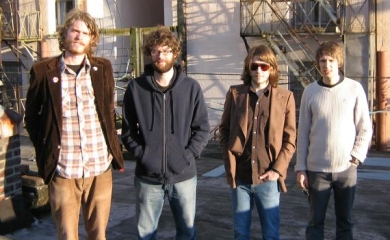 It can be a difficult task to find a band whose lyrical content tends to stray away from the clichés of love and the emotions caused by it. Although I enjoy a diverse range of topics, it is hard to blame most of these artists. After all, if there is one thing that all listeners can personally relate to, it is the feeling of loving one another or being loved. Mutual reciprocation often results in accompanying music that is gleeful and optimistic and nature, while an unrequited form sees somber and bleak instrumentation take over. This is conventionalism at its most prevalent, and it is a method that many groups have found reasonable success with. However, since this site always aims to feature capable artists that can potentially attain success through their innovation alone, I tend to favor an act like The Deep Dark Woods. Rather than simply reiterating themes of loneliness through tragic instrumentation or proclaiming true love over an upbeat melody, this Canadian four-piece already have a skill that many other contemporary folk groups of their nature do not possess. Whether a track by The Deep Dark Woods involves the murder of an ex-girlfriend, the financial struggles of being an independent musician, or the decision of choosing between fame and friends, each effort on their new album combines great songwriting with reflective lyrical sentiments that are always uniquely captivating. Tragically, this form of individuality is a rarity among most contemporary folk songwriters.
The beginnings of The Deep Dark Woods trace back to the childhoods of all four members. Guitarist Burke Barlow and bassist Chris Mason went to the same high school together in Saskatoon, while Barlow and guitarist Ryan Boldt had known each other since the age of 12, when they met at a summer camp. The three met drummer Lucas Goetz shortly after they decided to form a band, recording their initial demos in his parents' basement. The Deep Dark Woods' first batch of material tended to be more representative of indie-rock. Due primarily to inexperience, high school bands tend to mimic their favorite artists instead of attempting to craft their own sound and this was indicative of that. In The Deep Dark Woods' case, the influence of bands like Radiohead and Queens of the Stone Age showed. However, after a few years of maturation, the four naturally gifted musicians found that they had enough ability to attempt innovation and bring their project to the next level. The growth that The Deep Dark Woods would experience in the next several years would prove extraordinarily, eventually leading them up to where they are now with their best album yet, Winter Hours. As their third full-length release, it capitalizes on the potential shown on their first two albums, attempts that were memorable but still seemed to be striving for something bigger and more indicative of the group's cumulative talent.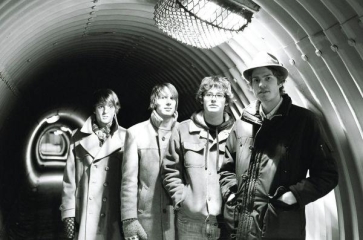 When The Deep Dark Woods released their self-titled debut in 2006, the ten tracks tended to showcase the band's excitable live presence rather than the songwriting itself. Recorded entirely on analog, the tight craftsmanship led the four-piece to gigs alongside the likes of Magnolia Electric Co., The Sadies, and The Stills. It also earned them a deal with Black Hen Music, a Canadian record label that was founded by producer and musician Steve Dawson. Dawson has appeared numerous times on this site, whether it has been to showcase his impressive solo material or his wide range of produced artists, which represent anyone from Ndidi Onukwulu to The Voyces. So, when I learned that Dawson had produced The Deep Dark Woods' second album, Hang Me Oh Hang Me, in addition to their new album, Winter Hours, I knew that production quality would not be an issue. Dawson has a tendency to bring out to the best of folk-oriented artists, and he has done wonders in unveiling The Deep Dark Woods' individuality as songwriters and lyricists.Winter Hours is one of those albums that capitalizes on subtleties and creative lyrical themes to achieve a reputable status that separates itself from other albums in the same genre. To simply put it, Winter Hours is one of a kind, even if the occasional shades of Neil Young, The Band, and The Byrds are enjoyably evident in the process.
As Winter Hours establishes with the opening "Farewell", a haunting retelling of a man convicted for murdering his girlfriend because she broke up with him for being "a bore", this is not your typical folk album. After Boldt's somber vocals establish imagery of a man leaving his hometown, bidding farewell to his friends, and finding love in his new location, the vocals of two or three members to combine for a ghostly chorus that combines slide guitars and quivering whimpers to foreshadow what is to come. "He plunged a knife in her stomach and grabbed her feet", Boldt sings shortly thereafter, "and threw her into the waters so deep." The chorus then repeats itself, sounding even more powerful than before. Sure, the theme practically boils down to a bad break-up, but The Deep Dark Woods tell it so poetically with such melodic conviction that their uniqueness is a quality that should be cherished. Even on a more lightheartedly simplistic track like "Polly", which was created randomly during one of the band's jam sessions, their grasp of harmonic infectiousness is impressive. Boldt's vocals here sound like The National's Matt Berninger, an apt comparison since both bands capitalize on similar strengths of catchy indie-folk and unique lyrical sentiments.
Another aspect of The Deep Dark Woods that should be appealing to most fans of folk is their lo-fi tendencies. There is rarely more than a few guitars, a bass, and drums on one of their songs. An outstanding effort like "All the Money I Had Is Gone" exhibits this well, employing a mixture of acoustic and slide guitars over a tight rhythm section as Boldt uses his deep croon and melancholic demeanor to successfully establish the hardships of debt and finances in a world that uses it so desperately as a point of judgment. Even when an organ emerges toward the song's conclusion, it is implemented so well that it substitutes for Boldt's concluded vocals. This is how much of Winter Hours works; the band does not waste one second in making a song overly simplistic or complex. Even on story-led westerns like "The Gallows" or epic successes like "The Sun Never Shines" (the three-minute guitar solo is Grateful Dead fetishism at its best), there is not one second that is wasted. Another noteworthy effort is "The Birds on the Bridge", a diverse mixture of vocal-led harmonies and instrumental build-ups. Here, Boldt alternates between deliveries that are reminiscent of Neil Young and Fleet Foxes' Robin Pecknold. Considering that the songwriting also tends to be just as good, it is one of many successes on an album that will likely pinpoint The Deep Dark Woods as one of the better indie-folk acts of 2009.
——————————————————————————————
——————————————————————————————
The Deep Dark Woods – All the Money I Had Is Gone

[audio:http://mineorecords.com/mp3/ddwoo-all.mp3]
——————————————————————————————
The Deep Dark Woods – Farewell

[audio:http://mineorecords.com/mp3/ddwoo-far.mp3]
——————————————————————————————