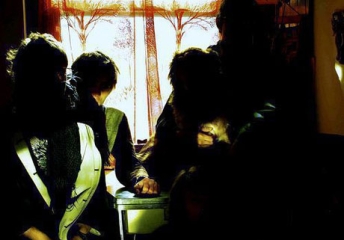 What artist doesn't want attention? Many of them send out hordes of e-mails and MySpace invitations to the point where it nearly seems like spam. It may seem like a nuisance to even the most passionate music fan, but what separates these artists from the pseudo-corporations is their justification in doing this; they simply want someone to listen to their music, not deposit a couple grand into a Nigerian bank account. From hanging up self-printed ads on the street to the accessibility of e-mail, advertising without straining one's wallet is vital to most independent musicians. Especially with this economy, most of their day-jobs just barely cover basic expenses. And if they have the choice to use their extra income on instruments and recording or advertising, most of these artists are going to go for the former. For a band of Clues' high caliber, one would expect them to at least make an effort in self-promotion. Originating from the same Montreal experimental-pop music scene as bands like Malajube, The Dears, and Wolf Parade, Clues' solid songwriting and unique approach make their chances of reaching similar heights quite likely. But if they have such blatant ability, one would likely wonder why they have no MySpace page or web site. It is humorous that this era makes the absence of either one seem deviant, but there is little denying the impact of such technological tools on independent music promotion.
Lack of experience is certainly not the reason for such an unconventional approach, as two of the group's five members are from two groups that is synonymous with the Montreal music scene. In fact, one could make the argument that they are a few of the most important acts the Canadian city has had this decade. Brendan Reed was a member of Arcade Fire before they released Funeral, widely considered to be one of the best debut albums of the decade. Reed's vocals and percussion work appeard on the album, and he later went on to join Les Angles Morts. Clues' lead vocalist and other frontman, Alden Penner, co-founded of The Unicorns with Nick Thorburn in 2000 and remained with the group throughout its short but acclaimed career until late 2004, when Thorburn began his work with Islands and Penner started releasing solo material. The fusion of Reed's multi-instrumental ability and the type of innovative songwriting Penner brought to the table in The Unicorns has some great results on Clues' self-titled debut album, set to be released on May 19th through Constellation Records. Upon Clues' initial formation in 2007, Reed and Penner played small-profile gigs around Montreal. After constructing the group's approach, the duo expanded Clues in 2008 after Ben Borden, Lisa Gamble, and Nick Scribner joined. The additional instrumentation gave them what was necessary to create their excellent debut album, which should almost certainly achieve recognition without self-promotion.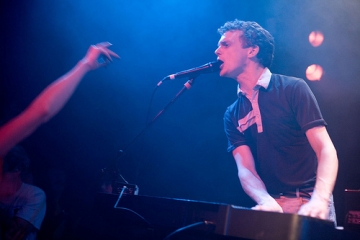 Apart from their musical work on-stage and in the studio, the entrepreneurial Clues have devoted a large amount of time to VillaVillaNola.com, an online music store that features under-appreciated artists from Montreal and elsewhere. It is a clear indication of their love for the scene and the DIY ethic in general, also indicated by their non-existent promotional approach. Such tactics can prove admirable for a band of Clues' stature, even if an ample amount of it was likely derived from sheer confidence. Reed and Penner have had plenty of experience with a few of the greatest bands to come out of Montreal this decade, and the three other members are honed as skilled musicians with plenty of ideas. This leaves little room for acquiring experience and ample room for producing some fantastic music, resulting in a debut album that sounds like it was created by a group that has been working together for over two years. Their approach is extremely eclectic, fusing influences of art-rock, electronica, and psychedelia that results in a sound that fits in the realm of Montreal-based experimental-pop music while maintaining the utmost originality. From the swaying, sitar-like effect throughout the exotic "In the Dream" to the excitable array of fuzzy guitars in "Remember Severed Head", Clues is a debut that never seems tireless, unmotivated, or unfocused.
That Clues can maintain such a stylistic focus through an array of songs that generate hooks and awe-inspiring moments through varying styles of instrumentation and unpredictable structural tendencies is part of Clues' charm. "Remember Severed Head" is under three minutes in length, but it is so brisk that it seems like several songs in one with its apt transitions. The distorted vein of post-punk in the verses grows into an ethereal, monophonic guitar melody before the thrilling verses arrive again. Penner's vocals are excellent throughout, as is the instrumental works on all fronts; the guitars sparkle with intricately empowering progressions, while a flurry of keys and percussion combine to form a ceaselessly excitable backdrop. "Perfect Fit" takes an entirely different route altogether, allowing an old-fashioned piano to be run under Penner's trembling vocals. "I have seen the most incredible light in your eyes," he repeats, allowing the melody to grow upon itself with increasing percussion and an explosion of guitars and bass that concludes the song masterfully. "Crows" is also notable for its swanky mixture of guitars and horns, especially when combined with the high-pitched vocals that endure throughout. "Let's Get Strong" is a light piano ballad that concludes Clues, serving as the most simplistic effort on the album. By this point though, Clues' ambition is no question. Every track on Clues is a genuinely worthwhile journey with both excellent performances and songwriting. Expect this one to be talked about quite a bit.
——————————————————————————————
——————————————————————————————
——————————————————————————————
——————————————————————————————