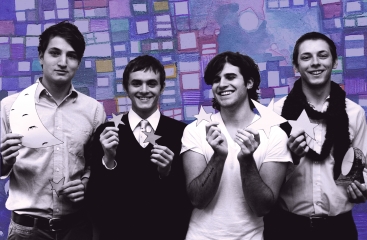 It is difficult to criticize naming a band after a fruit. The edible sensations encompass a distinctive color and familiar taste, all while serving as a delightfully refreshing treat that caters to a broad audience. Most people do not just tire of enjoying fruit one day; I have never found myself taking an extended break from apples or oranges, or refusing to eat fruit because of dietary or political concerns. Unlike meat, there are no vendettas against the harmless nature of fruits. I personally enjoy both herbivorous and carnivorous food selections, but the universal amiability of fruits is something that is hard to deny. When brainstorming band names, I am sure the four guys from Pomegranates had something similar in mind. The name already allowed for a specific color to represent any band logo, t-shirt, or memorabilia, but even more importantly it proved indicative of a style that coincides with the familiarity of contemporary indie-pop but exposes it in a way that is refreshing and memorable. Like the fruit they so effortlessly elude to in their namesake, Pomegrantes' music is a delightful entity that retains both its familiar and refreshingly new qualities to result in something irresistible and wholesomely accessible. It also helps that their CD case seems to smell vaguely of pomegranates, even if my mind is just playing tricks on me at this point.
In addition to their tastefully modernistic sound, Pomegranates run among a crowd of current bands that appeal to the music blogosphere in a big way. They are just as receptive toward the power of music blogs as the bloggers themselves; they note on their MySpace that reaching #11 on Elbo.ws' blog aggregate is one of their proudest accomplishments. Listening to Pomegranates, it is hard to blame them for valuing this demographic so importantly. Groups like Islands, Wavves, French Kicks, and a countless number of others appear indebted to blogs for their well-deserved but arguably overblown status of success, primarily because they all tread in stylistic waters that are ambitious enough to be classified as avant-garde but also accessible enough to appear on most radio stations without a hitch. The specifics vary from artist to artist, but Pomegranates certainly appear to be on the verge of a breakthrough with the flexible indie-pop presented on their second album, Everybody, Come Outside!. The instrumentation rarely alternates between songs, with an assortment of guitars and keys often leading the way, but it only goes to show Pomegranates' songwriting strengths even more prominently. Their style of indie-rock is by no means eclectically impressive or groundbreaking, but the things that they do with such familiar components are what separates Pomegranates from most of their contemporaries.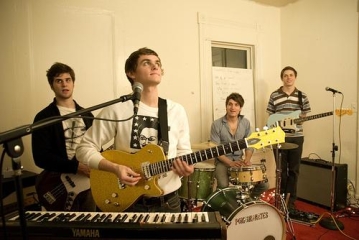 Like most groups of a blog-friendly indie-rock vein, the vocals in Pomegranates are vital to the success of their songs. Since influences seem to play a larger role than innovation in their style, it seems mandatory in these types of groups for the vocals to encompass proper ardency and harmonic flexibility without resorting to the clichéd components of drenched reverb or pitch modification. In Pomegranates, Joey Cook's lead vocals are comparable to Phoenix's Thomas Mars, although Cook retains a warmer and more sincere presence that appears to owe more to '60s British pop in the vein of Ray Davies than modern-day indie-rock. There is plenty of angst in "Jerusalem Had a Bad Day" that is eerily reminiscent of Modest Mouse's Isaac Brock and "384 BC" delivers some Conor Oberst-like drama-folk, but the bulk of Everybody, Come Outside! finds Pomegranates sitting in territory that benefits more from chirping guitars, twinkling keyboard melodies, and frantic percussion. Some eclectic qualities are certainly displayed on the album, but the direction of lead single "Corriander" coincides more with the brisk interpretation of summery indie-rock that proves more synonymous with Pomegranates' radio-friendly contemporaries. This does not mean it is by any means generic though, as the song benefits from some fluttering guitar work and serene atmospherics that are contrary to the simplistic expectations surrounding most of today's indie-pop.
With a bubbly bass line, hushed vocals, and a plethora of slick guitar progressions, "Corriander" accessibly establishes Pomegranates' glistening style. The style itself traces back to early '90s alt-rock in the retrospective vein of Yo La Tengo and even Sonic Youth, with the larger emphasis on pop being indicative of current trends in music. Pomegranates keep these influences in mind with all the French Kicks', Strokes', and Phoenix's in the world, allowing for a very enjoyable fusion of early '90s alternative with modernistic indie-pop often controlling the concise song structures and instantaneously enjoyable harmonies. "This Land Used to Be My Land" shows off some ambitious guitar work and recalls the days of British '60s pop music, despite for a chorus that allows Cook to heighten his pitch and resort to the twinkling of keys and lucid guitar work. "Svaatzi Uutsi" is also worth noting, serving as a tidy and stylistically fulfilling instrumental that plays like an enjoyable intermisson on the album. Varying influences interweave themselves subtly into the song structures, whether it is the prominently explosive power-pop and subtly rhythmic post-punk on "Southern Ocean" or the traditional acoustical folk interlaced with an exotic far-eastern melody on "Sail (Away with Me)". With summer about to arrive, Pomegranates' Everybody, Come Outside! is an excellent album for the season, bustling with illuminating melodies and excellent songwriting that allows Pomegranates' style of indie-pop to flourish with each passing song. There are no particular songs on the album that will make Pomegranates the next Strokes, but Everybody, Come Outside! contains utmost consistency throughout that will likely place them among the same tier as groups like French Kicks and Phoenix. Great pop music with slight stylistic variations is what these groups do best, and Pomegranates is no different.
——————————————————————————————
——————————————————————————————
——————————————————————————————
——————————————————————————————