Posted
July 1, 2009 by Mike Mineo
in Features
Mariage Blanc's Broken Record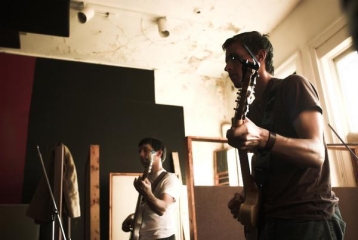 There is a certain sense of stubbornness that, in some cases, can make a solo artist great. When gifted songwriters maintain their individuality, they tend to treat their influences as stepping stones instead of a basis for imitation. Unlike the band format, solo artists do not have to be held down by the vague intentions that derive from other members' influences. The great bands blend their differences into one cohesive sound, but this is unfortunately in the rarest of cases. It is likelier that a band is torn apart by irrevocably subjective matters, like a preferred stylistic direction or the frequency of certain influences that may pertain to only one or two members. For a band to achieve greatness, the collaborative atmosphere must be open to new ideas and embracing toward each member's taste. Otherwise, the quality will suffer due to indecision and the collaborative quality will be noticeably deficient. And then there are those artists that have ideas and influences so unconventional that finding a group of like-minded collaborators seems impossible. Consequently, they begin to pursue the music occupation on their own, with their high level of creativity and innovation actually serving as a detriment to their ability to successfully collaborate with other musicians.
This is a very common scenario that often decides whether a band without one driving force can be successful. Without one songwriter in complete control, it is a necessity to have members that are either similar in taste or intelligently receptive toward other ideas. The only way to avoid this is to ease oneself into a working environment with different members, gradually introducing new ideas as each member unknowingly acquires a new taste palette that allows them to work cohesively with the other members. Such is the case with Mariage Blanc, a six-piece from Pittsburgh whose ingenious collaborative tendencies are shown tremendously on their first release, Broken Record. They have been working on this seven-song EP since their formation last fall, and the result is nothing short of an extraordinary burst of creative energy within the generally recurring field of indie-rock. The group possesses two primary songwriters in Matt Ceraso and Josh Kretzmer, instantly demanding cohesive collaboration because of the split dynamic. Broken Record shows that they are both incredibly gifted songwriters with independent and collaborative ideas that serve as a representation of their gradual working relationship that is now complete and comfortable after some clever maneuvering.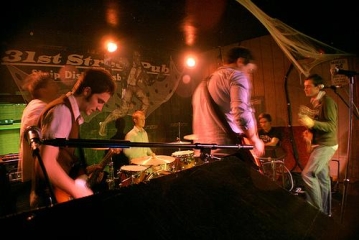 Oddly enough, Mariage Blanc actually started out as a way to promote the separate solo projects of Ceraso and Kretzmer. Due to the difficulties of finding other members and slight artistic differences, the two Pitt graduates decided to release a split EP instead of forming a band together. The two had graduated from the same college, but had not began working together until after school through some mutual friends. The creative process surrounding this split EP was the fire that ignited the true form of Mariage Blanc, as Ceraso and Kretzmer grew more comfortable with one another's taste, stylistic direction, and musicianship as the studio hours filled up. What was initially a way to split an EP together eventually became a full band with even fuller aspirations. Once the duo began learning how to truly work together, finding other members seemed easy. The others joined shortly thereafter, perhaps showing that it is a lot easier to find collaborators once one has already successfully collaborated with another that possesses ideas that are initially in slight contrast to one's own. Mariage Blanc was put into motion from this point, and with the release of Broken Record they look to expand beyond the borders of Pittsburgh and into a national audience that should be very receptive toward their masterfully crafted indie-rock.
Mariage Blanc's Broken Record shows a group that is simultaneously content with '60s pop and modernistic production. Wurlitzers, brass, synths, and strings complement the conventional indie-rock arsenal of guitars and rhythm to stir up a wonderful array of melodically rich songs, never lacking in hooks or fresh ideas. The overlapping vocal harmonies and big-time psychedelic choruses suggest a retro feel, but polished production and songcraft allow both the charm of nostalgia and preciseness of technology to exist within the same realm. "Marquee" starts off quite naturally with a rollicking guitar solo, tidied up into a simple progression once Ceraso's serene vocals reflect a bouncy synth melody. The song often jumps between boisterous guitars and the quaint twinkling of keys and synths, the latter being best used around 02:03 when tremolos of strings signal an alteration in melody and stylistic direction (indie-rock exuberance to chamber-pop elegance). "Sunken Ship" is another excellent effort that features mariachi horns, strings, and guitars to a stunning effect, resulting in one of the most sweeping engagements on Broken Record. The EP's opener, "Contrary to Popular Belief", is mellower with its acoustic guitars, xylophone-like keys, and use of woodwinds, but it still packs the same emotional punch as "Marquee". The vocals here whisper enticingly, creating an inviting atmosphere that succeeds because it attempts stylistic marvel without detracting from the substance. The cheery bursts of keys at the end are an excellent touch as well, wrapping up a gorgeous song that begins an excellent EP in Broken Record.
——————————————————————————————
Mariage Blanc – Marquee


[audio:http://mineorecords.com/mp3/mblanc-mar.mp3]
——————————————————————————————
Mariage Blanc – Contrary to Popular Belief

[audio:http://mineorecords.com/mp3/mblanc-con.mp3]
——————————————————————————————
[audio:http://mineorecords.com/mp3/mblanc-sun.mp3]
——————————————————————————————