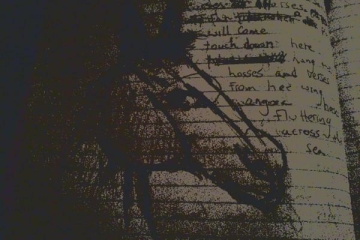 Most of the time, this site features artists that are deemed "obscure" despite some recent buzz. An artist previously covered by a major publication is rarely featured, mainly because I would feel irrelevant in writing about something already exposed and beaten to death. Nonetheless, the artists that are featured usually have recent buzz or praise that led me to them in the first place. Submissions are a major part of discovering a feature, but occasionally I stumble upon a band on my own that is in dire need of recognition. Even if I tend to appear in the first wave of press, I am rarely the first or second publication to cover a specific band. But when it happens and I become enamored with an artist that possesses little current fanfare or press, I find the coverage to be even more personally rewarding. For one thing, I know increased exposure is practically imminent for the given artist, and being in that "first wave" of press allows me to hypothesize the artist's eventual impact without any unintentional bias supplied by other sources of information. Sure, I found The Yes Pleases because their album was submitted to me, but when I started listening to their material I expected a boatload of info and praise online just due to the quality of the submitted album alone. Surprisingly, I was wrong. This group's period of big recognition is imminently ahead of them.

To The Yes Pleases' credit, getting recognition in Seattle is like trying to stand out in a the crowd of any major city. There is so much to see and listen to that it is not rare for a local act to go overlooked, regardless of their quality or potential. Their appearance is practically a vague enigma at this point, amassing less than 5000 views on MySpace and supplying a few non-descriptive sentences for their bio. Something tells me they should update it soon though; their amount of plays should be increasing very soon. Clearly a young DIY group, the four-piece from Seattle strikes any listener as the antithesis of a pretentiously consumed indie-rock band. They list their influences in conventional form, listing everyone from The Beatles to John Coltrane as an influence; like most level-headed groups in or recently out of college, they recognize influences as the sounds that shaped them, not necessarily which groups they sound most like. If that was the case, late '80s and early '90s alternative-rock would fit them nicely. Think Sebadoh, Dinosaur Jr., and Guided by Voices as the basis for their guitar-based sound. Add in a few contemporary electronics, like gurgling synths and polished production, and you have the general sound of The Yes Pleases' debut album.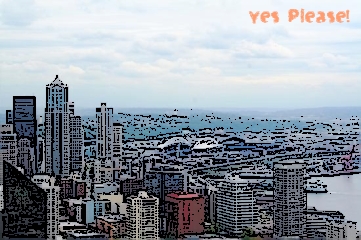 From Whence It Came is The Yes Pleases' debut, but the maturity expressed on the album would suggest they have been working together longer than that. Although their sound is often rooted in a consistent re-interpretation of early '90s alternative and grunge, their reluctance to stray within one context or era is commendable for a band as young as they are. In fact, the album's opener hardly abides by any past stereotypes. Similar to the way My Morning Jacket's recent Evil Urges saw fresh experimentation go hand-in-hand with expected sounds of the past, From Whence It Came is a predominately alternative album that begins with a track more reminiscent of electronic-pop and dance. Vocalist Josh Bate usually sounds most influenced by '60s pop and '90s alternative with a retrospective whimper that alternates in tone, but the opening "Designer" finds him more synchronized with '70s disco than anything else. A few cheap-sounding synths illustrate a repetitive guitar melody nicely, along with a chant-along chorus that almost sounds cheesy enough to serve as an interlude for Project Runway. I am not particularly fond of this effort, but I commend the group for attempting an opener that truly defies what the rest of the album brings. It makes things a lot more unpredictable throughout, which can be beneficial for a group of The Yes Pleases' young nature.
To get a sense of where The Yes Pleases' are truly coming from, the second effort on the album shows that well. "70%" cranks up a trashy guitar progression that are eventually complemented by a subtle whiff of high-pitched keys. Unlike "Designer" though, these are too minimal to take hold of the track and alternate its genre. Bate's vocals show their true power here, recalling both Frank Black and Robert Pollard in his alternation between gruff choruses and high-pitched emotive choruses. The intensity and energy is never lacking, and "70%" is one of the best efforts on the debut with a remarkable chorus that evolves very intelligently from a linear melodic progression. The album's self-titled track brings us back to their '60s pop influences, especially when it introduces a psychedelic chorus that brings parts Sublime and parts Zombies to the forefront; the interweaving of various vocal melodies over the hazy keyboard progressions are some of the best moments on the album. The latter part of the album offers up more memorable efforts, both in the intensified vein of rockers like "Don't Say We're There Yet" and charming acoustical, key-based tracks like the oddly titled "Successful Face Transplant". The former of the two is one of the best displays of Bate's vocals as well, possessing a soaring Jim James-like voice that can make even the simplest progressions sound grandiose and anthemic. The quality of From Whence It Came is not to be doubted, only this group's direction. Judging from this though, evolution seems to be likely, eventually propelling The Yes Pleases to great heights that their evident talents will dictate.
——————————————————————————————
The Yes Pleases – From Whence It Came
[audio:http://mineorecords.com/mp3/yple-fro.mp3]
——————————————————————————————
——————————————————————————————
The Yes Pleases – Don't Say We're There Yet
[audio:http://mineorecords.com/mp3/yple-don.mp3]
——————————————————————————————