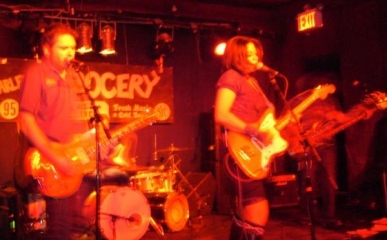 Continuing with the recent theme of atmospheric pop music that Washed Out and Neon Indian showed us, Her Vanished Grace deliver a similar sort of layer-based sereneness that differentiates itself through dark and moody Brit-rock instead of chilly electronica or sample-based experimentation. By most accounts, Blue is their tenth release of new material since their debut, State of Grace, was released in 1991 with a promising take on atmospheric pop that revolved around assorted guitars and keyboards. Her Vanished Grace's actual number of releases is somewhat debated due to their cult-like following, which has manufactured many assorted mixtapes and compilations in itself. If one thing is for certain though, it is the rare capability that this band has to remain interesting as time goes on. As their tenth release Blue shows us, it does not take a precise discography for a listener to witness Her Vanished Grace's maturation. Their initial career reaped from interesting use of post-rock, noise, and shoegaze, wearing influences like Sonic Youth and My Bloody Valentine on their sleeves despite noticeably lo-fi production that prevented the New York-based group from reaching widespread recognition. Their work still touts those prestigious influences today, but now they infuse more of their originality in an effort to differentiate themselves. So far, so good.
The most recent incarnation of Her Vanished Grace commenced in 2000 with Colors Vols. 1 & 2, when the founding husband-and-wife duo of Charles and Nance Nieland disbanded the initial workings of Her Vanished Grace and combined forces with bassist Maria Theodosiadou and drummer Brian Haarer to form a more full-bodied version of their initial group. A vigorously talented rhythm section and higher-budget recording methods in addition to the songwriter-guitarist husband-and-wife duo paved way for their most successful period in the early to mid 2000s. Five new albums were released after Colors, the most recent being the excellent Blue. Although their success to date has been gaining momentum for several years now, Blue may be the knockout punch that propels this band from obscurity to unanimous acclaim. Charles and Nance met at New York's Metropolitan Museum of Art about two decades ago, and ever since then they have been working together to pursue their dream of musical success. Time is only relative for artists, and many may consider success occurring after attributed experience is better than success prior to experience, for it is a factor that is a monumental factor in determining an artist's durability.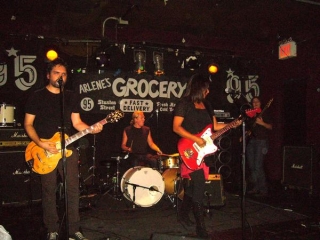 Durability is synonymous with Her Vanished Grace, at least in the sense that longtime fans have yet to be disappointed with the four-piece. Billy Loose has since replaced Haarer on drums but the original duo along with Theodosiadou are still there along with their ambitions. In terms of stylistic exploration, Blue has little to offer in terms of breakthroughs, but their blending of familiar styles like power-pop and shoegaze into one beautiful audible landscape make up for any lack of stylistic innovation. To enjoy Blue one must push aside any stylistic biases regarding shoegaze, as common stylistic elements like reverb and gushing guitars are abundant but not utilized in a conventional manner. Since the melodies are crisp and polished in the form of modern indie-pop instead, the regressing influence is not exposed in the way one might expect. The excellent self-titled track instead reaps from an infectious blend of power-pop and post-punk, being grounded in production techniques involving heavy doses of reverb, thick tremolos, and heightening guitar arpeggios that clash with a bustling rhythm section to consume the listener through both pop-minded appeal and atmospheric vision. Like predecessors in the vein of Sonic Youth and Ride, Blue marks Her Vanished Grace's true emerging period as a group putting their ambition to accessible use without sacrificing the ingenuity that got them there in the first place.
Although both Charles and Nance contribute vocal duties on Blue, Charles is primarily used due to the way his brooding vocals accentuate the retrospective and forlorn aroma of post-punk and shoegaze most commonly attributed to Her Vanished Grace. The band employs their differing vocal styles well, allowing each specialty to reap from their eclectic use of instrumentation. For instance, Charles is lead on the empowering "Blue", where a brilliantly moody chorus provides awe-inspiring embrace in washed layers of guitars and synth pads. Its strength is dependent on darkening mood and evolving versatility, growing from an emotive guitar-driven piece to one guided by distinctive layers of sound that accompany a versatile croon that goes from low-pitched to an ethereal chant of sorts with heightened pitch. Charles' presence is felt in the album's darker tracks, leaving room for Nance to take control of more lighthearted efforts like "Rush". With a better grasp of bubblegum-pop or lighthearted indie-pop in the vein of Metric or Mates of State, "Rush" works by using a bunch of repeating guitar chords before exerting itself into a chorus that reminds me of 90s Brit-rock in the vein of PJ Harvey, Black Box Recorder, or even less absurd Morrissey efforts like "Reader Meets Author" with its swirling sort of guitar-based simplicity. Although it strains itself from too much repetition, it is a nice reliever from Her Vanished Grace's more emotionally complex efforts like "Blue and "Remember", as enjoyable as they are.
The latter is narrative in approach as Charles and Nance participate in a duet, again retracing their steps to the amiable type of alt-rock that was abundant throughout the '90s. With Charles' vocals at times sounding like a cross between Gruff Rhys, Morrissey, and Hayden Thorpe (Wild Beasts), his versatile approach does wonders to this respective style along with the band's tendency for anthemic hooks. Nance's contributions contrast somewhat in terms of style, but the parallel creates very refreshing circumstances that are simply a testament to the group's valuable chemistry. The diversity between efforts like "Blue" and "Rush" summarize the album's success quite well, as Blue serves as an enjoyable release that relies on the band's gathered experience in the spectrums of pop music and layer-based atmospherics. Without the experience of nearly two decades I would be surprised if Blue would have even been possible, but Her Vanished Grace have undoubtedly reached an artistic peak by doing so without sacrificing what got them here in the first place.
——————————————————————————————
——————————————————————————————
Her Vanished Grace – Slip Away
[audio:http://mineorecords.com/mp3/hvg-sli.mp3]
——————————————————————————————
——————————————————————————————