Posted
November 9, 2009 by Mike Mineo
in Reviews
Afternoon Naps – Parade (2009)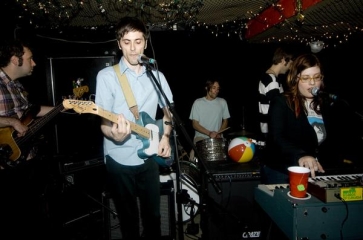 Afternoon naps are a pretty amiable thing to name your band after, even if it is hardly the most exciting. These few hours are simple but highly productive, at least in the sense that recuperation amidst a weekday's chaos is rare, and these are the reasons why it can be so enjoyable. Although somewhat misleading, this was precisely the intention the Cleveland-based Afternoon Naps had when exposing their sound. They do not hold back that their structures are traditional, their instrumental selection is restrained, or that their influences have been making great power-pop before them. It sounds familiar and simple, just like their namesake, and this is ironically why their second full-length album, Parade, has resulted in such a success. It sounds like a product of shimmering jangle-rock, catchy '60s pop, and richly arranged Brit-pop, all genres interconnected by a similar tendency to remain durable, accessible, and musically impressive throughout the simplest of appearances. Simplicity does not always correlate with predictability though; guitars, keys, synths, and bass were all lead instruments at some point for the greatest of these artists in their respective genres. Afternoon Maps should become notable with Parade for applying just this, which results in a remarkable sophomore effort that sounds both freshly invigorating and oddly nostalgic.
Based around songwriters Tom Dechristofaro and Leia Hohenfeld, Afternoon Naps have a very reliable formula that works tremendously on Parade. They wear their psychedelic-pop and retrospective influences on their sleeves, but tracks like "Mitten Fingers" sound all too relevant today. This marvel of an effort propels the group to pop perfection with little more than a few swipes of an electric guitar, a droning organ, and a dual male-female vocal delivery executed with precision. It begins how it ends, with a single repeating riff occasionally complemented by gurgles of synth or blobs of bass. But when Dechristofaro and Hohenfeld travel together into a truly beautiful chorus, the high-pitched pad status of the synthesizer complements the ever-continuing guitar riff brilliantly and listeners will likely be left in awe of the group's melodic grasp. This is the type of wonderful theatrics groups like Teenage Fanclub were able to touch on, who were also another group creating shimmering power-pop from a locale with more clouds than sunshine (Glasgow). Afternoon Naps are so consistent in their unique blend of influences though that just one influence would be unjust. The xylophone twinkling over the wavering synths and acoustic guitars on "Seasons May Change" appears more contemporary with its indie-pop fixings, even if the full acoustics resemble the jangly likes of The Go-Betweens or The Smiths (with a more optimistic demeanor, of course).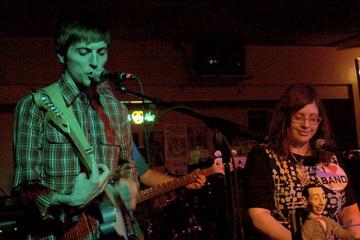 Some of the finest creations on Parade are influenced by psychedelic-pop, as "Beach Bums" could easily show. Complete with its lead organ, bustling rhythm guitar, and accompanying acoustics, "Anything you want to ask of me just whisper it to the breeze," they both sing. "I will try my hardest not to scream as waves crash on top of me." The melodrama of '80s British post-punk and jangle-pop is certainly evident in the lyrical content and vocal tone of both singers, but the melody is more distinctively reminiscent of psychedelic-pop with its hazy underlying production and use of reverb. Tracks more enamored with old-fashioned '60s pop tend to treat the tradition nicely, only adding spotty warbles of synth for an updated effect. Hohenfeld takes the role of girl-pop chanteuse on "The Day We Started", a track that would have sounded appropriate on God Help the Girl's '60s-inspired debut. This simultaneous emphasis on both '60s pop and contemporary indie-pop makes the comparison to Stuart Murdoch and such aforementioned probably the most accurate you can make for Afternoon Naps "Bubblegum 45" is another fun effort, reminding me vividly of Pizzicato 5 with its fast-paced vocal deliveries (often with their "ba-da-ba-ba-ba"-ing) and vigorous woodwind accompaniments. This makes it one of the album's most unclassifiable efforts, which sits nicely alongside more focused themes in the vein of psychedelia of jangle-pop.
Parade is certainly a colorful album with its nostalgic influences and sharp production, with most of its songs refusing to keep in a straight stylistic line. This is why it is hardly surprising that "Discoverse" goes balls-out disco with its funky synth lines and addictive bass lines. It is not the most technically impressive effort from the group, but the instrumental interlude that closes out the final minute of the song is remarkable in its imitation of a genre mostly swooped up for mockery. "Discoverse" is one of the few fun disco re-interpretations out there, even if the band manages to cloak most of the genre's embarrassments in great pop songwriting. This is hardly hidden, however, on the majestic opener, "Plum City Fight Song". Dramatic strings, soaring guitars, and dual vocal deliveries establish quite the presence for Afternoon Naps from the get-go. The best thing about Parade is how the group sustains its continuous excellence despite the stylistic twists and turns they may undertake. Afternoon Naps have clearly separated themselves from their peers with ingenious songwriting and production, delivering fresh excellence while never letting go of the influences that were so essential in helping them craft this album.
8.5/10.0
RIYL: God Help the Girl, Teenage Fanclub, Belle & Sebastian, Field Music, Pizzicato 5, The Lucksmiths
——————————————————————————————
[audio:http://mineorecords.com/mp3/anaps-bea.mp3]
——————————————————————————————
Afternoon Naps – Mitten Fingers
[audio:http://mineorecords.com/mp3/anaps-mit.mp3]
——————————————————————————————
[audio:http://mineorecords.com/mp3/anaps-bub.mp3]
——————————————————————————————