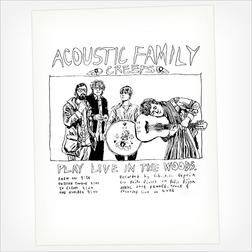 by Jay Mattson
One of my favorite albums from 2009 was Woods' Songs of Shame. Based on the lead picture, you may be asking how my infatuation with Woods relates to a new EP from Acoustic Family Creeps. The answer is simple: they are one in the same. While the core duo behind Woods (Jeremy Earl and Christian DeRoeck) have been performing together since 2005, they have progressively enhanced their technique by including new members and releasing a few side projects along with At Rear House in 2007. The first of these projects was Woods Family Creeps, whose self-titled album was released back in 2008. It is difficult to accurately pin down who is present on each album and who is not. Acoustic Family Creeps is the second side project to emerge from the Woods. Play Live in the Woods is essentially just an EP of album songs played acoustically, but it is done so, so well.
The first track, "Rain On", was my favorite track from Songs of Shame, and it sounds just as good (if not better) acoustically. This is actually the second time "Rain On" has received the non-electric treatment; last year, Woods' To Clean single included the b-side "Rain On Radio", an analog acoustic version that made me fall in love with the original track all over again. The version that appears here on Play Live in the Woods seems to be the perfect version. It has more production value than its b-side cousin and still retains the more intimate acoustic rendition. "Twisted Tongue" is actually a track straight off Woods Family Creeps, the Family Creeps side project that had more electronic influence (if you can imagine that). But "Twisted Tongue" lends itself beautifully to an acoustic set.
The last two tracks on this EP are, again, lifted from Songs of Shame. While "To Clean" sounded amazing under Earl's analog, electronic and hazy mechanics, this simplified version sacrifices the soul of the plugged in guitar for the soul of the campfire experience. While Songs of Shame highlighted analog production and the feeling of actually being deep in the woods with nothing around you, the EP versions of these songs offer a different experience, one of togetherness and collaboration. And in fact, "The Number" is the only track that barely changes from its 2009 counterpart. But it did not really need to change that much, so no harm done.
If you have engrossed yourself with the world of Woods before, Play Live in the Woods is a no-brainer addition to your collection. If you have never experienced the freak-folk haziness that comes with a Woods album, this is as good a place as any to start. You should still definitely check out Songs of Shame too. Woods has a new album, At Echo Lake coming out May 11th on Woodsist Records.
8.0/10.0
RIYL: Doveman, The Tallest Man on Earth, J. Tillman, Deer Tick, Horse Feathers, Timber Timbre, Bon Iver, Peter Broderick, Micah P. Hinson, Bonnie 'Prince' Billy, Chris Bathgate, Josh Ritter, Sun Kil Moon, American Music Club, Bruce Springsteen, Langhorne Slim
——————————————————————————————
Acoustic Family Creeps – Rain On

[audio:http://mineorecords.com/mp3/accreeps-rai.mp3]
——————————————————————————————
Acoustic Family Creeps – Twisted Tongue

[audio:http://mineorecords.com/mp3/accreeps-twi.mp3]
——————————————————————————————
Acoustic Family Creeps – To Clean

[audio:http://mineorecords.com/mp3/accreeps-toc.mp3]
——————————————————————————————