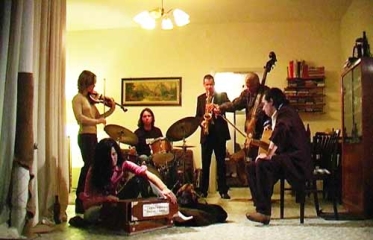 Throw some Wu-Tang, an orchestra, and Euro-pop into a blender. It would probably taste sour since the differences in expectations surrounding tempo and instrumentation between the ingredients are evident. Kammerflimmer Kollektief have found a recipe for success though, mainly in their ability to prioritize various strengths over personal interests in their selfless presentation. Despite gravitating toward what many classify as free-jazz, the kollektief recognize their abilities in pop songwriting as being too important to neglect. Kammerflimmer Kollektief play to their strengths, not their interests. They have been active since 1997, remaining busy by releasing eight albums in that span. Their ninth, Wildling, was released this February and is one of their most impressive showings yet. The core of the band is Johannes Frisch, Thomas Weber, and vocalist Heike Aumüller, though collaborations with Christopher Brunner, Heike Wendelin, and D. Wurm occur frequently. Influences are more of a complementary factor for Kammerflimmer Kollektief, at least on Wildling, as song structures rooted in pop find unique expansion through components of improvisational jazz, noise, and Euro-electronica. The result is generally a laudable achievement, propelled by songs both accessible and complex that provide an equal dose of surefire ambition and hook-laden accessibility. Influences like Velvet Underground, John Coltrane, Tim Buckley, and Robert Wyatt are no surprise, since these are all artists that exhibited the same masterful prioritization despite varying styles.
The moment "Move Right In" descends into the depths of reverbed guitar, comparisons to Mazzy Star also become abundant. Vocalist Heike Aumüller sounds angelically serene, thanks in part to backing instrumentation that is one of the albums most accessible in its distinctive guitar-based twang of folk. Dream-pop is certainly evident as well, but that is more resounding in the heavy use of reverb and multiple layers of vocals. "Move Right In" is one of the most beautiful tracks I have this year so it comes highly recommended. Another highlight is "Silver Chords", where one hear the bleeps of and swabs of saxophone, the latter sounding more like seagulls engulfing than the actual woodwind. They actually both resemble bird sounds despite differences in pitch, that is until the saxophone turns suave around the two-minute mark. The breezy, beach-y atmosphere this song creates is quite engaging, and serves as a great example of their jazz influence in their ability to bring atmospheres out of modulation and pitch. To spice things up further, Aumüller presents the listener with several variations of her voice on nearly every track, whether it is cohesively converged on "Move Right In" or technologically modulated like on the atmospheric "Cry Tuff".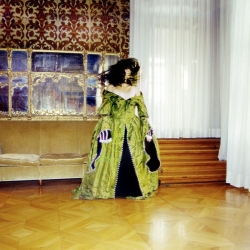 The rush of a xylophone on "Aum A Go-Go" coincides beautifully with crisp percussion and field recordings that take on the role of strings in their layered approach. The gauze of layered pads like these help create a "free-jazz" classification due to uses in woodwinds and strings, but when one truly examines the songwriting and role of genre-bending instruments it comes off more as avant-garde pop music. There are certainly jazz influences, but there are also those borrowed from electronica and pop that are often used in making tracks through Wildling so satisfying in short bursts. For instance, when the drums in "Cry Tuff" kick in ever so slightly under the warble of distorted guitars and cluttered synths, it allows for the eventual resolution of clear-sounding acoustics to resonate successfully and cohesively with familiar percussion. When Aumüller repeats a ghostly whisper in "Spookin' the Horse" as spurts of saxophone combine with the same distinctive folky twang on "Move Right In", I find myself reminiscing about Talk Talk's later material like Spirit of Eden. Like Talk Talk, Kammerflimmer Kollektief are able to combine their natural abilities in pop songwriting with an obvious adoration for free-jazz, noise, and anything avant-garde. Wildling is a fascinating success that I recommend.
RIYL: Talk Talk, Mazzy Star, Beach House, Kilimanjaro Darkjazz Ensemble, Triosk, Tied & Tickled Trio, Supersilent, Bohren & der Club of Gore, Nils Petter Molvær, Dictaphone, Contemporary Noise Quintet, Jacaszek, Isotope 217
——————————————————————————————
Kammerflimmer Kollektief – Move Right In

[audio:http://mineorecords.com/mp3/kamm-mov.mp3]
——————————————————————————————
Kammerflimmer Kollektief – Silver Chords

[audio:http://mineorecords.com/mp3/kamm-sil.mp3]
——————————————————————————————
Kammerflimmer Kollektief – Cry Tuff

[audio:http://mineorecords.com/mp3/kamm-cry.mp3]
——————————————————————————————