Posted
March 25, 2010 by Jay Mattson
in
MGMT – Congratulations (2010)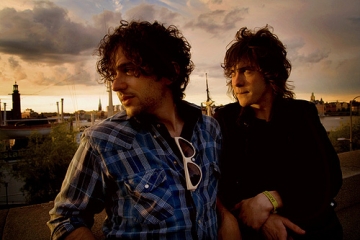 by Jay Mattson
Way back when, in October 2007, a little album called Oracular Spectacular was digitally released. At the time, the stylish blend of glam and neo-psychedelia managed to shake things up. The physical LP was released the following January and Columbia Records' little-band-that-could soon became the international sensation known as MGMT. And what a sensation they were. Their first single, "Time to Pretend", set a pretense for incredibly poignant electro-pop that fascinated the underground music scene. Soon after, Oracular gems "Electric Feel", "Weekend Wars" and (arguably most important) "Kids" instigated a storm of fans that were completely enamored by the psychedelic onslaught. For a while, MGMT were on top of the world, playing all sorts of festivals, selling out shows, and having their music featured everywhere from television (Gossip Girl, The Vampire Diaries) to movies (Sex Drive, Twilight: New Moon) and even video games (Midnight Club: Los Angeles, FIFA 09). Dance-hall aficionados Justice even won the 2009 Grammy for Best Remixed Recording, Non-Classical for their remix of MGMT's  "Electric Feel (Justice Remix)". MGMT have been riding the success of Oracular Spectacular for two years, and it's given the duo a lot of clout in underground and mainstream circles alike.
Oh, how the mighty have fallen.
It is important to remember MGMT's past because, on April 13th, they will release their sophomore album (not counting their initial, unsigned release as The Management) titled Congratulations. Disappointingly, it will fail to impress even the most stalwart of fans. Where Oracular Spectacular was intriguing, sultry and (at times) epic, Congratulations falls into a void of noisiness, floundering psychedelic blips and indistinguishable garble. I should have seen this coming, actually, after the release of their first single off the album, "Flash Delirium", a track that had multiple personality disorder (cue Ariel Pink, the Beatles, the Yeah Yeah Yeahs) devoid of a likable personality amongst the group. Its jumbled demeanor was neither catchy nor interesting, which were two components MGMT had previously shown mastery of.
On some level, it is understandable how Congratulations came into existence as such a mess of an album. With near-blinding success and over-stimulation brought on by a debut album that proved to indie fans that pop wasn't dead, Ben Goldwasser and Andrew VanWyngarden most likely felt the urge to branch out, try new things and experiment. I would normally encourage this sense of adventure, but in the case of Congratulations this experimentation has resulted in a mutated, over-produced, gestating pile of 'songs' that barely peak interest, let alone grab your ears and move your legs like "Kids" or "Electric Feel." The boys looked toward the stars and ended up in the mud. Keep in mind, I wanted to like this album. Like any other MGMT fan, I loved Oracular Spectacular and was eager to hear more. Contrary to what the band said themselves, there is no "sonic and thematic coherence" to be found here. What I got instead was tediousness, unimaginative electronic fluttering and a serious lack of semblance.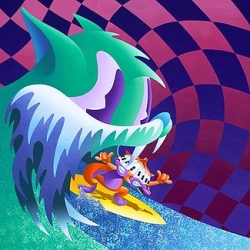 Even albums by experimental rockers The Mars Volta have a sense of meaning behind the chaotic maelstrom of fury. Congratulations merely feels sloppily laid together and over-thought to its own deprecation. Album opener "It's Working" makes the listener almost believe just that; this album might be working for MGMT, it might indeed be the successful follow-up it was meant to be. That feeling quickly fades as the album moves forward into bland territory with "Song for Dan Treacy" and "Someone's Missing" before going into an all-out free-fall with the aforementioned "Flash Delirium." Simply put, most of the songs on this album sound the same. It is nearly impossible to tell one song from another. On Oracular, each song's distinct personality shone through effortlessly. On Congratulations, each track endeavors to sound different by employing randomly placed psychedelic tricks to sound like they are all unique. In fact, they all sound so similar I am amazed MGMT did not go all-out and make a concept album by combining the nine tracks into three or four opuses. The one exception to the rule on Congratulations, and coincidentally the album's twelve-minute musical journey, is "Siberian Breaks", a song that knows it is a long-winded psych/prog/ambient mess and does not even attempt to be anything else. And while the album actually starts to tighten up near the end, tracks "Brian Eno", "Lady Dada's Nightmare" and the title track, "Congratulations", all feel degrees sloppier than anything found on Oracular Spectacular, and that is just not promising.
At the end of the day, Congratulations is simply boring. It is truly unfortunate that a duo as talented as Goldwasser and VanWyngarden somehow managed to over-produce an album to the point where it speeds right past qualities of innovation and becomes stuck in a rut of redundancy. I find myself going back to listen to the album here and there, trying to find the good buried underneath all the crap; I mean, these guys did write Oracular Spectacular, didn't they? Alas, Congratulations is a fruitless effort and I found myself more frustrated than before. It is the mark of a crazy person in attempting the same action over and over again and expecting a different outcome. I do not want to be crazy and I fear Congratulations would send me over the edge.
4.0/10.0
RIYL: The Kooks, Klaxons, Vampire Weekend, Black Kids, The Killers, Friendly Fires, The Faint, Justice, The Teenagers, Late of the Pier,Phoenix, Shiny Toy Guns, VHS or Beta
——————————————————————————————
[audio:http://mineorecords.com/mp3/mgmt-fla.mp3]
——————————————————————————————