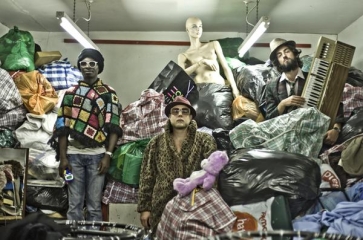 The Very Best are a deliciously odd trio. The band formed more than four years ago, after DJ gods Johan Karlberg and Etienne Tron of Radioclit met Esau Mwamwaya after buying a bike at Mwamwaya's used furniture/junk store in East London. In 2008, the group released a mixtape, Esau Mwamwaya and Radioclit are the Very Best, featuring samples of artists like M.I.A, Architecture in Helsinki, and Santigold. Since then, the trio have been producing popular ballads like "Warm Heart of Africa", inspired by Esau's native country of Malawi. They released their official debut of the same name, Warm Heart of Africa, last August to critical acclaim from Rolling Stone, NME, and Pitchfork. I recently sat down with the band to discuss their collaboration with Ezra Koenig, the process of creating beats, and why The Very Best's aim is to put a smile on your face.
How did you guys meet?
JOHAN: Esau ran a second- hand junk shop on my street. Etienne lived up the street, so he used to pass the shop going to my house. He bought a bike from Esau and invited him to his house warming party and that's where I met him. He told me he was a drummer so I invited him to to the studio, thinking he was an African percussionist. As it turned out, he was more of a proper drummer and was drumming for his local church in Hackney, East London. Esau came to the studio and, as we played him some beats, he started to sing along. That day, we did the song "Chalo", which is still on the album, Warm Heart of Africa, 'til this day. We just went from there and started recording every week; we practiced whenever there was time Esau had off work.
How long have you been playing together for?
We don't play together in the sense of playing instruments. but we play together as in having fun. It's been four years in September now. We chilled out and had fun and took our time making the album, then the mixtape. Now we're just touring and doing all that comes with having a record out, but we've managed to almost finish up a new mixtape as we've been on road, so we stay creative.
As a three-piece, what does your music writing process look like?
Usually we give Esau an instrumental piece. He brings some melody ideas, which we develop together. And when we're set on melodies, he will write the lyrics for it.
You collaborated with Ezra Koenig of Vampire Weekend on "Warm Heart of Africa." Did you write the song with his vocals in mind?
Nah, that song was made with him and Esau in studio, at the same time the instrumental/beat was made. That was made the same morning, just about an hour before Ezra arrived in the studio. Ezra wrote the hook and recorded, then Esau came in and did his verses, and then Ezra, Esau, and us vibed together to get it all glued together the right way.
Esau, I know you grew up in East Africa. Do you feel like this greatly influenced your music?
ESAU: Everything influences my music… life, nature, love, hardship. Of course, my background inspires me too. I grew up with a lot of western music so that influences me too. Now I'm back in Malawi after nine years in England and it's a combination of all these life experiences that really inspire me. There's sooo much to life and sooo much to observe and experience, hence sooo much to write about.
You guys came out with "Warm Heart of Africa" in 2009. Should we be excited for a new album in the near future?
We've just started to toy with some new ideas, so its still very early. But there will be another album one day, we hope….
What do you aim to achieve with your music?
To go as far as we can, really. Go wherever it takes us. It's amazing seeing how people take to your music and how it affects people. We had such a good time making this album and in general, making music together. It's great to see that filter down to listeners. This was a happy project and it seems we managed to translate that from us being in the studio to people being at home listening or coming to the shows, taking part. We just want to put a smile on people's faces and open up their mind to some different styles of music.
RIYL: Amadou & Mariam, Annie, Tinariwen, Vampire Weekend, Discovery, LCD Soundsystem, Ebo Taylor, Surfer Blood, Ra Ra Riot, Local Natives, Ali Farka Touré, Oumou Sangare, Salif Keita, Orchestra Baobab, Two Door Cinema Club, The Shins, Girls, Broken Bells, Boubacar Traoré, Cold War Kids, Issa Bagayogo
——————————————————————————————
The Very Best – Warm Heart of Africa (feat. Ezra Koenig)

[audio:http://mineorecords.com/mp3/tvbest-war.mp3]
——————————————————————————————
——————————————————————————————
——————————————————————————————