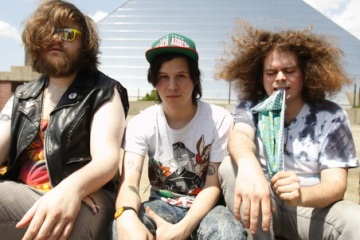 by Jay Mattson
2009 was a big year for Nathan Williams. In March, he released his critically acclaimed sophomore album, Wavvves. Throughout the rest of the year, Williams made headlines, whether it was from his on-stage antics, collaborations (see Zach Hill, etc.) or his now-infamous scuffle with Jared Swilley of the Black Lips. In November, Williams joined forces with the Jay Reatard's former rhythm section. At this point, when it seems like Williams' reputation has already eclipsed his young musical career, he has returned with a third full-length album, entitled King of the Beach, that serves as a furious, rambunctious tour-de-force of what Wavves does best. The main difference between last year's Wavvves and the recent King of the Beach is the level of fidelity. Last year, Williams' sound was intentionally gritty, underscored and bleary. In 2010, Wavves still successfully express their beach-oriented style, only this time with lyrics that are delivered with more clarity.
Of the album's twelve tracks, eleven of them clock in under four minutes, which is perfect for Wavves' sound. The opening song, "King of the Beach", doesn't attempt to do any 'opening' or 'introduction', instead opting to jump straight into infectious, well-structured garage punk. This type of energy is held throughout an album heavily influenced by late-'60s pop that sounds like it has hit the bong one too many times and acquired prophetic knowledge of Pavement and No Age. To clarify, this is all excellent. The inclusion of a standard rhythm section has apparently given Williams time to structure his songs with greater care, even though they only play with him on two of the twelve tracks. They're still as loud as Wavves, just more polished and tight.
"When Will You Come" brings a welcome break from the constant energy before getting back into full swing with the album's first single, the incredibly enjoyable "Post-Acid." This track sums up a lot of Williams' feelings with lines like "Misery, will you comfort me…Understand what you understand, in my time of need that you'll understand, that I'm just having fun..with yoooouuuu." Much akin to Girls' Album last year, King of the Beach is about having fun. Williams gets meta-fictional in "Take on the World" as he sings that "I still hate my music; it's all the same" and "I hate myself, man; but who's to blame? I guess I'm just fucked up…" Without skipping a beat, Williams and company make a central topic very relevant, which is the normal internal struggles facing many recent bands that get lumped into the 'lo-fi', 'beach' or 'shitgaze' categories. What makes Wavves stand out is that they have proven they can stand above the mass of bullshit that comes with every new label or 'sub-genre.' With underground music blogs making bands famous before they even release an EP, it is hard to distinguish the truly talented from the mere mediocre. Fortunately, King of the Beach is one of those albums that is wholly compelling. There is no false hype or mislabeled sub-genre here.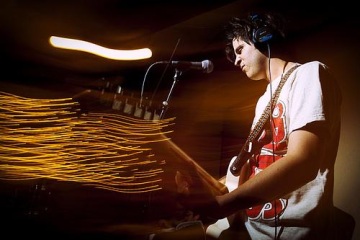 Moving into the second half of the album, "Convertible Balloon" is a funky, electronic-infused dance number that does a good job in keeping the energy high while treading new water and retaining thematic relevance. Next is "Green Eyes", a song that sounds more like 2009's Wavvves than any other track on the album, albeit with background jangles that give it a more lighthearted tone. Both of these tracks are excellent examples of Williams' versatility on this album. While earlier work was very dark and similar-sounding, King of the Beach does an excellent job of showing the various facets of Wavves' sound. Even the lo-fi "Mickey Mouse" is overlaid with a jammy snare beat, the likes of which were barely seen on last year's effort. Arguably the most "out-there" song on the entire album is the last, and longest track, "Baby Say Goodbye." With a style not unlike that of Of Montreal's 2006 album, The Sunlandic Twins, the track opens with an extended psychedelic whistling montage that leads into a synth-backed bubbly groove that still has Williams' signature rambling, but with a more sunny and pop-inspired tone. And while Wavves is a totally different beast than the Elephant 6 Collective members, they obviously present their similar tendencies from time to time.
I thoroughly enjoyed Wavvves last year. In this time of good bands slumping into either a rut (see Vivian Girls) or experimenting far too much (see MGMT), Williams and his new band have found an excellent middle ground that does not veer too far from the formula that worked, but also doesn't rely purely on past successes to keep up their popularity. By jumping from experimentation to nostalgia and back again, Wavves has brilliantly crafted a follow-up that can match and possibly eclipse the success of last year's effort. I'm confident that some fans and critics will denounce the raise in fidelity as a band cashing in on success, but I see it more as opportunity being seized and taken advantage of in order to make a more cohesive album that will not only satiate long-time fans, but also bring in new listeners that may have been turned off by the darkness and haziness that Wavves built their success upon.
King of the Beach is out digitally on July 1st through iTunes, July 13th through all other digital outlets, and physically by Fat Possum Records on August 3rd.
8.0/10.0
RIYL: Best Coast, No Age, Times New Viking, Vivian Girls, Abe Vigoda, Women, Washed Out, High Times, Crocodiles, Ducktails, Sic Alps, Japanther, Woods, HEALTH, Ariel Pink's Haunted Graffiti, Ponytail, Thee Oh Sees, Dum Dum Girls
——————————————————————————————
——————————————————————————————
——————————————————————————————
——————————————————————————————